Week 4 Report: Hogs Haunted by Monsters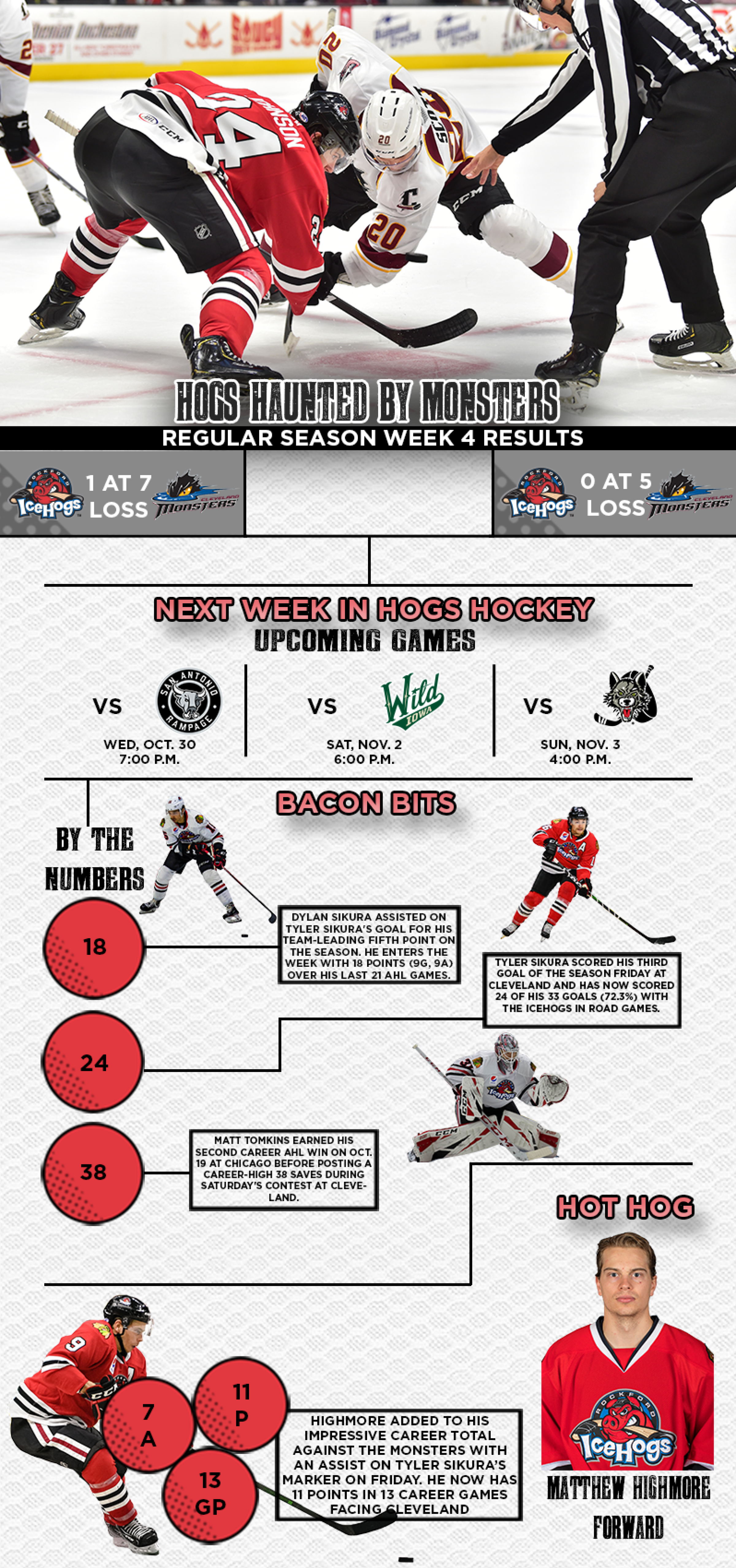 ---
---
BACON BITS
The Rockford IceHogs were swept in a two-game series at the Cleveland Monsters on Friday and Saturday. The Hogs allowed 12 unanswered goals Friday through the end of Saturday's game and were outscored 12-1 over the two contests.

Tyler Sikura scored his third goal of the season Friday, beating Matiss Kivlenieks 9:52 in the first period. Sikura, who led the team with 18 goals on the road in 2017-18 and scored five of his seven goals in 2018-19 on the road, has now potted each of his three goals this season in road games. Overall, Sikura has scored 24 of his 33 goals (72.3%) with the IceHogs in road games.

Dylan Sikura assisted on Tyler Sikura's goal for his team-leading fifth point on the season. Dylan Sikura has posted a two and three-game point streak thus far this season, has points in five of seven total contests in 2019-20 and points in 15 of his last 21 AHL games dating to last season. He enters the week with 18 points (9g, 9a) and a +6 rating over those last 21 games.

The Sikura brothers have combined for half of Rockford's 12 total goals and nine of the IceHogs' 32 total points. Dylan has assisted on two of Tyler's three goals, while Tyler notched his lone assists this season on a goal from Dylan.

Matt Tomkins earned his second career AHL win on Oct. 19 at Chicago before posting a career-high 38 saves during Saturday's contest at Cleveland. His 38 saves were five more than his previous career best from 2017-18 vs. Milwaukee and were two shy of the Hogs' single-season high when Collin Delia made 40 stops Oct. 14 vs. Laval. Tomkins has combined for 69 saves through two games this season (34.5 saves/game).

The IceHogs were held scoreless on the power play while also allowing a power-play goal in each game this weekend. The Hogs are a combined 0-for-28 on the power play this season and have allowed at least one power-play goal in each game in 2019-20.
---
UPCOMING GAMES
Wednesday, Oct. 30 | Rockford vs. San Antonio (7 p.m.) The Rockford IceHogs return to the BMO Harris Bank Center for a Wednesday Dogs Day game. Fans can bring their dog to the game for just $2 and hot dogs will be available for only $2. If the IceHogs win, fans will also receive a free ticket to the Hogs home game on Dec. 3 vs. Manitoba.

Saturday, Nov. 2 | Rockford vs. Iowa (6 p.m.) The IceHogs host the Wild for Day of the Dead Night. The contest will feature an altar on the concourse, face painting and Folklorico Dancers at intermission.

Sunday, Nov. 3 | Rockford vs. Chicago (4 p.m.) Rockford caps the week with a Sunday matinee matchup against the Chicago Wolves. Fans can take advantage of the Papa John's Sunday Family 4 Pack plan to four game tickets, four soft drinks and one large pizza from Papa John's for just $44.
---
BUD LIGHT MONTHLY MONDAY HOG TALK AT SKYBOX
Bud Light Hog Talk returns Tuesday, Nov. 12 at Skybox. The new venue is located inside the Indoor Sports Center at Mercyhealth Sportscore Two at 8800 E Riverside Blvd, Loves Park. Fans can join broadcaster Joseph Zakrzewski from 6-7 p.m. once per month throughout the season as he chats with IceHogs players, coaches and front office members. For those unable to attend the show in-person, the show will be streaming live on IceHogs.com. "Bud Light Hog Talk" will also be available on www.icehogs.com following the live show.
---
ICEHOGS BROADCASTING NETWORK
Catch the IceHogs this season on WIFR's 23.2 Antenna TV. The games can also be viewed on Comcast Cable channel 434, Charter Cable channel 194, Dish Network channel 252 or Mediacom 102 in the Rockford market and online through watchtheAHL.com. Each TV broadcast will start with "IceHogs Warm Up" 30 minutes prior to puck drop. Fans can also listen to the action for free at sportsfanradio1330.com, facebook.com/rockfordicehogs and IceHogs.com. For a complete listing of TV stations carrying IceHogs games, visit IceHogs.com, and for the complete schedule of radio broadcasts, visit sportsfanradio1330.com.
---
TICKETS ON SALE FOR 2019-20!
IceHogs individual game tickets can be purchased by calling (815) 968-5222 to reserve your seats for any regular season home game during the 2019-20 season. Tickets can also be purchased online at IceHogs.com, in person at the BMO Harris Bank Center Box Office in downtown Rockford or at any Ticketmaster outlet, including Walmart.