WEEK 3 RECAP - ROCKFORD TAKES THREE STRAIGHT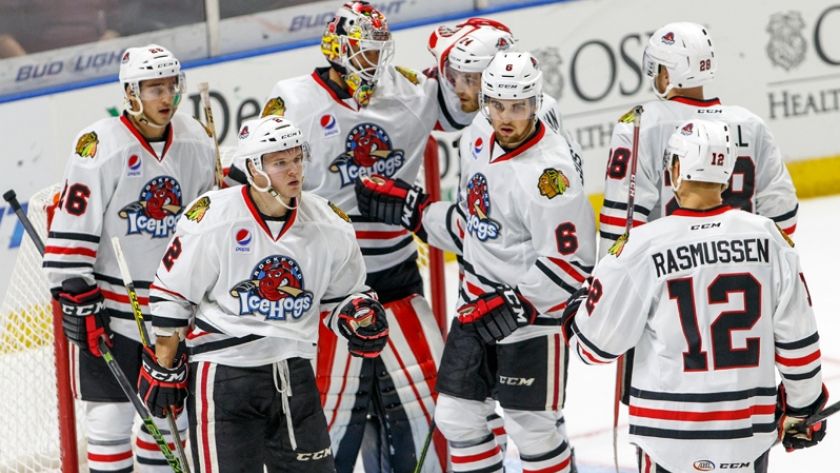 Week 3 Recap:
After losing three straight games, the Rockford IceHogs went on a three-game winning streak to open their divisional schedule. The IceHogs defeated the Iowa Wild and Chicago Wolves at the BMO Harris Bank Center for their first two home victories of the season before winning in Milwaukee to close out the weekend. Tanner Kero earned CCM/AHL Player of the Week honors with three goals and an assist in his team's victories. Rockford looks to stay hot at home this week when they take on the Charlotte Checkers on Tuesday, Oct. 27, and the Iowa Wild on Friday, Oct. 30. The IceHogs will also make a quick visit to Iowa on Sunday, Nov. 1 to play their third game in 12 days against their divisional foe.

Week 3 Results:
Wednesday, October 21, Iowa 2 vs. Rockford 3
Friday, October 23, Chicago 3 vs. Rockford 4 (SO)
Saturday, October 24, Rockford 4 at Milwaukee 2

Week 4 Schedule:
Tuesday, October 27 vs. Charlotte, 7 p.m.
Friday, October 30 vs. Iowa, 7 p.m.
Sunday, November 1 at Iowa, 5 p.m.
Bacon Bits:
-Following a three game losing streak the IceHogs are now riding a three-game winning streak
-The winning streak is the longest since the IceHogs reeled off five wins from April 3 to April 11 last season
-Rookie forward Tanner Kero compiled four points (3g-1a) and a +5 rating in three games for the IceHogs to earn the AHL's Player of the Week honors
-Kero ranks third in the AHL with six goals on the season
-Last season IceHogs players were honored twice by the league, when Mark McNeill won the Player of the Week award during the season's fifth week and when Michael Leighton claimed the Goalie of the Month award in January
-Ryan Hartman was awarded the team's first penalty shot of the season on Friday against the Wolves
-Hartman was unable to convert on the attempt and Rockford is now 5-25 on penalty shots during the team's AHL era
-Rockford faced off against three Central Division opponents in Week 3 and will continue to see their closest rivals as each of their next 10 games are against teams within the division
-The IceHogs are 3-0-0-0 against opponents from the Central Division
-The IceHogs gave up a season-high nine power play chances to the Chicago Wolves on Friday night
-The Hogs penalty kill unit killed off eight of the nine chances and shows a kill rate of 74.4% on the season
-Through the first seven games of the season Rockford has been short handed a league-leading 39 times
-Rockford has allowed a power-play goal in four straight games and in six of seven games to begin the season
-Former IceHog Byron Froese made his NHL debut with the Toronto Maple Leafs on Saturday
-Froese becomes the 76th player to go on and play in the NHL after making a stop in Rockford

Hot Hog: Week 3
Tanner Kero Center (3 GP, 3G, 1A, 4P, +3)

Center Tanner Kero continued his hot start to the 2015-16 season and his professional career. The 23 year-old began the week with his second three point performance of the season with two goals, including the game-winning tally, and an assist against the Iowa Wild on Wednesday. Kero finished the week by helping the IceHogs to their third-straight win with another marker on Saturday at Milwaukee. Kero ranks third in the AHL in goals (6), ninth in points (8), and is tied for seventh with a plus/minus rating of +7 on the young season.
Upcoming Games:
Tuesday, October 27 vs. Charlotte Checkers: Game starts at 7 p.m. The IceHogs welcome the Checkers to Rockford for the first time this season on a "Winning Weekday." Every time the IceHogs win at home on a weekday, each fan in attendance will receive a free ticket to the next weekday game. Fans can also enjoy $2 beers, hot dogs, and companion tickets.

Friday, October 30 vs. Iowa Wild: Face-off is at 7 p.m. Fans are encouraged to wear their costumes, and the team will host a Trick-or-Treat event, presented by Dr. Zak's Tooth Fairy Castle, where players will give out candy to fans following the game. The first 500 kids (14 and under) to the game will receive a trick-or-treat bag and toothbrush compliments of Dr. Zak's Tooth Fairy Castle. Doors will open at 5:15 p.m. for a Blues Flame Lounge Friday. Fans 21-and-older are invited to enjoy live blues music, a happy hour special, and free appetizers at the Blue Flame Lounge on the main concourse.

Sunday, November 1 at Iowa Wild: Puck drops at 5 p.m. Rockford makes the trip to Iowa to take on the Wild for the second time in three nights. It will be the first of six trips to the Wells Fargo Arena for the IceHogs this season.

Bud Light Monthly Monday Hog Talk At Vintage 501:
Bud Light Hog Talk returns on Monday, October 26 at Vintage 501 from 6-7 p.m. Vintage 501 is located in downtown Rockford at 501 E. State St. Fans can join Bob Mills or Kyle Stuetzel from 6-7 p.m. on the last Monday of every month throughout the season as they chat with IceHogs players, coaches, and front office members. This month's show will feature Head Coach Ted Dent as well as Michael Leighton and Brandon Mashinter. Take advantage of food and Bud Light specials at Vintage 501. The show will be re-aired on Tuesdays on WIFR's "Justice Network" on 23.3 from 6-7 p.m.

The IceHogs Broadcasting Network:
Catch every IceHogs game, home and road, in 2015-16 on WIFR's "Justice Network" on 23.3. The games can also be viewed on Comcast Cable channel 434, Charter Cable channel 194 or Mediacom 102 in the Rockford market and online through AHLLive.com. Every broadcast will start with "IceHogs Warm Up" 30 minutes prior to puck drop. Fans can also listen to the action for free at WXRX.com. For a complete listing of TV stations carrying IceHogs games, visit IceHogs.com.
Tickets on Sale for 2015-16!
IceHogs individual game tickets are now on sale! Call (815) 968-5222 to reserve your seats for any IceHogs regular season game during the 2015-16 season. Tickets can also be purchased online at IceHogs.com, in person at the BMO Harris Bank Center Box Office in downtown Rockford, or any Ticketmaster outlet, including Walmart.