WEEK 3 RECAP: ICEHOGS SWEEP DIVISIONAL HOMESTAND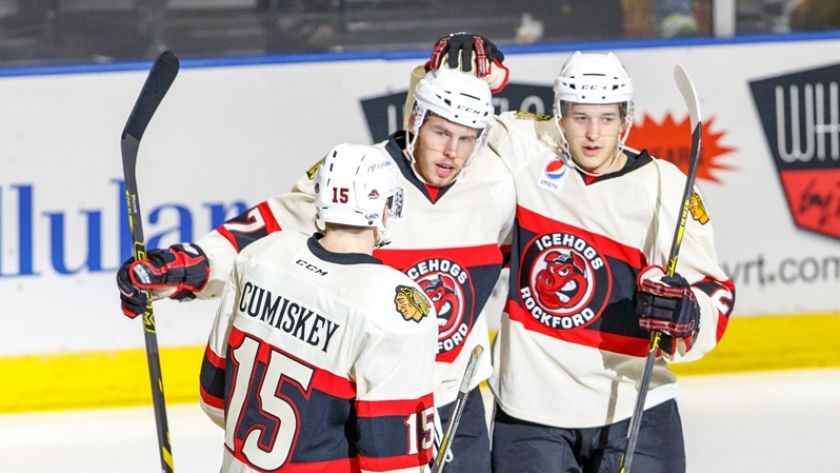 Week Highlighted by Pair of Wins in Rockford

Week 3 Recap:
Rockford began the week playing the last of four-straight on the road in Rochester, where they fell to the Americans 3-2. The IceHogs found a way to bounce back upon their return to home ice, as they dispatched of divisional opponents Chicago (4-3) and Lake Erie (5-2), in their brief stay at the BMO Harris Bank Center over the weekend.
Week 3 Results:
Wednesday, Oct. 22, Rockford 2 at Rochester 3
Saturday, Oct. 25, Chicago 3 vs. Rockford 4
Sunday, Oct. 26, Lake Erie 2 vs. Rockford 5

Week 4 Schedule:
Wednesday, Oct. 29, at Grand Rapids, 6 p.m
Friday, Oct. 31: at San Antonio, 7:30 p.m.
Saturday, Nov. 1: at San Antonio, 7 p.m.

Bacon Bits:
After tallying 10 goals in their first five games, Rockford scored nine in two contests over the weekend

All seven of Rockford's games so far in 2014-15 have been tied heading into the third period

Rockford did not use the penalty kill on Sunday against Lake Erie, the first time since 3/6/10 at San Antonio in which the IceHogs were not shorthanded during a game

When Rockford's opponent's score the game's first goal, the IceHogs are 3-0-0-0

Defenseman Kyle Cumiskey registered an IceHogs single-game season-high three assists on Sunday against Lake Erie

Goalie Scott Darling became the 62nd IceHogs player to play in the NHL and the sixth different goalie to earn his first-career NHL win after playing in Rockford

Rookie forward Ryan Hartman is leading all IceHogs skaters with a plus/minus rating of +6 through seven games, tying him for second best among all AHL rookies

After getting held without a point in Rockford's first four games, defenseman Adam Clendening has points in three straight contests (1g-2a)

Rockford scored three, third period goals in their 5-2 win over Lake Erie on Sunday, the second time in seven games in 2014-15 that the club has bagged three markers in the third frame

After a brief two game homestand, the IceHogs hit the road in Week 4 for another road trip, playing three games in six days

Following Saturday's game in San Antonio, the IceHogs will play eight of their next 11 contests on home ice

Through this Friday, the IceHogs will have played nine games against nine different opponents before playing San Antonio for a second straight night on Saturday

Matt Carey scored his first career AHL goal on Sunday and it proved to be the game winner in Rockford's 5-2 win against Lake Erie

Carey also added an assist for his first career multi-point game

The IceHogs have recorded at least one fighting major in six of their seven games this season

Overall, Rockford has eight fighting majors in seven games coming from eight different players

Hot Hog: Week 3
Center Phillip Danault

Second-year winger Phillip Danault registered a point in all three of Rockford's contests in Week 3. Danault marked an assist in Wednesday's 3-2 loss in Rochester before scoring his first goal of the season in Saturday's 4-3 win over the Chicago Wolves at the BMO. The center finished the three game week with an assist against Lake Erie, totaling 1g-2a-3pts and a +3 for the week. On the season, Danault now shows 1g-3a-4pts in five games played.

Upcoming Games:
Wednesday, Oct. 29 at Grand Rapids Griffins: Puck drop is at 6 p.m. The IceHogs begin their season series with the Midwest Division rival Griffins as they embark on a three-game road trip at Van Andel Arena. Rockford held a record of 3-6-1-0 against Grand Rapids last year, including a 0-4-1-0 mark in Michigan.

Friday, Oct. 31 at San Antonio Rampage: Face off is set for 7:30 p.m. Rockford makes its first of two trips to the Lone Star State to kick off a two-game series with the Rampage with a Halloween showdown. The IceHogs dropped their only game at AT&T Center last year 3-1 on Oct. 5, 2013.

Saturday, Nov. 1 at San Antonio Rampage: Puck drop is 7 p.m. The IceHogs begin their November slate with the weekend finale against the Rampage. Saturday marks the first rematch of the young season as Rockford began by playing nine games against nine different opponents.

Bud Light Hog Talk Monday Night At Mulligan's and Grill:
Bud Light Hog Talk will return on Monday, Oct. 27 at Mulligan's Pub and Grill from 6-7 p.m. Mulligan's is located on North Main St. Fans can join Mike Peck or TJ Hogan from 6-7 p.m. on most Mondays throughout the season, as they chat with IceHogs players, coaches and front office members. This week's guests will include IceHogs defenseman Stephen Johns and developmental goaltending coach Andrew Allen. Take advantage of food and Bud Light specials at Mulligan's. The show will be re-aired on Tuesdays from 7-8 p.m. on WIFR's 23.2 "Antenna TV."

The IceHogs Broadcasting Network:
Catch every IceHogs game, home and road, in 2014-15 on WIFR's 23.2, "Antenna TV." The games can also be viewed on Comcast Cable channel 436, Charter Cable channel 193 or Mediacom 101 in the Rockford market and online through AHLlive.com. Fans can listen to the action for free on AHLlive.com. For a complete listing of TV stations carrying IceHogs games, visit IceHogs.com. Every broadcast will start with the IceHogs Warmup 30 minutes prior to puck drop.

Tickets On Sale for 2014-2015!
IceHogs individual game tickets are now on sale! Call (815) 968-5222 to reserve your seats for any IceHogs regular season game during the 2014-15 season. Tickets can also be purchased online at IceHogs.com, in person at the BMO Harris Bank Center Box Office in downtown Rockford, or any Ticketmaster outlet, includating Wal-Mart.