WEEK 29 RECAP - ICEHOGS RACE OUT TO 2-0 SERIES LEAD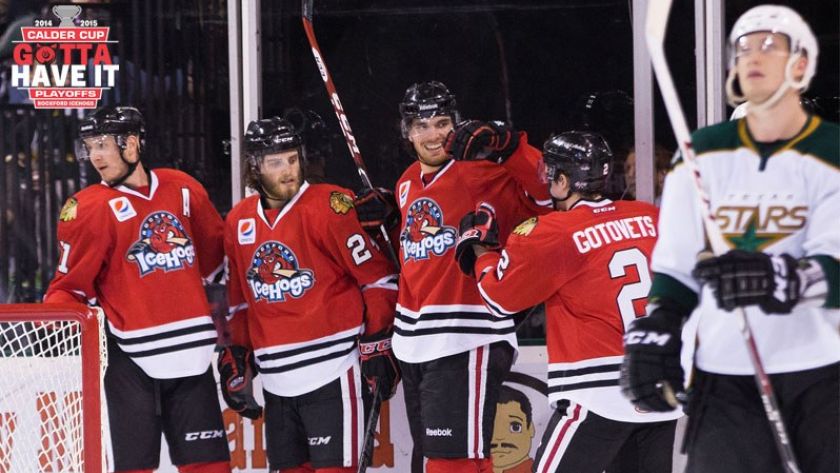 A pair of road wins gives Rockford commanding edge as series shifts to the BMO Harris Bank Center

Week 29 Recap:
Rockford hit the ground running in their quest for the Calder Cup, winning Games 1 and 2 on the road in Texas to take a 2-0 series lead over the Stars in the Western Conference Quarterfinals. The IceHogs picked up their first playoff win since 2008 with a come-from-behind 4-2 triumph in Friday's Game 1, before rolling to a 4-1 win the following night. With the series shifting to the Forest City, Rockford has up to three chances at home to pick up one more victory and put an end to Texas' reign as Calder Cup Champions.

Week 29 Results:
(Game 1) Friday, April 24: Rockford 4 at Texas 2
(Game 2) Saturday, April 25: Rockford 4 at Texas 1

Week 30 Schedule:
Game 3: Wednesday, April 29 vs. Texas, 7 p.m.
Game 4*: Friday, May 1 vs. Texas, 7 p.m.
Game 5*: Saturday, May 2 vs. Texas, 7 p.m.
* If Necessary

Bacon Bits:
-The IceHogs won Games 1-2 in Texas, taking a 2-0 lead in the Conference Quarterfinals as the series shifts to Rockford for Games 3-5

-The victories were the first two Calder Cup Playoff wins in seven years for the IceHogs, dating back to a Game 5 win in the West Division Finals over Chicago on May 7, 2008

-With one more win the IceHogs will advance to the Western Conference Semifinals with their first playoff series victory since defeating Houston in five games (best of seven series) in the 2008 West Division Semifinals

-Including regular season play, Saturday extended Rockford's winning streak over Texas to ten games, dating back to the 2012-13 season

-The last Stars victory over the IceHogs came on Jan. 21, 2013 at the BMO Harris Bank Center (6-3)

-Eight different Rockford skaters logged multi-point games over the weekend, led by a three-point performance (1g-2a) by Brandon Mashinter in Saturday's 4-1 win

-Rookie defenseman Kirill Gotovets notched the third-period game winning goal in Game 1, while leading both teams with seven shots on goal

-Right wing Spencer Abbott tallied two goals in Friday's 4-2 triumph in Game 1, before adding an assist in Game 2

-Abbott now has points in seven of his last eight Calder Cup Playoff games against Texas (6g-5a), which includes the 2014 Western Conference Finals between the Stars and Abbott's Toronto Marlies

-With three points apiece, Abbott and Mashinter are tied atop the team scoring list after two games with Peter Regin (1g-2a) and Ville Pokka (3a)

-Goaltender Michael Leighton stopped 67 of 70 shots in Games 1 and 2, good for a .957 save percentage, the fourth-best mark among playoff netminders

-Rookie Tanner Kero scored the game-winning goal in Game 2, giving him goals in five of his last six games, and six total in only eight games with the IceHogs

-Rockford's power play unit was extremely effective in the postseason's first weekend, scoring three times in 10 chances, giving them a 30% success rate

Hot Hog: Week 29
Michael Leighton Goaltender (2GP, 3GA, 1.50 GAA, .957 SV%)
The IceHogs knew they would need solid goaltending to shut down the potent Texas Stars attack, and that is just what Michael Leighton provided in Games 1 and 2. The veteran netminder backstopped his team to a commanding 2-0 series lead, stopping 67 of 70 shots in a pair of victories at Cedar Park Center. Leighton is making his first venture into the Calder Cup Playoffs since leading the Albany River Rats to the postseason in 2008, where they fell in seven games to the Philadelphia Phantoms.

Western Conference Quarterfinals vs. Texas Stars:
Wednesday, April 29 - Game 3 (at Rockford): Game starts at 7 p.m. The IceHogs will play their first Calder Cup Playoff game in the Forest City since 2010 when the opening round series shifts to Rockford for Game 3. The first 1,500 fans will receive a free cowbell courtesy of BMO Harris Bank. The festivities begin prior to puck drop during a Pregame Block Party, sponsored by Swedish American Hospital. Fans can also sign up to win an assortment of great prizes during the IceHogs "Win On Wednesday" promotion.

Friday, May 1 - Game 4 (at Rockford - If Necessary): Puck drops at 7 p.m. If need be, The IceHogs and Stars will return to the BMO for Game 4 on Friday. Head out to the arena early to join in another Pregame Block Party presented by Swedish American Hospital.

Saturday, May 2 - Game 5 (at Rockford - If Necessary): Face-off is at 7 p.m. If necessary, the decisive Game 5 between Rockford and Texas is scheduled for Saturday night at the BMO Harris Bank Center. The IceHogs are hosting another Pregame Block Party, sponsored by Swedish American Hospital.

The IceHogs Broadcasting Network:
Catch every game in Rockford's quest for the Calder Cup on WIFR's 23.2, "Antenna TV." The games can also be viewed on Comcast Cable channel 436, Charter Cable channel 193 or Mediacom 101 in the Rockford market and online through AHLLive.com. Fans can also listen to the action for free on AHLLive.com. For a complete listing of TV stations carrying IceHogs games, visit IceHogs.com. Every broadcast will start with the IceHogs Warm Up 30 minutes prior to puck drop.

2015 Calder Cup Playoff Tickets On Sale Now:
Fans can reserve their seats for the 2015 Calder Cup Playoffs by stopping by the BMO Harris Bank Center Box Office, calling (815) 968-5222 or online through Ticketmaster. Individual game tickets for the first round start as low at $17. Season ticket holders receive the first two games, labeled "Game A" and "Game B," of the first round of the Calder Cup Playoffs free of charge as it's included with their ticket package. The two complimentary tickets can be used for the first round only.