WEEK 28 REPORT: ROCKFORD READIES FOR PLAYOFF BATTLE WITH WOLVES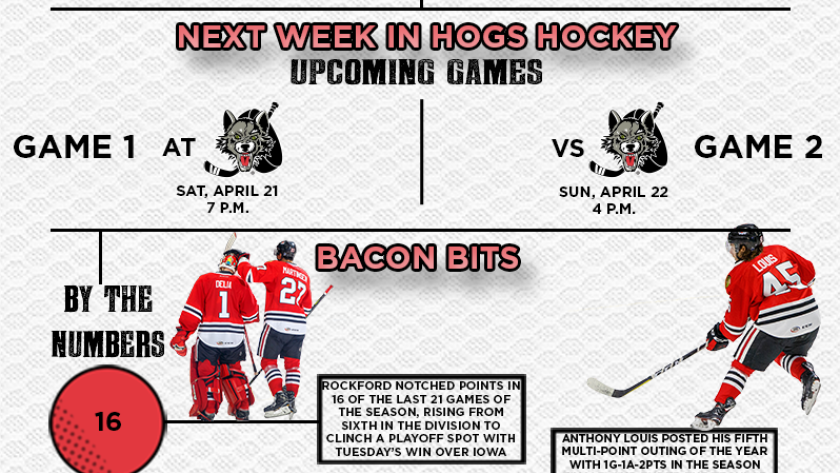 BACON BITS
-The Rockford IceHogs clinched a playoff berth on Tuesday last week before dropping each of the two games in their weekend home-and-home series with the Chicago Wolves...The IceHogs concluded the regular season with an overall record of 40-28-4-4 (88 points), including 22-13-2-1 (47 points) at home and 18-15-2-3 (41 points) on the road...Rockford notched points in 16 of the last 21 games of the season following last week's schedule.
-The IceHogs reached the postseason for the third time in four years following Tuesday's playoff-clinching victory against the Iowa Wild...Rockford will enter the 2018 Calder Cup playoffs as the four seed from the Central Division and will square off against the top-seeded Chicago Wolves...The best-of-five playoff series begins in Rosemont on Saturday, April 21 (7 p.m.) and shifts to Rockford for Game 2 (Ticket A) on Sunday, April 22 (4 p.m.).
-Rockford capped the season with 3+ goals in each of its last 10 games (since March 24)...The IceHogs scored three goals in two games, four goals in five games and five goals in three games over that span...The Hogs have totaled 41 goals over that span, good for an average of 4.1 goals per game.
-Forward Anthony Louis posted his fifth multi-point effort of the season with a goal and assist in the season finale at Chicago...Louis concluded the regular season as the IceHogs' scoring leader with 44 points (14g, 30a) in 70 games in 2017-18.
-Forward Matthew Highmore netted his team-leading 24th goal of the season in the regular-season finale on Saturday...Highmore set the IceHogs AHL record for rookie goals this year, scored two hat tricks during the season and finished the campaign ranked fourth among AHL rookies in goals.
-Defenseman Adam Clendening led the IceHogs in scoring after making his team debut on Jan 12...Clendening tallied points in 22 of 38 games in that span, including seven multi-point efforts, and posted 30 total points (4g, 26a) during his Rockford tenure...Clendening's 30 points in that span were three more than any Rockford skater.
UPCOMING GAMES
Saturday, April 21 | Rockford at Chicago (7 p.m.) The Rockford IceHogs open the 2018 Calder Cup playoffs with Game 1 against the Chicago Wolves at the Allstate Arena...The IceHogs split the regular season with the Wolves, posting a 6-6-0-0 record against Chicago.
Sunday, April 22 | Chicago vs. Rockford (4 p.m.) The IceHogs return home to the BMO Harris Bank Center for Game 2 (Ticket A) of the first round of the Calder Cup playoffs. Sunday's game is Rockford's lone guaranteed home game of the first round of the playoffs, as the Hogs are scheduled for an as-necessary Game 4 (Ticket B) on Sunday, April 29 (4 p.m.) against the Wolves.
BUD LIGHT MONTHLY MONDAY HOG TALK AT VINTAGE 501
Come out for the FINAL Bud Light Hog Talk of 2017-18 at Vintage 501 TONIGHT, Monday, April 16. Vintage 501 is located in downtown Rockford at 501 E. State St. Tonight's guests are defenseman Carl Dahlstrom and forward Henrik Samuelsson.
Fans can join broadcasters Joseph Zakrzewski and Brittany Toolis from 6-7 p.m. on the first Monday of every month throughout the season as the duo chats with IceHogs players, coaches and front office members.
"Bud Light Hog Talk" will also be available on www.icehogs.com following the live show. Fans can access the podcast through the "Audio Highlights" link in the "Multimedia" menu.
ICEHOGS BROADCASTING NETWORK
Catch every IceHogs game, home and road, in 2017-18 on WIFR's Cozi TV on 23.3. The games can also be viewed on Comcast Cable channel 434, Charter Cable channel 194, Dish Network channel 252 or Mediacom 102 in the Rockford market and online through AHLLive.com. Every TV broadcast will start with "IceHogs Warm Up" 30 minutes prior to puck drop. Fans can also listen to the action for free at sportsfanradio1330.com and IceHogs.com. For a complete listing of TV stations carrying IceHogs games, visit IceHogs.com, and for the complete schedule of radio broadcasts, visit sportsfanradio1330.com.
IceHogs playoff tickets can be purchased by calling (815) 968-5222 to reserve your seats for all home postseason matchups. Tickets can also be purchased online at IceHogs.com, in-person at the BMO Harris Bank Center Box Office in downtown Rockford or at any Ticketmaster outlet, including Walmart.