WEEK 26 RECAP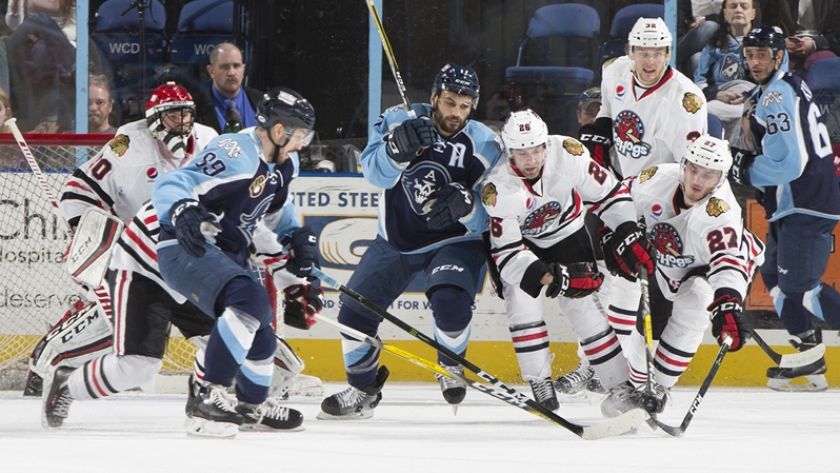 Bacon Bits:
-The Rockford IceHogs concluded last week's schedule with a record of 1-2-0-0 through three road games. The Hogs notched their lone win, 4-2, at Milwaukee on Saturday, and suffered a 3-1 loss both at Iowa on Thursday and Chicago on Sunday. Rockford now enters the final week of the regular season with wins in three of its last five games since March 31 (3-2-0-0).
-Rockford has dropped five of its last six road games and is currently 9-23-4-1 on the road this season. With just one road game remaining in 2016-17, the IceHogs currently rank last in the AHL in road record, wins and points (23).

-Kyle Baun notched a three-game point streak last week and now has seven points (3g, 4a) over his last 11 games since March 14. Baun leads the team in total points (33), ranks second in goals (14) and is third in assists (19) for the 2016-17 season.

-Rookie Anthony Louis recorded his first professional point with his first career goal during Rockford's win at Milwaukee on Saturday. Louis also tallied an assist the following night at Chicago and now boasts points in back-to-back games.

-Matheson Iacopelli posted his first multi-point game of his rookie season with two assists on Saturday against the Admirals. Iacopelli also joins Louis with points in two straight contests (3a) and has now found the scoresheet in three of his first five professional games (1g-3a-4pts).

-Michael Latta is on a two-game point streak (2g, 1a) and has totaled 2g-5a-7pts over his last nine contests since March 18. Following last week's road trip, Latta has collected 12 of his 16 total points with the IceHogs during road games (3g-9a-12pts on the road).

-Brandon Mashinter scored the game-winning goal on Saturday at Milwaukee and now leads the team with 15 goals on the season. Mashinter's 15 goals are just two shy of his largest goal total over his last seven seasons (since 2010-11).

Upcoming Home Games:
Wednesday, April 12: The IceHogs host the Admirals in the 10th and final Winning Weekday game, presented by Fas Fuel. Wednesday is also a WXRX Dollar Day where fans can take advantage of $2 beers, soft drinks, hot dogs and companion
tickets.

Saturday, April 15: The Rockford IceHogs face the Iowa Wild in their 2016-17 regular season finale at the BMO Harris Bank Center. The first 2,500 fans to enter the arena will receive a 2016-17 Rockford IceHogs team photo courtesy of American Solutions for Business.
Bud Light Monthly Monday Hog Talk At Vintage 501:
Bud Light Hog Talk concluded another successful season at Vintage 501. Vintage 501 is located in downtown Rockford at 501 E. State St. Fans can join broadcaster Bob Mills and Kevin Peters from 6-7 p.m. on the first Monday of every month throughout the season as the duo chats with IceHogs players, coaches and front office members. For those unable to attend the show in-person, Monday's show will be streaming live on WXRX.com. "Bud Light Hog Talk" will also be available on www.icehogs.com following the live show. Fans can access the podcast through the "Audio Highlights" link in the "Multimedia" menu.

The IceHogs Broadcasting Network:
Catch every IceHogs game, home and road, in 2016-17 on WIFR's "Justice Network" on 23.3. The games can also be viewed on Comcast Cable channel 434, Charter Cable channel 194, Dish Network channel 252 or Mediacom 102 in the Rockford market and online through AHLLive.com. Every TV broadcast will start with "IceHogs Warm Up" 30 minutes prior to puck drop. Fans can also listen to the action for free at WXRX.com and sportsfanradio1330.com. For a complete listing of TV stations carrying IceHogs games, visit IceHogs.com, and for the complete schedule of radio broadcasts, visit sportsfanradio1330.com.

Tickets On Sale for 2016-2017!
IceHogs individual game tickets can be purchased by calling (815) 968-5222 to reserve your seats for any regular season home game during the 2016-17 season. Tickets can also be purchased online at IceHogs.com, in person at the BMO Harris Bank Center Box Office in downtown Rockford or at any Ticketmaster outlet, including Walmart.