WEEK 25 RECAP: HOGS DROP PAIR, PLAYOFF RACE THICKENS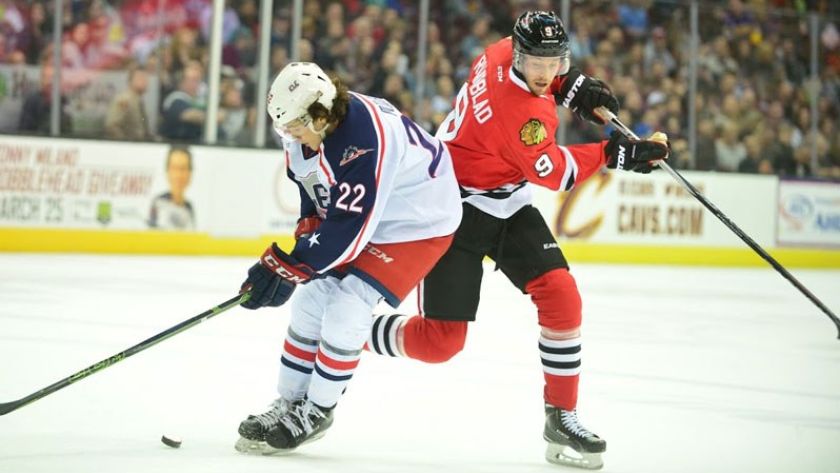 Week 25 Results:
Thursday, March 24: Rockford 2 at Lake Erie 4
Friday, March 25: Rockford 1 at Lake Erie 5

Week 26 Schedule:
Wednesday, March 30: Rockford at Chicago, 7 p.m.
Friday, April 1: San Antonio vs. Rockford, 7 p.m.
Saturday, April 2: Iowa vs. Rockford, 7 p.m.

Week 25 Recap:
The Rockford IceHogs dropped a pair of contests in Cleveland to the Lake Erie Monsters in their final games of the season against their Central Division opponent. The home team won all eight games in the matchups between the two teams this season. Despite the losses, Rockford maintained their advantage over Lake Erie, and holds a third-place position with a .621 win percentage.

Bacon Bits:
-Captain Jake Dowell became the seventh IceHog to reach the 10-goal mark with his tally on Thursday's defeat in Lake Erie
-Defenseman Jonathan Carlsson scored his first goal in an IceHogs uniform this season at 1:17 of the first period on Thursday
-David Rundblad also scored his first goal for Rockford as he notched the team's only goal on Friday
-Rundblad was the only IceHogs player to finish with a plus rating in both games in Week 25
-31 different players have scored at least one goal for the IceHogs this season
-Mike Liambas (19 PIM) and Pierre-Cedric Labrie (27 PIM) each set individual season-highs for penalty minutes in a game in Friday's loss to the Monsters
-Labrie also set a team-high for penalty minutes in a game on Friday
-The left winger took a match penalty on Friday, putting the IceHogs into the league lead in that category with three on the season
-Liambas is now tied with Kyle Hagel for the league-lead in major penalties this season (17)
-Liambas ranks fourth in the AHL in penalty minutes (159) despite having played just 35 games
-The team-leader in penalty minutes saw a team season-long penalty streak (10 games) snapped on Thursday
-The IceHogs penalty kill unit went six-straight games without allowing a power-play goal before surrendering once to the Monsters on Friday
-Rockford killed off 25-straight penalties between opposing power-play goals
-The IceHogs power play unit has not scored on the road since Feb. 26 against Lake Erie
-With losses on Thursday and Friday, the IceHogs road winless streak extended to eight games (0-6-2-0)
-Rockford has lost each of their last five road matchups in regulation, but has a six-game home unbeaten streak (5-0-1-0)
-The IceHogs never scored more than twice against Monsters goalie Anton Forsberg, and went 2-2-1-0 against the Lake Erie goaltender in the season series
-Mark McNeill went back-to-back games without a point for the first time of the 2016 calendar year
-Lukas Sedlak's goal eight seconds into Thursday's contest marked the franchise record for fastest goal against by an IceHogs opponent
-The goal broke the previous record of 10 seconds which was set last season by Mitch Callahan of the Grand Rapids Griffins
-Rockford has allowed three or more consecutive goals to an opponent five times in the team's last eight games
-Despite having scored only one goal in four of their last seven games, the IceHogs have not been shut out since Jan. 2 (Chicago) and have gone scoreless just twice this season
-Rockford has not come from behind to win a game when trailing after two periods of play this season (0-16-3-0)
-Thursday's defeat to the Monsters marked the first time the IceHogs lost in regulation when Jake Dowell had a plus rating (22-1-0-1)

Hot Hog: Week 25
David Rundblad (2GP, 1G, +2)

Defenseman David Rundblad got his first goal of the season on Saturday in just his third game wearing an IceHogs uniform. Rundblad became the eighth defenseman and 31st player to notch a goal for the team this season. The blueliner was also the only Rockford player to finish with a positive plus/minus rating in both games.

Upcoming Games:
Wednesday, March 30 at Chicago Wolves: Game starts at 7 p.m. Rockford visits the Wolves in Rosemont for the final Illinois Lottery Cup matchup of the season. The IceHogs have clinched the season series and hold a 6-2-3-0 record versus Chicago this season.

Friday, April 1 vs. San Antonio Rampage: Contest begins at 7 p.m. The IceHogs play their final out-of-division game of the season. Doors will open at 5:15 p.m. for a Blues Flame Friday. Fans 21-and-older are invited to enjoy live blues music, a happy hour special, and free appetizers at the Blue Flame Lounge on the main concourse.

Saturday, April 2 vs. Iowa Wild: Game starts at 7 p.m. Rockford wraps up a back-to-back home set as they host Iowa. The first 2,500 fans will receive a garden gnome courtesy of Riverside Dental.

The IceHogs Broadcasting Network:
Catch every IceHogs game, home and road, in 2015-16 on WIFR's "Justice Network" on 23.3. The games can also be viewed on Comcast Cable channel 434, Charter Cable channel 194 or Mediacom 102 in the Rockford market and online through AHLLive.com. Every broadcast on WIFR will start with "IceHogs Warm Up" 30 minutes prior to puck drop. Fans can also listen to the action for free at WXRX.com. For a complete listing of TV stations carrying IceHogs games, visit IceHogs.com.

Tickets On Sale for 2015-2016!
IceHogs individual game tickets are now on sale! Call (815) 968-5222 to reserve your seats for any IceHogs regular season game during the 2015-16 season. Tickets can also be purchased online, in person at the BMO Harris Bank Center Box Office in downtown Rockford, or any Ticketmaster outlet, including Walmart.