WEEK 24 RECAP- HOGS EXTEND WINNING STREAK TO FOUR GAMES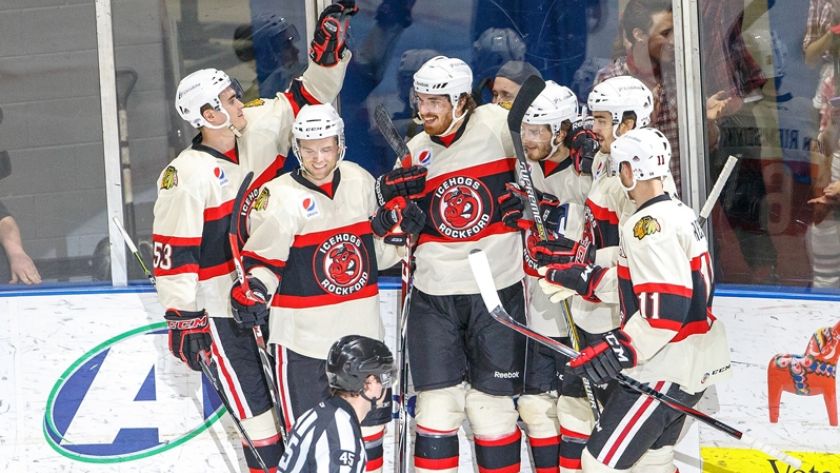 Rockford keeps pace at top of Western Conference with three inter-division wins

Week 24 Recap:
The resurgent IceHogs continued to roll toward their first playoff berth since 2010 as they began a four game homestand with three victories in Week 24. Rockford defeated the Adirondack Flames twice; 4-3 in a shootout on Wednesday and in 4-0 shutout fashion on Saturday night, before wrapping up the weekend with a come-from-behind 4-3 win over the Texas Stars. With 13 contests left in their regular season schedule, the IceHogs only sit three points behind the Midwest Division-leading Grand Rapids Griffins, while holding two games in hand.
Week 24 Results:
Wednesday, March 18, Adirondack 3 vs. Rockford 4 (SO)
Saturday, March 21, Adirondack 0 vs. Rockford 4
Sunday, March 22, Texas 3 vs. Rockford 4

Week 25 Schedule:
Wednesday, March 25 vs. Lake Erie, 7 p.m.
Friday, March 27 at Adirondack, 6 p.m.
Saturday, March 28 at Utica, 6 p.m.

Bacon Bits:
-With their 36th win of the season on Saturday, the IceHogs surpassed their win total from a season ago (35) with 14 games remaining on the 2014-15 slate

-The IceHogs drew their ninth sellout of the season on Saturday, including seventh in the club's last 11 home games, one shy of the all-time franchise record of 10 set last season

-Rockford hosted their 16th annual jersey auction on Sunday and the fans helped raise a record $79,920

-Through 16 jersey auctions, the IceHogs have raised $809,230 for local charities

-With their 4-3 victory over Texas on Sunday, Rockford completed a four-game season sweep over the defending Calder Cup Champions

-Center Peter Regin had his team season-long seven game point streak snapped on Sunday

-Regin totaled 2g-6a-8pts during the point streak

-Defenseman Stephen Johns recorded his first professional multi-goal game, when he scored twice in Saturday's victory over Adirondack

-The rookie blueliner has piled up eight points (3g-5a) in his last six games, after only marking eight assists over his first 32 games this season

-Antti Raanta notched Rockford's franchise record eighth shutout of the season on Saturday, his first career AHL shutout

-All four goalies who have suited up and played for Rockford this season, Mac Carruth (1), Scott Darling (2), Michael Leighton (4) and Antti Raanta (1), have recorded a shutout

-Since his IceHogs debut on March 6, forward Spencer Abbott has 5g-2a-7pts in seven games

-Rockford is 8-1-1-0 over their past 10 games and 11-3-1-0 dating back to Feb. 13

-Rockford has scored four goals in each game during their current four game winning streak

-Over their 10-game hot streak, Rockford is averaging 3.70 goals per contest

-Over the past 10 games, Rockford's power play has gone 10-42, a 23.8% conversion rate

-In 23 games dating back to Jan. 16, the IceHogs power play has gone 18-86, scoring on 20.9% of their man advantages

-With 81 standings points, Rockford sits four points out of the top spot in the Western Conference in fifth place, but with two games in-hand on all four teams ahead of them in the standings

Hot Hog: Week 24
Spencer Abbott Right Wing (3GP, 3G, +2)
Since getting acquired by the Blackhawks and assigned to the IceHogs, forward Spencer Abbott has been a catalyst on the offensive side for Rockford. In Week 24, Abbott played a key role in helping Rockford take three wins. On Wednesday night, Abbott scored two third period goals for the IceHogs against Adirondack before notching the lone shootout marker in the Hogs 4-3 win over the Flames. In another tight contest on Sunday against Texas, Abbott buried the game-winning goal in Rockford's 4-3 victory over the Stars.

Upcoming Games:
Wednesday, March 25 vs. Lake Erie Monsters: Puck drop is at 7 p.m. The IceHogs finish off a season long four game homestand during another WXRX Dollar Day at the BMO. Fans can enjoy one dollar hot dogs, sodas, beers and companion tickets throughout the night. The matchup is the last of eight meetings between the IceHogs and Monsters this year. Rockford holds a 4-2-1-0 record over their Midwest Division rival, including a 2-0-1-0 mark at home.

Friday, March 27 at Adirondack Flames: Face-off is at 6 p.m. Rockford embarks on a weekend trip in New York as they wrap up their season slate with Adirondack Friday night at the Glens Falls Civic Center. It is the third meeting in 10 days with the Flames, with the IceHogs taking each of the first two at the BMO Harris Bank Center. Rockford was victorious in their first visit to Glens Falls, a 4-2 win back on Oct. 16.

Saturday, March 28 at Utica Comets: Game starts at 6 p.m. Rockford finishes its weekend trip with a matchup against fellow Western Conference power Utica at the Utica Memorial Auditorium. Sunday is the second and final regular season meeting between the IceHogs and Comets, with Rockford taking a 3-0 win at the BMO in their first showdown on Jan. 24.

Bud Light Hog Talk Monday Night At Mulligan's and Grill:
Bud Light Hog Talk returns on Monday, March 23 at Mulligan's Pub and Grill from 6-7 p.m. Mulligan's is located on North Main St. Fans can join Mike Peck or TJ Hogan from 6-7 p.m. on most Mondays throughout the season, as they chat with IceHogs players, coaches and front office members. The show will feature forward Spencer Abbott and Goaltending Coach Andrew Allen. Take advantage of food and Bud Light specials at Mulligan's. The show will be re-aired on Tuesdays from 7-8 p.m. on WIFR's 23.2 "Antenna TV."

The IceHogs Broadcasting Network:
Catch every IceHogs game, home and road, in 2014-15 on WIFR's 23.2, "Antenna TV." The games can also be viewed on Comcast Cable channel 436, Charter Cable channel 193 or Mediacom 101 in the Rockford market and online through AHLLive.com. Fans can also listen to the action for free on AHLLive.com. For a complete listing of TV stations carrying IceHogs games, visit IceHogs.com. Every broadcast will start with the IceHogs Warm Up 30 minutes prior to puck drop.

Tickets On Sale for 2014-2015!
IceHogs individual game tickets are now on sale! Call (815) 968-5222 to reserve your seats for any IceHogs regular season game during the 2014-15 season. Tickets can also be purchased online at IceHogs.com, in person at the BMO Harris Bank Center Box Office in downtown Rockford, or any Ticketmaster outlet, including Walmart.