WEEK 23 REPORT: HOGS EARN 3 OF 4 POINTS, PLAYOFF PUSH ROLLS ON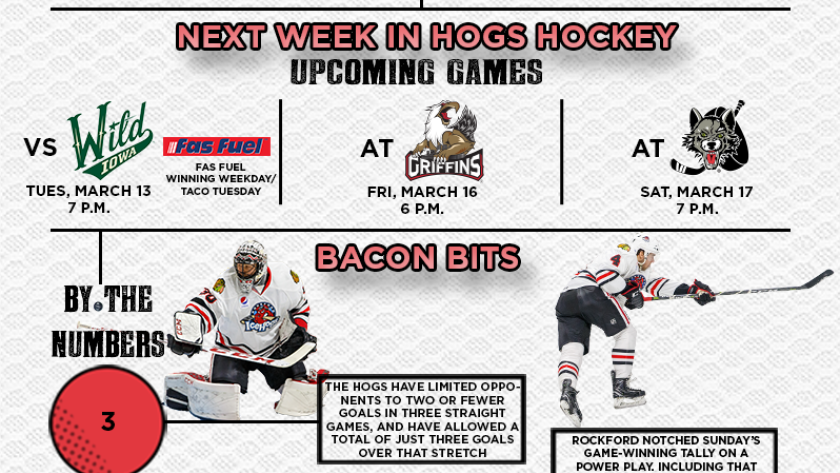 BACON BITS:
-The Rockford IceHogs finished last week's slate of game with three of four possible points on their two-game road trip at Milwaukee and Chicago...The Hogs have points in five of the last six games with a record of 4-1-0-1 in that stretch, and dating further back to Feb. 18, are 5-2-0-1 over the last eight contests.
-Rockford scored the game-winning goal on an overtime power-play opportunity at Chicago on Sunday...Including that marker, the Hogs have totaled six power-play goals over the last eight games dating to Feb. 18.
-The IceHogs killed of nine of 10 opposing power plays on the weekend, and have now allowed just one power-play goal over the last three games...Rockford's PK unit has gone a combined 15-for-16 (93.8%) over those last three contests, including finishing 6-for-6 vs. Wilkes-Barre/Scranton, 5-for-5 at Milwaukee and 4-for-5 against Chicago.
-The Hogs have limited opponents to two or fewer goals in three straight games, including a shutout of Wilkes-Barre/Scranton on March 3...The IceHogs have allowed a combined total of just three goals over that stretch, good for an average of one goal per game.
-Cody Franson notched points in a season high-tying three straight games from Feb. 28 - March 3, before capping off last week's slate of games with his first multi-point effort (1g, 1a) of the season on March 11 at Chicago...Franson has now posted five points over his last five games with three goals and a pair of assists.
-Chris DiDomenico is averaging a point per game since making his IceHogs debut on Feb. 23 at Wilkes-Barre/Scranton...The forward scored the game-winning goal in overtime against Chicago on Sunday and now has two goals, five assists and seven points in seven contests with Rockford.
-Goaltender Collin Delia has helped the IceHogs pick up a point in each of his last five appearances, and allowed just eight goals over that stretch...Delia enters the week with a 4-0-0-1 record, 1.57 GAA and .939 save percentage in that time.
UPCOMING GAMES:
Tuesday, March 13 | Iowa vs. Rockford (7 p.m.) The IceHogs host the Iowa Wild for the final Taco Tuesday and Fas Fuel Winning Weekday of the 2017-18 season. Fans who attended Rockford's victory against the Texas Stars on Feb. 28 can redeem their ticket stub from that game for a free ticket of equal or lesser value to the game against the Wild on March 13. Fans can also enjoy $2 tacos, select beer, and companion tickets as part of Taco Tuesday.
Friday, March 16 | Rockford at Grand Rapids (6 p.m.) Rockford travels to Grand Rapids for the ninth matchup of the season's series against the Griffons. Fans can catch all the action at the IceHogs' official Road Watch Party at Savoy Lounge, where those in attendance can register to win a variety of great IceHogs prizes.
Saturday, March 17 | Rockford at Chicago (7 p.m.) The Hogs continue the 2017-18 Illinois Lottery Cup Series with a showdown against the Wolves at Allstate Arena...Rockford enters Saturday with a record of 4-4-0-0 against the Wolves this year.
BUD LIGHT MONTHLY MONDAY HOG TALK AT VINTAGE 501
Bud Light Hog Talk returns to Vintage 501 TONIGHT Monday, March 12 from 6-7 p.m. with guests Tyler Sikura and Jeff Glass. Vintage 501 is located in downtown Rockford at 501 E. State St. Fans can join broadcasters Joseph Zakrzewski and Brittany Toolis from 6-7 p.m. on the first Monday of every month throughout the season as the duo chats with IceHogs players, coaches and front office members. For those unable to attend the show in-person, Monday's show will be streaming live on IceHogs.com. "Bud Light Hog Talk" will also be available on www.icehogs.com following the live show. Fans can access the podcast through the "Audio Highlights" link in the "Multimedia" menu.
ICEHOGS BROADCASTING NETWORK
Catch every IceHogs game, home and road, in 2017-18 on WIFR's Cozi TV on 23.3. The games can also be viewed on Comcast Cable channel 434, Charter Cable channel 194, Dish Network channel 252 or Mediacom 102 in the Rockford market and online through AHLLive.com. Every TV broadcast will start with "IceHogs Warm Up" 30 minutes prior to puck drop. Fans can also listen to the action for free at sportsfanradio1330.com and IceHogs.com. For a complete listing of TV stations carrying IceHogs games, visit IceHogs.com, and for the complete schedule of radio broadcasts, visit sportsfanradio1330.com.
TICKETS ON SALE FOR 2017-18!
IceHogs individual game tickets can be purchased by calling (815) 968-5222 to reserve your seats for any regular season home game during the 2017-18 season. Tickets can also be purchased online at IceHogs.com, in person at the BMO Harris Bank Center Box Office in downtown Rockford or at any Ticketmaster outlet, including Walmart.