WEEK 20 RECAP - ROCKFORD TAKES ONE OF THREE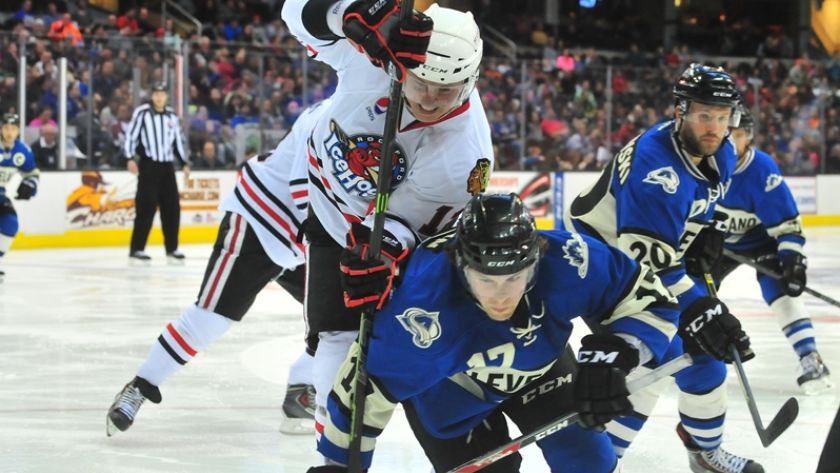 IceHogs end weekend with split in Lake Erie

Week 20 Recap:
After winning three games last week, it took a win on Saturday for Rockford to avoid being on the wrong end of a three-game sweep in Week 20. After falling 4-0 Wednesday morning to San Antonio in their annual school day game, the IceHogs dropped the first half of a weekend doubleheader in Cleveland against the Lake Erie Monsters, before bouncing back with a win the following night.

Week 20 Results:
Wednesday, Feb. 18, San Antonio 4 vs. Rockford 0
Friday, Feb. 20, Rockford 2 at Lake Erie 3
Saturday, Feb. 21, Rockford 3 at Lake Erie 2

Week 21 Schedule:
Friday, Feb. 27, at Texas, 7:30 p.m.
Saturday, Feb. 28, at Texas, 7 p.m.

Bacon Bits:

-After a weekend split in Lake Erie, the IceHogs enter Week 21 in a three-way tie for first place in the AHL's Midwest Division with Milwaukee and Grand Rapids

-Rockford's record in the division now stands at 18-11-3-0, with a 9-7-0-0 mark on the road

-In the ultra-tight Midwest standings, only six points separate the Griffins, Admirals and IceHogs from the fourth place Chicago Wolves, while 11 points separate first place from the fifth place Monsters

-The IceHogs claimed their 16th road win of the season on Saturday, second most in the AHL, and now shows an away record of 16-10-1-1 with four of their next six tilts on the road

-Rookie defenseman Kirill Gotovets and rookie forward Dane Walters both notched their first-career AHL goals over the weekend

-Rockford played six games in nine days, compiling a record of 4-2-0-0 during the busy stretch

-Following Saturday's game in Lake Erie, the IceHogs began a stretch of six games in 23 days, running through March 17

-The IceHogs will close the season with 16 games in 32 days

-Defenseman T.J. Brennan scored his second power-play goal of the season on Saturday, a season after leading all AHL d-men with 12 power-play markers

-Brennan bagged two assists on Friday and now leads the IceHogs with eight multi-point games

-Brennan's goal on Saturday broke a 16-game goal-scoring drought, dating back to Jan. 8 at Milwaukee

-Over their past eight games, the IceHogs have been shorthanded 38 times, an average of 4.75 penalty kills per game

-The Hogs PK is 8-38 (78.9%) in those eight games and ranks tied for sixth in the AHL at 86.3% on the season

-Rookie forward Ryan Hartman was returned to Rockford from the Chicago Blackhawks on Sunday after becoming the 70th IceHogs skater to play in the NHL after playing in Rockford

-Also returning to Rockford is goaltender Antti Raanta, with the recall of Scott Darling

-Raanta has appeared in one game for the IceHogs this season, stopping 33 shots in a 3-2 win against Texas on Nov. 16

Hot Hog: Week 20
T.J. Brennan Defenseman (3 GP, 1 G, 2 A, 3 PTS)

Rockford's leading point producer lived up to the billing in Week 20 as he paced all IceHogs skaters with three points. On Friday night, T.J. Brennan marked assists on both of Rockford's goals in a 3-2 loss at Lake Erie. Then on Saturday, the rearguard notched his second power-play goal of the season to jump start the Hogs offense in a 3-2 bounce-back win over the Monsters. Overall on the campaign, Brennan leads all Rockford skaters with 9g-27a-36pts, ranking him tied for fourth among all AHL d-men.

Upcoming Games:
Friday, Feb. 27 at Texas Stars: Game starts at 7:30 p.m. The IceHogs escape the cold weather as they take their annual trip to Cedar Park, Texas to take on the defending champion Stars. The weekend doubleheader begins on Friday at the Cedar Park Center, where the IceHogs hold a 7-3-2-0 all-time record.

Saturday, Feb. 28, at Texas Stars: Face-off is at 7 p.m. Rockford finishes their doubleheader down south with Saturday's rematch against the Stars at Cedar Park Center. The two teams will meet once more this season following the weekend set, when Texas visits the BMO Harris Bank Center on March 22.

Bud Light Hog Talk Monday Night At Mulligan's and Grill:
Bud Light Hog Talk returns on Monday, Feb. 16 at Mulligan's Pub and Grill from 6-7 p.m. Mulligan's is located on North Main St. Fans can join Mike Peck or TJ Hogan from 6-7 p.m. on most Mondays throughout the season, as they chat with IceHogs players, coaches and front office members. The next show will feature Swedish sensation Dennis Rasmussen and Head Coach Ted Dent. Take advantage of food and Bud Light specials at Mulligan's. The show will be re-aired on Tuesdays from 7-8 p.m. on WIFR's 23.2 "Antenna TV."

The IceHogs Broadcasting Network:
Catch every IceHogs game, home and road, in 2014-15 on WIFR's 23.2, "Antenna TV." The games can also be viewed on Comcast Cable channel 436, Charter Cable channel 193 or Mediacom 101 in the Rockford market and online through AHLLive.com. Fans can also listen to the action for free on AHLLive.com. For a complete listing of TV stations carrying IceHogs games, visit IceHogs.com. Every broadcast will start with the IceHogs Warm Up 30 minutes prior to puck drop.

Tickets On Sale for 2014-2015!
IceHogs individual game tickets are now on sale! Call (815) 968-5222 to reserve your seats for any IceHogs regular season game during the 2014-15 season. Tickets can also be purchased online at IceHogs.com, in person at the BMO Harris Bank Center Box Office in downtown Rockford, or any Ticketmaster outlet, including Walmart.