Week 2 Report: Hogs Hunting For First Win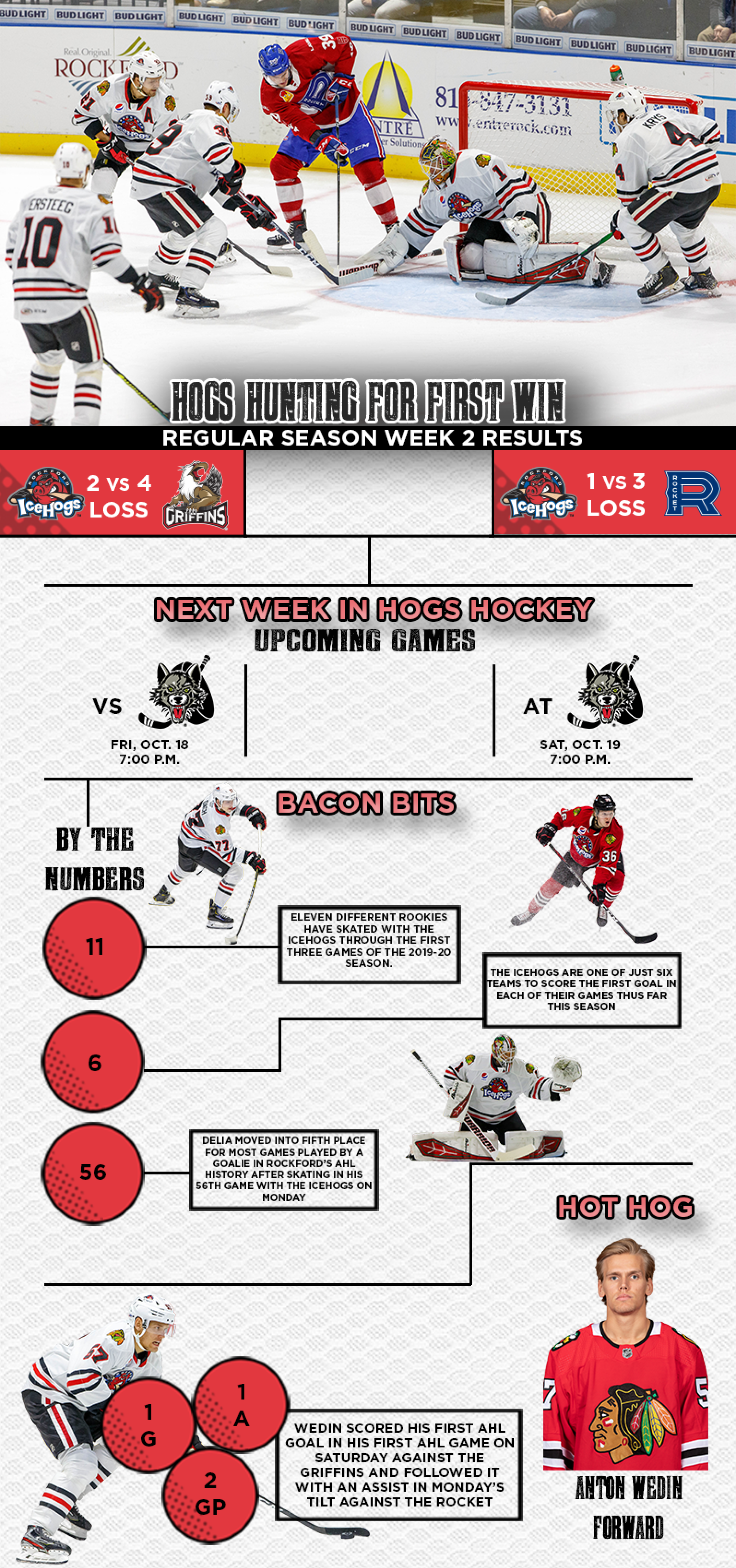 ---

BACON BITS
The IceHogs welcomed a capacity crowd of 5,371 fans to the 2019-20 home opener on Saturday against Grand Rapids. The attendance was the Hogs' largest home-opening crowd since the 2016-17 season (5,465 on Oct. 22 vs. MIL).

Rockford suffered back-to-back losses last week and is now winless through its first three games of the 2019-20 season. This marks the first time in the team's AHL history in which it has begun a season with three consecutive regulation losses. The lone time the IceHogs have gone winless through more than the first three games of a season was an 0-3-0-1 start after opening the season with a shootout loss in 2012-13.

The IceHogs are one of just six teams to score the first goal in each of their games thus far this season. Rockford joins Binghamton (3 games), Charlotte (4 games), Milwaukee (3 games), Toronto (3 games) and Tucson (3 games) as teams to have accomplished the feat in 2019-20.

The Hogs have limited opponents to just one goal in the first period through three games this season. However, Rockford is being outscored 9-3 over the final two periods of games.

Collin Delia made a season-high 40 saves Monday against the Rocket. The effort finished just six shy of his career-high 46 saves from the 2017-18 season against Manitoba (Feb. 2). Delia has now made 35+ saves in 11 different games for the IceHogs during his AHL career.

Delia also moved into fifth place for most games played by a goalie in Rockford team history (AHL affiliation) after skating in his 56th game with the IceHogs on Monday vs. Laval. He is also currently just one win shy of tying Alec Richards (31 wins) for the fourth-most wins in AHL team history.

Eleven different rookies have skated with the IceHogs through the first three games of the 2019-20 season. The IceHogs' 11 rookies are two more than any other AHL team entering Tuesday. Overall, five teams in the AHL have featured eight or more rookies, and four of those five teams are in the Central Division (RFD-11, CHI-9, MB-8, TX-8).
---
UPCOMING GAMES
Friday, Oct. 18 | Rockford vs. Chicago (7 p.m.) The Rockford IceHogs host the first matchup of the 2019-20 Illinois Lottery Cup Series with a 7 p.m. showdown against the Wolves. The first 2,500 fans in attendance will receive a free IceHogs magnet schedule, courtesy of American Solutions for Business.

Saturday, Oct. 19 | Rockford at Chicago (7 p.m.) The Hogs cap a home-and-home Illinois Lottery Cup showdown with a Saturday night matchup with the Wolves in Rosemont. The Hogs will be seeking their first road win of the 2019-20 season.
---
BUD LIGHT MONTHLY MONDAY HOG TALK AT SKYBOX
Bud Light Hog Talk returns Tuesday, Nov. 12 at Skybox. The new venue is located inside the Indoor Sports Center at Mercyhealth Sportscore Two at 8800 E Riverside Blvd, Loves Park. Fans can join broadcaster Joseph Zakrzewski from 6-7 p.m. once per month throughout the season as he chats with IceHogs players, coaches and front office members. For those unable to attend the show in-person, the show will be streaming live on IceHogs.com. "Bud Light Hog Talk" will also be available on www.icehogs.com following the live show.
---
ICEHOGS BROADCASTING NETWORK
Catch the IceHogs this season on WIFR's 23.2 Antenna TV. The games can also be viewed on Comcast Cable channel 434, Charter Cable channel 194, Dish Network channel 252 or Mediacom 102 in the Rockford market and online through watchtheAHL.com. Each TV broadcast will start with "IceHogs Warm Up" 30 minutes prior to puck drop. Fans can also listen to the action for free at sportsfanradio1330.com, facebook.com/rockfordicehogs and IceHogs.com. For a complete listing of TV stations carrying IceHogs games, visit IceHogs.com, and for the complete schedule of radio broadcasts, visit sportsfanradio1330.com.
---
TICKETS ON SALE FOR 2019-20!
IceHogs individual game tickets can be purchased by calling (815) 968-5222 to reserve your seats for any regular season home game during the 2019-20 season. Tickets can also be purchased online at IceHogs.com, in person at the BMO Harris Bank Center Box Office in downtown Rockford or at any Ticketmaster outlet, including Walmart.