Week 2 Recap: IceHogs Grab 5 of 6 Points to Start Road Trip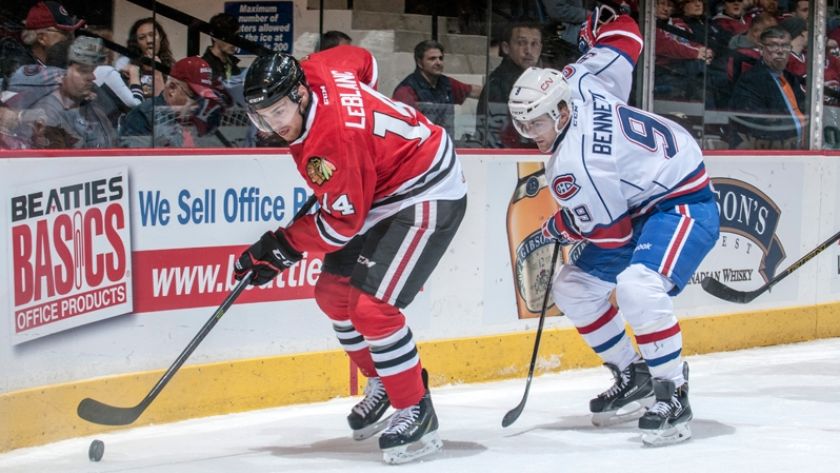 Rockford returns home for weekend divisional series


Week 2 Recap:
The IceHogs hit the road for the first three games of a season-long four game road swing through the east coast. Rockford picked up points in all three contests, winning in comeback fashion against Adirondack on Thursday and Hamilton on Friday before falling in a shootout to the Toronto Marlies on Sunday afternoon.

Week 2 Results
Thursday, Oct. 16, Rockford 4 at Adirondack 2 .
Saturday, Oct. 18, Rockford 2 at Hamilton 1 (OT)
Sunday, Oct. 19, Rockford 0 at Toronto 1 (SO)
Week 3 Schedule
Wednesday, Oct. 22, at Rochester, 6:05 p.m
Saturday, Oct. 25: vs. Chicago, 7 p.m.
Sunday, Oct. 26: vs. Lake Erie 4 p.m.
Bacon Bits:
Goaltender Michael Leighton recorded his 37th career AHL shutout on Sunday in Toronto, tying him for third all-time in the AHL history books

Sunday marked the second time in IceHogs history that Rockford lost a shootout 1-0, the last coming on Oct. 13, 2012 against the Chicago Wolves on the IceHogs season opener.

The IceHogs didn't record a shutout during the 2013-14 campaign

Sunday's shootout between Rockford and Toronto was just the second shootout in the AHL through two weeks in 2014-15, out of 15 total games extending past regulation

Rockford has a shutout streak of 129:35 heading into Wednesday's game in Rochester, and have only surrendered two goals in their last 147:29.

Goaltender Scott Darling earned wins in his first two starts of the season and now shows a record of 7-2-0-1 in his last 10 starts dating back to last season

In each of Rockford's four games this season, the IceHogs and their opponent have been tied heading into the third period

The Hogs penalty kill is one of five teams in the AHL that has still yet to surrender a power play goal

Last season the IceHogs PK unit finished a league worst at 72.3%, compared to a perfect 15-for-15 through four contests this season

Center Peter Regin leads the team with four points (2g-2a) through the first four games, including a three point (1g-2a) performance on Thursday versus Adirondack

Three of Rockford's four goals in Thursday's 4-2 victory were scored by defensemen

Through the first four contests, six of the seven defensemen that have appeared in the lineup for Rockford have registered points

The only IceHogs blueliner that has been held off the score sheet is Adam Clendening who finished second in points among all AHL defensemen last season

Hot Hog: Week 2
Goaltender Scott Darling
In his first two starts of the season, goaltender Scott Darling helped Rockford pick up two road wins in Week 2. The netminder earned his first win of the campaign in his IceHogs debut on Thursday against Adirondack, stopping 21 of the 23 shots he faced. The 25 year-old followed it up with 34 save performance against Hamilton on Saturday, garnering a 2-1 win. Darling now shows a record of 7-2-0-1 over his last 10 starts, dating back to last season.

Upcoming Games:
Wednesday, Oct. 22 at Rochester Americans: Game time is 6:05 p.m. The IceHogs finish off their road trip with their only visit to Rochester in the 2014-15 season. Rockford holds a 4-2-0-0 overall record all time against the Amerks, including a 1-2-0-0 record at Blue Cross Arena.

Saturday, Oct. 25 vs. Chicago Wolves: Face off is set for 7 p.m. The IceHogs return home to kick off the next installment of the Illinois Lottery Cup, when the Wolves visit the BMO Harris Bank Center. The first 5,000 fans through the gate will leave with an IceHogs magnetic schedule courtesy of T6 Broadband.

Sunday, Oct. 16 vs. Lake Erie Monsters: Puck drop is 2 p.m. The Monsters come to town as the IceHogs celebrate Halloween at the BMO Harris Bank Center. Fans can stay after the game to trick-or-treat with the IceHogs on the BMO ice surface during the first "Skate With The Hogs" of the new season. For those without skates there will be players available for autographs in the concourse area.

Bud Light Hog Talk Next Monday At Mulligan's and Grill:
Bud Light Hog Talk will return on Monday, Oct. 27 at Mulligan's Pub and Grill from 6-7 p.m. Mulligan's is located on North Main St. Fans can join Mike Peck or TJ Hogan from 6-7 p.m. most Mondays as they chats with IceHogs players, coaches and front office members. Next week's guests will include IceHogs defenseman Stephen Johns and head coach Ted Dent. Take advantage of food and Bud Light specials at Mulligan's. The show will be re-aired on Tuesdays from 6-7 p.m. on WIFR's 23.2 "Antenna TV."


The IceHogs Broadcasting Network:
Catch every IceHogs game, home and road, in 2014-15 on WIFR's 23.2, "Antenna TV." The games can also be viewed on Comcast Cable channel 436, Charter Cable channel 193 or Mediacom 101 in the Rockford market and online through AHLlive.com. Fans can listen to the action for free on AHLlive.com. For a complete listing of TV stations carrying IceHogs games, visit IceHogs.com. Every broadcast will start with the IceHogs Warmup 30 minutes prior to puck drop.

Tickets On Sale for 2014-2015!
IceHogs individual game tickets are now on sale! Call (815) 968-5222 to reserve your seats for any IceHogs regular season game during the 2014-15 season. Tickets can also be purchased online at IceHogs.com, in person at the BMO Harris Bank Center Box Office in downtown Rockford, or any Ticketmaster outlet, includating Wal-Mart.