WEEK 19 RECAP - HOGS PULL OFF IMPRESSIVE WEEKEND SWEEP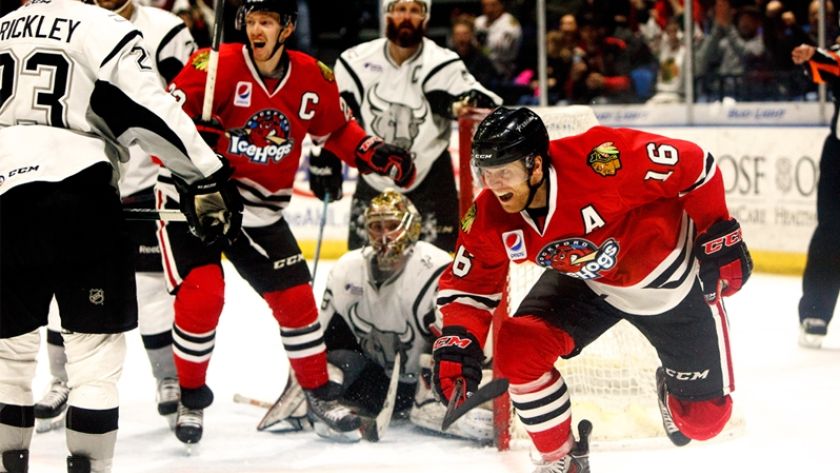 Rockford takes down three Western Conference contenders in three nights

Week 19 Recap:
The IceHogs dispatched of the first, second and fourth-ranked teams in the Western Conference in consecutive nights as they swept their weekend three-in-three set. After leaving Milwaukee with a 2-1 victory on Friday, Rockford defended their home ice against a pair of West Division foes; beating first-place Oklahoma City 3-1 on Saturday and San Antonio 2-1 on Sunday.

Week 19 Results:
Friday, Feb. 13, Rockford 2 at Milwaukee 1
Saturday, Feb. 14, Oklahoma City 1 vs. Rockford 3
Sunday, Feb. 15, San Antonio 1 vs. Rockford 2

Week 20 Schedule:
Wednesday, Feb. 18, vs. San Antonio, 10:30 a.m.
Friday, Feb. 20, at Lake Erie, 6:30 p.m.
Saturday, Feb. 21, at Lake Erie, 6 p.m.


Bacon Bits:
-After dropping three-straight games, Rockford won three consecutive contests in three days over three of the top five teams in the Western Conference

-Sunday marked the end of the third and final three-game in three-day stretch of the season for Rockford, and the club went 3-0-0-0 in that third game

-In all three of their three-in-three sets this year, Rockford posted an overall record of 7-2-0-0

-The IceHogs held all three opponents to just one goal over the weekend, including San Antonio who was leading the AHL, scoring 3.31 goals per contest

-In their previous three losses, Rockford allowed 15 goals

-Defenseman Ville Pokka registered 1g-3a-4pts over the weekend and is on a four-game point streak, over which he has tallied 1g-5a-6pts

-The rookie rearguard now shows 7g-16a-23pts in 45 games, ranking him sixth on the IceHogs in scoring and second among rookies

-Playing his first three games with Rockford since December, Joakim Nordstrom picked up a goal and an assist, including the power play game-winning goal in Friday's win at Milwaukee

-The IceHogs captain leads the team with five power play goals, despite only playing in 20 games after Sunday

-Rookie forward Dane Walters scored his first-career AHL point with the primary assist on Cody Bass' eventual game-winner on Sunday against San Antonio

-Walters appeared in all three games this weekend after signing a PTO on Feb. 10

-During Saturday and Sunday's wins, the forward unit of Peter Regin, Brandon Mashinter and Pierre-Cedric Labrie combined for three goals, two assists and a +8 rating

-With a third-period goal on Saturday, Regin snapped a 27-game scoring drought that stretched back to Nov. 26

-The IceHogs currently boast the top goaltending duo in the AHL in Michael Leighton (ranked 9th with a 2.10 goals against average) and Scott Darling (ranked 11th with a 2.16 GAA)

-Overall, Rockford ranks fourth in the AHL with a GAA of 2.27 and a team save percentage of .929 between the four goalies who have suited up and played this season

-Rockford and San Antonio both committed just one minor penalty on Sunday, an IceHogs single-game season low for penalty minutes

-The IceHogs claimed a pair of 2-1 victories in Week 19 and now nine of the club's 51 games have finished 2-1 with Rockford's record standing at 5-4-0-0 in those games

-After Sunday's 2-1 win over San Antonio, Rockford is 5-1-1-1 on Sundays this season with three more games remaining on the first day of week in 2014-15

-The first period has been the leanest for Rockford this season, scoring 33 goals, but the club has notched a lamp lighter in the opening frame in five straight games and in seven of their last eight outings

Hot Hog: Week 18
Ville Pokka Defenseman (3GP, 1G, 3A, 4PTS, +1)

Rookie defenseman Ville Pokka recorded points in all three games for the IceHogs during Week 19, all wins for Rockford. Pokka figured in on four of Rockford's seven goals (1g-3a-4pts). On Friday, Pokka opened the Hogs three-game week by assisting on Joakim Nordstrom's game-winning goal in Rockford's 2-1 win in Milwaukee. The Finnish defenseman followed that up with a goals and an assist in Saturday's 3-1 triumph over Western Conference-leading Oklahoma City before marking an assist on Sunday in yet another 2-1 win, this time over San Antonio. The 20-year-old currently ranks first in scoring among active rookie defenseman with 23 points (7g-16a) in 45 games.

Upcoming Games:
Wednesday, Feb. 18 at San Antonio Rampage: Puck drops at 10:30 a.m. It's an early wake-up call for the IceHogs and Rampage as the two square off in the annual school day game at the BMO. Rockford is looking to turn the four-game season series sweep over San Antonio as the two close out their regular season series.

Friday, Feb. 20, at Lake Erie Monsters: Game begins at 6:30 p.m. The IceHogs make their second weekend voyage to Cleveland to play a doubleheader with the Monsters at Quicken Loans Arena. Rockford and Lake Erie split the previous doubleheader out east, back on Dec. 12-13.

Saturday, Feb. 21, at Lake Erie Monsters: Game starts at 6 p.m. Rockford plays their last game of the season at Quicken Loans Arena in the second half of a weekend doubleheader against the Monsters. After Saturday's affair, the IceHogs have just one meeting remaining with Lake Erie, coming on March 25 at the BMO.

Bud Light Hog Talk Monday Night At Mulligan's and Grill:
Bud Light Hog Talk returns on Monday, Feb. 16 at Mulligan's Pub and Grill from 6-7 p.m. Mulligan's is located on North Main St. Fans can join Mike Peck or TJ Hogan from 6-7 p.m. on most Mondays throughout the season, as they chat with IceHogs players, coaches and front office members. The next show will feature All-Star Defenseman T.J. Brennan and Head Coach Ted Dent. Take advantage of food and Bud Light specials at Mulligan's. The show will be re-aired on Tuesdays from 7-8 p.m. on WIFR's 23.2 "Antenna TV."

The IceHogs Broadcasting Network:
Catch every IceHogs game, home and road, in 2014-15 on WIFR's 23.2, "Antenna TV." The games can also be viewed on Comcast Cable channel 436, Charter Cable channel 193 or Mediacom 101 in the Rockford market and online through AHLLive.com. Fans can also listen to the action for free on AHLLive.com. For a complete listing of TV stations carrying IceHogs games, visit IceHogs.com. Every broadcast will start with the IceHogs Warm Up 30 minutes prior to puck drop.

Tickets On Sale for 2014-2015!
IceHogs individual game tickets are now on sale! Call (815) 968-5222 to reserve your seats for any IceHogs regular season game during the 2014-15 season. Tickets can also be purchased online at IceHogs.com, in person at the BMO Harris Bank Center Box Office in downtown Rockford, or any Ticketmaster outlet, including Walmart.