WEEK 18 RECAP: ROCKFORD LOSES DIVISION LEAD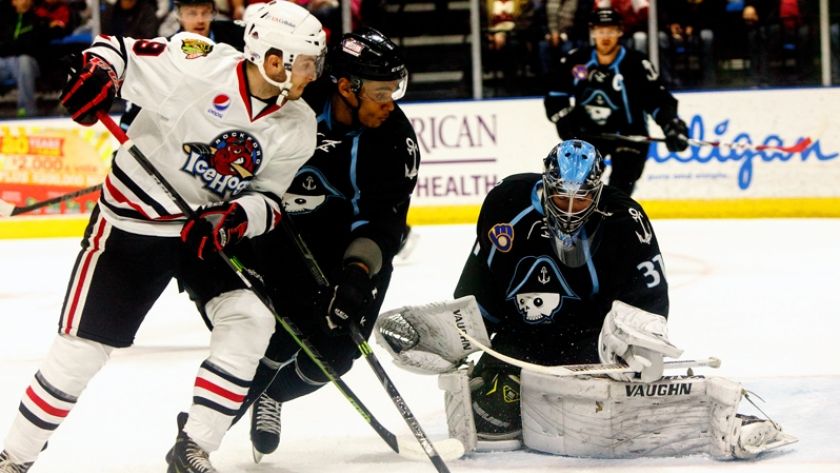 IceHogs drop pair to Milwaukee to start out tripleheader against Admirals

Week 18 Recap:
The IceHogs were surpassed atop the Midwest Division standings by the Milwaukee Admirals in Week 18, after dropping the first two legs of a tripleheader against their neighboring rival. Rockford fell 4-1 on Friday in Milwaukee and lost a wild 7-5 contest at home the next night, pushing their losing streak to three games.
Week 18 Results:
Friday, Feb. 6, Rockford 1 at Milwaukee 4
Saturday, Feb. 7, Milwaukee 7 vs. Rockford 5

Week 19 Schedule:
Friday, Feb. 13, at Milwaukee, 7 p.m.
Saturday, Feb. 14, vs. Oklahoma City, 7 p.m.
Sunday, Feb. 15, vs. San Antonio, 4 p.m.

Bacon Bits:

-Forward Ryan Schnell recorded his second multi-point game of the season on Saturday, a career high

-Schnell now has 2g-4a-6pts through 24 games, all career highs at the AHL level for the sixth-year pro

-Saturday night marked Rockford's third straight sellout and fifth overall on the season

-It also marked the first time in IceHogs franchise history that the club drew over 6,300 fans in three straight games

-Rookie forward Ryan Hartman recorded his second "Gordie Howe" hat trick of the season on Saturday, notching a goal, assist and a fighting major

-After their 7-5 loss to Milwaukee on Saturday, Rockford relinquished the top spot in the AHL's Midwest Division for the first
time since Nov. 15

-The IceHogs allowed a season low 17 shots on goal Saturday to Milwaukee, but surrendered a season-high seven goals

-Both Rockford and Milwaukee tallied goals while even strength, on the power play and shorthanded on Saturday

-After allowing 16 goals over a 10-game stretch from 1/3/15-1/30/15, the IceHogs have given up 15 goals over their past three outings

-Rockford notched five goals in their loss on Saturday, just the third time in the team's AHL era in which they've scored five or more goals in a game and fell in regulation

-Beginning Friday in Milwaukee, Rockford will play six games in nine days running through 2/21/15

-After getting swept over the weekend by Milwaukee, Rockford is now 2-8-2-0 in six home-and-home series this season, all against Chicago and Milwaukee

-Rockford, who is looking for their first regulation victory in a home-and-home series, has two more such sets remaining on their schedule against Grand Rapids and Charlotte, both in April


Hot Hog: Week 18
Ryan Schnell Right Wing

Forward Ryan Schnell set new career high-water marks for points during Week 18 as the Cary, Ill. native chipped in a goal and an assist. The six-year pro appeared in Saturday's game against Milwaukee and registered his second multi-point game of the season with a plus/minus rating of +2. Schnell now has 2g-4a-6pts in 24 games in 2014-15 with a +1 and 71 PIMs.

Upcoming Games:
Friday, Feb. 13 at Milwaukee Admirals: Puck drops at 7 p.m. The IceHogs cap off their three game series with the Admirals by paying another visit to the BMO Harris Bradley Center. After Friday's contest, Rockford and Milwaukee will not meet until their season series concludes on April 7.

Saturday, Feb. 14, vs. Oklahoma City Barons: Game begins at 7 p.m. Rockford hosts the Barons for the first time this season in a Valentine's Day matchup at the BMO. The first 1,500 fans through the gates will also receive a limited edition IceHogs poster.

Sunday, Feb. 15, vs. San Antonio Rampage: Game starts at 4 p.m. The IceHogs meet up with the San Antonio Rampage for the first time since Halloween weekend as their West Division foe makes its first visit to the BMO this season. The first 2,500 fans to the matinee game will receive an IceHogs water bottle courtesy of Rock Valley Culligan. Also guests are invited to bring their own skates and join the players after the game for the last "Skate With The Hogs" of the season.

Bud Light Hog Talk Monday Night At Mulligan's and Grill:
Bud Light Hog Talk returns on Monday, Feb. 9 at Mulligan's Pub and Grill from 6-7 p.m. Mulligan's is located on North Main St. Fans can join Mike Peck or TJ Hogan from 6-7 p.m. on most Mondays throughout the season, as they chat with IceHogs players, coaches and front office members. The next show will feature forward Jamie Wise and Head Coach Ted Dent. Take advantage of food and Bud Light specials at Mulligan's. The show will be re-aired on Tuesdays from 7-8 p.m. on WIFR's 23.2 "Antenna TV."

The IceHogs Broadcasting Network:
Catch every IceHogs game, home and road, in 2014-15 on WIFR's 23.2, "Antenna TV." The games can also be viewed on Comcast Cable channel 436, Charter Cable channel 193 or Mediacom 101 in the Rockford market and online through AHLLive.com. Fans can also listen to the action for free on AHLLive.com. For a complete listing of TV stations carrying IceHogs games, visit IceHogs.com. Every broadcast will start with the IceHogs Warm Up 30 minutes prior to puck drop.

Tickets On Sale for 2014-2015!
IceHogs individual game tickets are now on sale! Call (815) 968-5222 to reserve your seats for any IceHogs regular season game during the 2014-15 season. Tickets can also be purchased online at IceHogs.com, in person at the BMO Harris Bank Center Box Office in downtown Rockford, or any Ticketmaster outlet, including Walmart.