WEEK 18 RECAP: ROCKFORD HOLDS ON TO TOP SPOT IN CENTRAL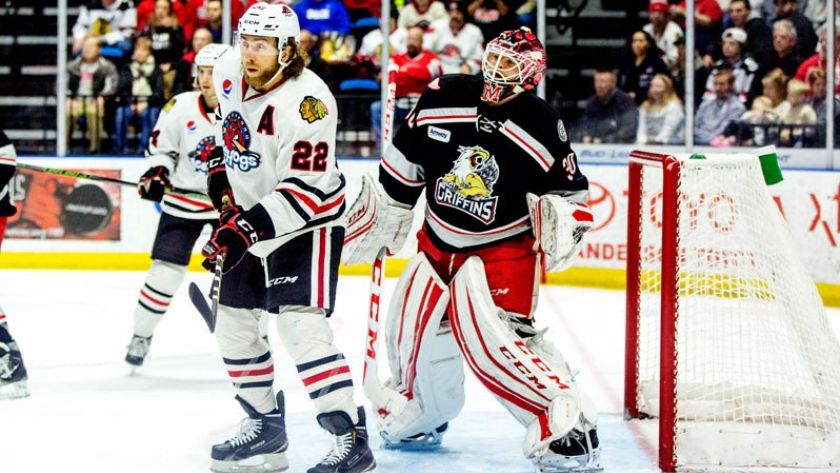 Week 18 Results:
Friday, February 5: Grand Rapids 9 vs. Rockford 1
Saturday, February 6: Rockford 3 at Grand Rapids 4 (OT)

Week 19 Schedule:
Friday, February 12: Rockford at Milwaukee, 7 p.m.
Sunday, February 14: Grand Rapids vs. Rockford, 4 p.m.

Week 18 Recap:
Despite only taking one point in two games versus the Grand Rapids Griffins in Week 18, the Rockford IceHogs maintained their top position in the Central Division by a narrow margin. Goaltender Michael Leighton saw his 13-game unbeaten streak halted in Friday's regulation to the Griffins, but extended his road unbeaten streak to eight games in an overtime loss in Grand Rapids on Saturday. Rockford faces the class of the Central this week in Milwaukee and Grand Rapids, who each sit within striking distance of the top spot in the division.

Bacon Bits:
-Following a six-game unbeaten streak, the IceHogs have gone 0-1-2-0 in their last three contests
-The 9-1 loss to the Grand Rapids Griffins on Friday marked the largest deficit in a defeat in the team's AHL era
-The IceHogs had previously never lost an AHL game by more than five goals
-The team set a season-low in team plus/minus with a -21 rating
-The previous season-high of seven goals allowed occurred twice in the first four games of the season
-Rockford allowed four power-play goals for the first time this season in the loss
-The penalty-killing unit faced a season-high 10 man advantages in the 9-1 loss
-The IceHogs had only allowed two goals in the previous 37 power plays against before Friday's meeting with the Griffins
-Michael Leighton saw his 13-game overall unbeaten streak (9-0-2-2) and nine-game home unbeaten streak (7-0-0-2) come to a close in the loss
-Leighton still holds an eight-game road unbeaten streak (5-0-3-0)
-Mike Liambas scored his first goal of the season on Friday versus Grand Rapids
-Liambas became the eighth different Hog to score a shorthanded goal this season
-Mark McNeill had his team season-long nine game point streak (4g-10a) snapped in Friday's defeat
-McNeill scored the first goal in Saturday's game to become the fifth Rockford player to reach the 10-goal mark
-Defenseman Nick Mattson assisted on the goal to pick up his first AHL point
-Rockford dropped to 3-4 in overtime games and 4-8 overall in games going past regulation after Saturday's overtime defeat
-Grand Rapids is currently the only team that Rockford owns a losing record against (1-3-1-0) this season
-The IceHogs have scored a power-play goal in three of their last four games (4-of-17)
-Tanner Kero has goals in three of his last four games
-With an assist on Saturday, Chris DeSousa broke a 10-game scoreless streak
-Rockford has scored first in 11 of their last 15 games, and hasn't lost in regulation when scoring first since Jan. 15 vs. San Jose
-After missing 31 games to injury, Kyle Baun made his return to the lineup on Saturday
-Baun played 12 games with Rockford and two with the Chicago Blackhawks before his injury, and is still looking for his first professional point


Hot Hog: Week 18
Marko Dano Left Wing (2GP, 1G, 1A, 2 PTS, +1)

Marko Dano helped the IceHogs earn a crucial point on the weekend with an inspired performance on Saturday in Grand Rapids. Dano picked up a secondary assist on the second period goal by Tanner Kero. He also scored his fourth goal of the season with 6:01 to play in the middle frame to tie the contest for a third time and help the IceHogs force overtime.

Upcoming Games:
Friday, February 12 at Milwaukee Admirals: Game starts at 7 p.m. Rockford heads to Milwaukee for the ninth meeting of the season between the two squads. The IceHogs have gone 2-1-0-1 in four visits to the BMO Harris Bradley Center.

Sunday, February 14 vs. Grand Rapids Griffins: Contest begins at 4 p.m. The IceHogs host the Griffins on Valentine's Day in the third meeting between the two teams in 10 nights. Following a postseason in which they eliminated Rockford, Grand Rapids has proved to be the only team that the IceHogs hold a losing record against this season (1-3-1-0).

The IceHogs Broadcasting Network:
Catch every IceHogs game, home and road, in 2015-16 on WIFR's "Justice Network" on 23.3. The games can also be viewed on Comcast Cable channel 434, Charter Cable channel 194 or Mediacom 102 in the Rockford market and online through AHLLive.com. Every broadcast on WIFR will start with "IceHogs Warm Up" 30 minutes prior to puck drop. Fans can also listen to the action for free at WXRX.com. For a complete listing of TV stations carrying IceHogs games, visit IceHogs.com.

Tickets On Sale for 2015-2016!
IceHogs individual game tickets are now on sale! Call (815) 968-5222 to reserve your seats for any IceHogs regular season game during the 2015-16 season. Tickets can also be purchased online, in person at the BMO Harris Bank Center Box Office in downtown Rockford, or any Ticketmaster outlet, including Walmart.