WEEK 17 RECAP: ROCKFORD CLOSES OUT STRONG HOMESTAND, ENTERS BREAK WITH DIVISION LEAD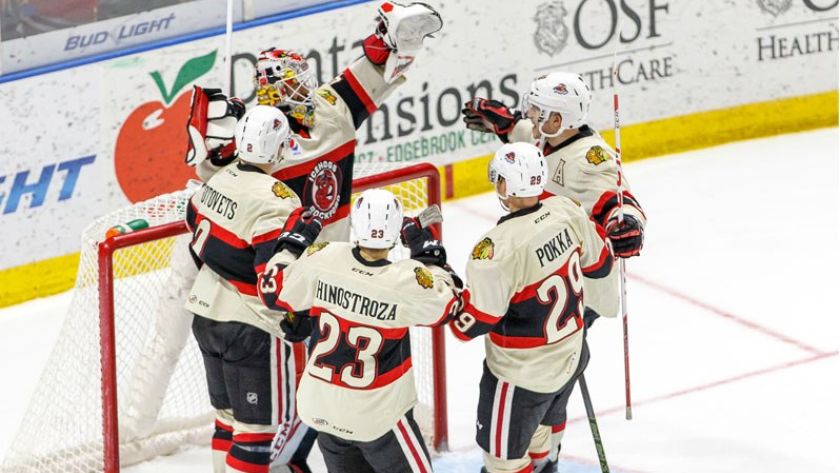 Week 17 Results:
Wednesday, January 27: Charlotte 1 vs. Rockford 3
Friday, January 29: Chicago 0 vs. Rockford 6
Saturday, January 30: Rockford 2 at Chicago 3 (OT)

Week 18 Schedule:
Friday, February 5: Grand Rapids vs. Rockford, 7 p.m.
Saturday, February 6: Rockford at Grand Rapids, 6 p.m.

Week 17 Recap:
The Rockford IceHogs closed out a season-long eight game homestand with a with two more victories over the Charlotte Checkers and Chicago Wolves before taking a point in an overtime loss to the Wolves on the road. Rockford went 6-1-0-1 on the homestand to close out their best month of the season. With a 6-0 shutout of Chicago in front of a sold-out crowd on Friday night, Michael Leighton picked up his 45th perfect performance and tied Johnny Bower's all-time AHL career shutout record.

Bacon Bits:
-Rockford picked up points in seven of eight games during their homestand, and the team has earned a point in 10 of their last 11 overall
-Goaltender Michael Leighton tied Johnny Bower's all-time AHL record of 45 career shutouts in the IceHogs 6-0 victory over the Chicago Wolves on Friday
-Leighton's four shutouts this season also tie him with Michel Robinson at nine for the franchise record
-The netminder went unbeaten in January, posting an 8-0-2 record in addition to a 1.22 goals against average and .954 save percentage
-Overall, he has gone 9-0-4 since a 6-2 win over Milwaukee on Dec. 18, which is good for a team season-best unbeaten streak
-With 23 wins, Leighton ranks second to league leader Peter Budaj of the Ontario Reign by one for the league lead in three fewer starts
-The IceHogs posted their best monthly record of the season in January, going 8-2-1-1
-Rockford only gave up 20 goals in January, translating to 1.67 goals against per game
-Mark McNeill has picked up points in each of his last nine games for Rockford (4g-6a) in a team season-long point streak
-Vince Hinostroza scored the first goal for Rockford in four of the final six games of the homestand
-With a two-goal performance versus the Wolves on Friday, Hinostroza became the eighth player to tally twice for Rockford this season
-With an assist on Saturday versus Chicago, Hinostroza capped off a three goal, three assist week which vaulted him into first place on the team in points (26)
-The overtime loss to the Wolves marked the third time this season the IceHogs have dropped a contest in the extra session, and second time they have done so in Rosemont
-Cameron Schilling scored in back-to-back games after scoring one goal through the first 41 games
-Captain Jake Dowell reached his 244th career AHL game with the IceHogs in Week 17, putting him in second place behind Evan Brophy (299)
-Home teams have won each of the eight Illinois Lottery Cup matchups this season
-The IceHogs only allowed one power-play goal in 20 chances against in the three games in Week 17
-The team scored three times in 12 power play opportunities in Week 17
-By allowing only one power play goal in 16 chances against in Week 17, Rockford improved its home penalty kill percentage to 88.6% and moved up to fourth in the league
-Ivan Barbashev's goal 45 seconds into the game on Saturday marked the earliest goal against this season for the IceHogs
-By allowing only three shots against in the second period of Friday's win over Chicago, the IceHogs matched a season-best single period performance

Hot Hog: Week 17
Michael Leighton Goaltender (3GP, 2-0-1, .943 SV%, 1.33 GAA)

Michael Leighton continued his stellar play in Week 17, tying Johnny Bower's all-time AHL shutout record with his 45th in Friday's 6-0 win over the Chicago Wolves. Leighton also tied Michel Robinson for the franchise record in shutouts with his ninth with Rockford. The netminder completed an unbeaten January in which he went 8-0-2 with three shutouts, allowed only 12 goals, and had a .954 save percentage. With two wins in Week 17, Leighton reached 23 on the season and 45 with the team, putting him four away from passing Carter Hutton for second all-time in the team's AHL history.

Upcoming Games:
Friday, February 5 vs. Grand Rapids Griffins: Game starts at 7 p.m. Grand Rapids visits Rockford for the third time this season. The BMO Harris Bank Center will host a "White Out" as t-shirts will be handed out to the first 2,500 fans compliments of Toyota. Doors will open at 5:15 p.m. for a Blues Flame Lounge Friday. Fans 21-and-older are invited to enjoy live blues music, a happy hour special, and free appetizers at the Blue Flame Lounge on the main concourse.

Saturday, February 6 at Grand Rapids Griffins: Contest begins at 6 p.m. The IceHogs head to Van Andel Arena for the back end of a home-and-home matchup with the Griffins. Rockford enters the weekend with a 1-2-0-0 mark versus Grand Rapids this season with three more games to play upon completion of the weekend series.

The IceHogs Broadcasting Network:
Catch every IceHogs game, home and road, in 2015-16 on WIFR's "Justice Network" on 23.3. The games can also be viewed on Comcast Cable channel 434, Charter Cable channel 194 or Mediacom 102 in the Rockford market and online through AHLLive.com. Every broadcast on WIFR will start with "IceHogs Warm Up" 30 minutes prior to puck drop. Fans can also listen to the action for free at WXRX.com. For a complete listing of TV stations carrying IceHogs games, visit IceHogs.com.

Tickets On Sale for 2015-2016!
IceHogs individual game tickets are now on sale! Call (815) 968-5222 to reserve your seats for any IceHogs regular season game during the 2015-16 season. Tickets can also be purchased online, in person at the BMO Harris Bank Center Box Office in downtown Rockford, or any Ticketmaster outlet, including Walmart.