WEEK 17 RECAP: ICEHOGS AND WOLVES SKATE TO SPLIT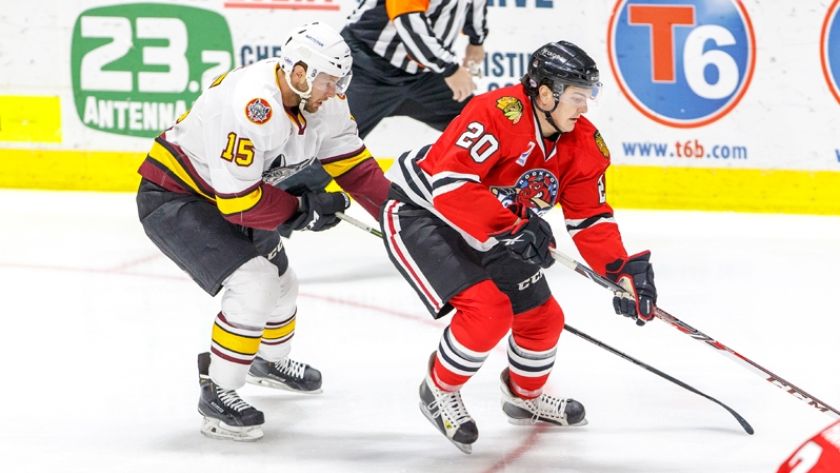 Week 17 Results:
Friday, Jan. 30, Chicago 2 vs. Rockford 3 (OT)
Saturday, Jan. 31, Rockford 1 at Chicago 4

Week 18 Schedule:
Friday, Feb. 6, at Milwaukee, 7 p.m.
Saturday, Feb. 7, vs. Milwaukee, 7 p.m.

Week 17 Recap:
The IceHogs picked up a pair of points in their Midwest Division home-and-home series with the Chicago Wolves this past weekend, to begin a string of five-straight games against divisional rivals. Rockford defended their home building with a 3-2 overtime win on Friday, before falling 4-1 at Allstate Arena the following night in the rematch.

Bacon Bits:
-Goalie Michael Leighton is unbeaten in regulation (5-0-2) over his last eight appearances, dating back to a Dec. 31, 2014 game in Grand Rapids

-During the same stretch, Leighton has a 1.15 goals against average, a .965 save percentage and two shutouts

-Of those eight games, five of them extended beyond regulation time

-Overall, Leighton ranks in the AHL's top five in goals against average (2.01, T-4th), save percentage (.931, T-2nd) and shutouts (4, T-2nd)

-The IceHogs completed their fifth home-and-home series this season (all against Chicago or Milwaukee) and the team is 2-6-2-0, but have not won any of the 10 games in regulation

-In non-home-and-home situations, the IceHogs are 24-8-2-2

-Rockford has three home-and-homes remaining on their regular season slate, including this weekend against Milwaukee

-Jamie Wise scored his first-career overtime goal on Friday night, giving the IceHogs their first OT win since 11/21/14, snapping a four-game OT losing streak

-Center Drew LeBlanc notched Rockford's lone goal on Saturday in Chicago, his first marker since 12/3/14

-Saturday's loss against the Wolves came in their fifth matchup against their in-state rival in the month of January, a stretch the IceHogs finished 3-2-0-0

-Only two meetings remain on the schedule between Rockford and Chicago, the next comes March 15 at Allstate Arena

-Rockford just needs two standings points over their last two games against the Wolves to clinch the Illinois Lottery Cup


-The IceHogs drew their second straight sellout on Friday night (6,339), the fourth overall on the season, and are expected to be sold out on Saturday once again

-Defenseman Adam Clendening was traded to the Vancouver Canucks on Thursday night, in exchange for 18-year-old blueliner Gustav Forsling

-After the Clendening's trade, the core seven players for Rockford from the end of the 2012-13 season are now in the NHL with other teams (Clendening and Ryan Stanton-Vancouver; Jimmy Hayes, Dylan Olsen and Brandon Pirri-Florida, Jeremy Morin-Columbus; Carter Hutton-Nashville)

-Defenseman Klas Dahlbeck is the only regular still on Rockford's roster from two seasons ago

-The IceHogs are in the middle of a stretch in which the team will play just four games in 19 days between 1/15-2/12

-Beginning Feb.13, Rockford will play six games in nine days

Hot Hog: Week 17
Goaltender Michael Leighton (1-0-0, .933 SV%, 1.93 GAA)

Goalie Michael Leighton finished off a sterling January with his fourth win of the month on Friday. Leighton stopped 28 of the 30 Chicago Wolves shots fired at him in helping Rockford to a 3-2 overtime win. In January, the veteran backstop went 4-0-2-0 with .969 save percentage and a 1.05 goals against average. Leighton recorded two shutouts in the month, not including a 1-0 overtime loss to Milwaukee on 1/9/15.

Upcoming Games:
Friday, Feb. 6 at Milwaukee Admirals: Game starts at 7 p.m. The IceHogs begin their February schedule in the BMO Harris Bradley Center. The Hogs have a 3-4-1-0 record against the Ads this season. Rockford holds a 22-17-1-2 record all-time in Milwaukee.

Saturday, Feb. 7, vs. Milwaukee Admirals: Puck drops at 7 p.m. The IceHogs pay homage to their all-time leading goal scorer when they return to the BMO for Jeremy Morin Bobblehead Night against the Admirals. The first 2,500 fans will receive a bobblehead of the former IceHog, courtesy of Dental Dimensions.