WEEK 16 RECAP: BACK-TO-BACK SHUTOUTS HAVE HOGS CRUISING INTO ALL-STAR BREAK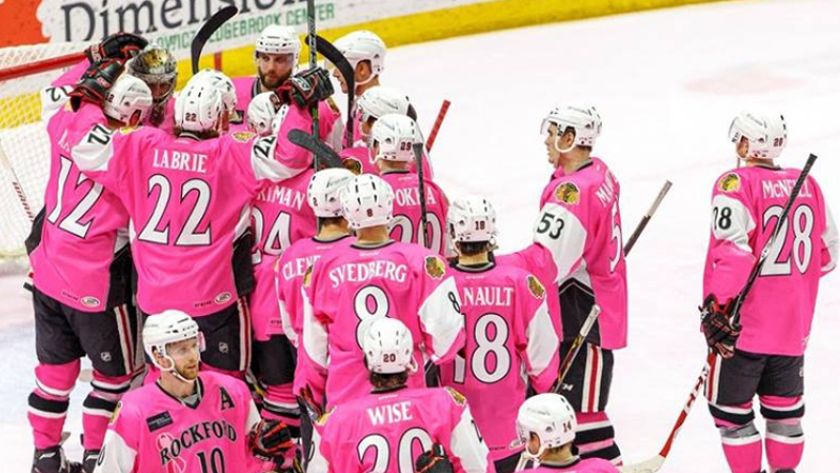 Rockford finishes Week 16 with two wins, two shutouts

Week 16 Recap:
After falling to Chicago Monday afternoon to begin the week, the IceHogs responded with a pair of shutout victories to send them into the AHL's All-Star break on a high note, and in sole posession of second place in the Western Conference. Michael Leighton helped Rockford eke out a 1-0 win in Iowa on Thursday night before Scott Darling followed up with a shutout of his own as the IceHogs blanked Utica 3-0 Saturday in front of a sold-out crowd at the BMO Harris Bank Center.

Week 16 Results:
Monday, Jan. 19, Chicago 4 vs. Rockford 1
Thursday, Jan. 22, Rockford 1 at Iowa 0
Saturday, Jan. 24, Utica 0 vs. Rockford 3
Week 17 Schedule:
Friday, Jan. 30, vs. Chicago, 7 p.m.
Saturday, Jan. 31, at Chicago, 7 p.m.

Bacon Bits:

-For just the second time in franchise history, the IceHogs recorded shutouts in back-to-back games

-The only previous time Rockford completed that feat was when Ronnie Vogel and Michel Robinson combined for two shutouts on Feb. 8-10, 2006

-In January, the goalie tandem of Michael Leighton (3-0-2, 2 SO, 0.89 GAA, .974 SPCT) and Scott Darling (2-2-0, 2 SO, 1.97 GAA, .938 SPCT) have combined to go 5-2-2-0 with four shutouts, 1.30 GAA and a .962 SPCT in nine games

-Leighton earned his fourth shutout of the season and the 40th of his AHL career Thursday in Iowa

-Leighton is now one shutout away from being tied with Gil Mayer (1949-63) for second place on the league's all-time shutout list, and sits five behind record-holder Johnny Bower

-Leighton has been in goal for three 1-0 games this season and has a record of 1-0-1-1 in those three games

-Darling recorded his second shutout of the season on Saturday, Rockford's seventh overall blanking in 2014-15, matching a franchise record set in 2004-05

-Rockford is currently riding a team shutout streak of 121:43

-Over Rockford's last six games, the team has allowed just nine goals, three of them coming in the third period on 1/19/15 against Chicago

-Rockford is 6-2-1-1 over their past 10 games, but are averaging just 1.83 goals per game during that stretch

-After recording just one point in his last seven games, defenseman Adam Clendening registered his second multi-point game of the season on Saturday, marking two assists

-Forward Pierre-Cedric Labrie has goals in three of his last five games after potting three over his first 33 outings

-The IceHogs recorded their third sellout of the season on Saturday, drawing their second largest crowd of the campaign at 6,402

-Rockford begins a stretch on Friday of five straight games with Chicago and Milwaukee running through Feb. 13

-After Feb. 13, Rockford will face their top two rivals Chicago (2) and Milwaukee (1) just three more times combined in 2014-15 over their final 27 games

Hot Hog: Week 16
Left Wing Pierre-Cedric Labrie (3 GP, 2g, +2)
Veteran forward and Alternate Captain Pierre-Cedric Labrie has hit his offensive stride as of late, putting up a pair of goals and finishing with a +2 rating in Week 16. Labrie has scored in each of his last three home games, after only scoring three in his first 33 contests. In addition to being a physical presence for the IceHogs, the Baie-Comeau, Quebec native has been a lynchpin of Rockford's penalty kill. Labrie has found a shorthanded breakaway in three straight contests, grabbing a goal on Monday against Chicago. The 28-year-old leads the IceHogs with 83 penalty minutes in 38 games played.

Upcoming Games:
Friday, Jan. 30 vs. Chicago Wolves: Puck drops at 7 p.m. The IceHogs kick off another Illinois Lottery Cup home-and-home series when they host the Wolves at the BMO Harris Bank Center. The first 2,500 fans will receive a free IceHogs phone cover, courtesy of BMO Harris Bank. The Friday night showdown begins with another Blues Flame Lounge Pre-Game Party. Rockford only needs three standings points out of their last four games with Chicago to to clinch their second Lottery Cup title.

Saturday, Jan. 31, at Chicago Wolves: Face-off is set for 7 p.m. Rockford finishes their weekend back-to-back with their Illinois Lottery Cup rivals when they visit Allstate Arena for the fifth of six times this season. The IceHogs have a 3-1-0-0 record this season in Rosemont, including a 3-2 shootout win in their last trip on Jan. 17.

Bud Light Hog Talk Monday Night At Mulligan's and Grill:
Bud Light Hog Talk returns on Monday, Feb. 2 at Mulligan's Pub and Grill from 6-7 p.m. Mulligan's is located on North Main St. Fans can join Mike Peck or TJ Hogan from 6-7 p.m. on most Mondays throughout the season, as they chat with IceHogs players, coaches and front office members. The next show will feature center Mark McNeill and Head Coach Ted Dent. Take advantage of food and Bud Light specials at Mulligan's. The show will be re-aired on Tuesdays from 7-8 p.m. on WIFR's 23.2 "Antenna TV."

The IceHogs Broadcasting Network:
Catch every IceHogs game, home and road, in 2014-15 on WIFR's 23.2, "Antenna TV." The games can also be viewed on Comcast Cable channel 436, Charter Cable channel 193 or Mediacom 101 in the Rockford market and online through AHLLive.com. Fans can also listen to the action for free on AHLLive.com. For a complete listing of TV stations carrying IceHogs games, visit IceHogs.com. Every broadcast will start with the IceHogs Warm Up 30 minutes prior to puck drop.

Tickets On Sale for 2014-2015!
IceHogs individual game tickets are now on sale! Call (815) 968-5222 to reserve your seats for any IceHogs regular season game during the 2014-15 season. Tickets can also be purchased online at IceHogs.com, in person at the BMO Harris Bank Center Box Office in downtown Rockford, or any Ticketmaster outlet, including Walmart.