WEEK 15 REPORT: ROAD HOGS STRETCH SEASON-HIGH POINT STREAK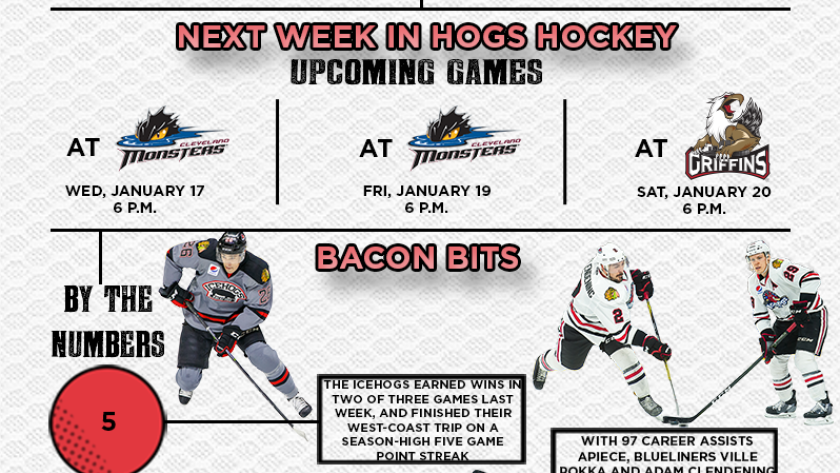 BACON BITS:
-The Rockford IceHogs capped their three-game California road trip with five of six possible points, defeating Ontario and San Jose before dropping their matchup in overtime against Bakersfield...Rockford currently boasts a season-high five-game point streak with a record of 3-0-1-1 over the last five contests...The Hogs enter the week with an overall record of 21-15-2-2 and ranked third in the Central Division behind Milwaukee and Manitoba.
-Forward Tyler Sikura has scored a goal in each of his last five games and is tied for the AHL lead with eight goals over his last 10 games since Dec. 28...Sikura's goal streak is currently the longest active goal streak in the AHL and is just one game shy of matching the league's longest overall goal streak this season (3 players have notched 6-game goal streaks in 2017-18)...In addition, Sikura is also currently tied for the longest goal streak in franchise history, most recently set by Rob Klinkhammer from Dec. 31, 2008 - Jan. 9, 2009...No IceHogs skater has notched a six-game goal streak in team history.
-Defenseman Adam Clendening notched an assist in his IceHogs season debut on Jan. 12 at San Jose and has now totaled 119 points (22g, 97a) in 187 career games with Rockford from 2012-15 and 2017-18...Clendening enters the week ranked tied for third (with Ville Pokka) all-time among IceHogs defenseman in assists and fourth in both goals and points.
-The Hogs have fired 40+ shots in each of their last two games and have now collected 40+ shots 11 times this year...Rockford currently leads the AHL with 1,404 total shots this season and 35.10 shots per game in 2017-18...The IceHogs are the lone team in the league to eclipse 1,400 total shots thus far this season.
-William Pelletier notched his first pro hat trick during last Wednesday's win at Ontario, scoring one goal in all three periods of the IceHogs' 5-2 victory...Pelletier currently boasts a season-high four-game point streak over which he has amassed 3g-3a-6pts since Jan. 7.
UPCOMING GAMES:
Wednesday, Jan. 17 | Rockford at Cleveland (6 p.m.) The IceHogs travel to Cleveland to take on the Monsters in the fifth meeting of the 2017-18 season between the two teams. Rockford is 2-2-0-0 thus far in the series with two games both at home and on the road.
Friday, Jan. 19 | Rockford at Cleveland (6 p.m.) Rockford cap the back end of a two-game road trip to Cleveland with a Friday evening matchup against the Monsters. The Hogs are 1-1-0-0 in two contests at Quicken Loans Arena this year.
Saturday, Jan. 20 | Rockford at Grand Rapids (6 p.m.) The IceHogs conclude a six-game road trip with Saturday's tilt against the reigning Calder Cup champion Griffins. Rockford has won six of the first seven games in this season's series with Grand Rapids.
BUD LIGHT MONTHLY MONDAY HOG TALK AT VINTAGE 501:
Bud Light Hog Talk returns to Vintage 501 Monday, Feb. 5 from 6-7 p.m. Vintage 501 is located in downtown Rockford at 501 E. State St. Fans can join broadcasters Joseph Zakrzewski and Brittany Toolis from 6-7 p.m. on the first Monday of every month throughout the season as the duo chats with IceHogs players, coaches and front office members. For those unable to attend the show in-person, Monday's show will be streaming live on IceHogs.com. "Bud Light Hog Talk" will also be available on www.icehogs.com following the live show. Fans can access the podcast through the "Audio Highlights" link in the "Multimedia" menu.
ICEHOGS BROADCASTING NETWORK
Catch every IceHogs game, home and road, in 2017-18 on WIFR's Cozi TV on 23.3. The games can also be viewed on Comcast Cable channel 434, Charter Cable channel 194, Dish Network channel 252 or Mediacom 102 in the Rockford market and online through AHLLive.com. Every TV broadcast will start with "IceHogs Warm Up" 30 minutes prior to puck drop. Fans can also listen to the action for free at sportsfanradio1330.com and IceHogs.com. For a complete listing of TV stations carrying IceHogs games, visit IceHogs.com, and for the complete schedule of radio broadcasts, visit sportsfanradio1330.com.
TICKETS ON SALE FOR 2017-18!
IceHogs individual game tickets can be purchased by calling (815) 968-5222 to reserve your seats for any regular season home game during the 2017-18 season. Tickets can also be purchased online at IceHogs.com, in person at the BMO Harris Bank Center Box Office in downtown Rockford or at any Ticketmaster outlet, including Walmart.