Week 15 Report: Hogs Find Footing, Earn Points in Two of Three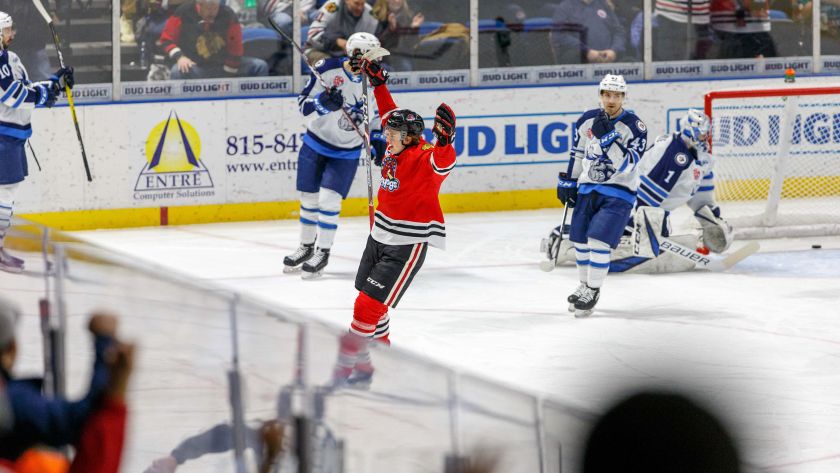 ---
WOAH! WE'RE HALFWAY THERE!
The Rockford IceHogs will officially hit the halfway point of the 2019-20 season with game number 38 tomorrow when they host the Milwaukee Admirals. They enter the evening in a three-way tie for fourth place in the Central Division with 38 points and a record of 18-17-1-1. Additionally, the IceHogs hold a 1-2-1-0 record against the Admirals through the first four of 12 total matchups against Milwaukee.
THREE'S COMPANY, TWO
The IceHogs have dropped two straight to the Admirals for the first time since March 22 - 27 of last season when Rockford lost three consecutive games to Milwaukee. Current Ads goaltender, Troy Grosenick was in net for two of those three contests, making a combined 55 of 59 saves while Collin Delia was in net for one contest, surrendering eight goals on 31 shots.
REBOUND BRANDON
Brandon Hagel contributed an assist on Lucas Carlsson's goal on Saturday afternoon after being held pointless in Friday's clash between the IceHogs and Admirals. In 30 games since Oct. 30, there have only been two instances in which Hagel has not rebounded from a pointless performance to find the scoresheet the very next game. Hagel has been held pointless 12 times in that span but has tallied a combined 13 points (7g, 6a) in subsequent efforts.
OH HI, HIGHMORE
Brandon Hagel's 13 goals through his first 34 games (now 36 games) as a rookie were just one behind Matthew Highmore's goal total through his first 34 games (14 goals) during the 2017-18 season when Highmore set Rockford's AHL rookie goal record. Highmore ultimately finished his record-setting rookie season with 24 goals in 64 games with Rockford and a pair of markers in 13 games with the Chicago Blackhawks.
LUCKY 13
The IceHogs have featured 13 different skaters to score at least one goal over the last 12 games (since Dec. 15). Those 13 skaters have combined for 27 total goals in that span with nine players scoring multiple goals and four with a lone tally. The group includes nine forwards and four defensemen, as well as four AHL rookies.
SIK 'EM
Tyler Sikura registered an even plus/minus rating in Saturday afternoon's loss at Milwaukee to continue his trend of even-or-better plus/minus ratings. Just two times in his last 21 games has Sikura failed to register an even-or-better plus/minus rating. Sikura's plus-8 rating on the season ranks third on the active IceHogs roster behind Lucas Carlsson (+9) and John Quenneville (+9).
THREE FOR ME
The IceHogs have only managed to score three goals in a game twice in the last nine contests. The club holds a record of 16-1-0-1 record when scoring more than two goals this year and are 2-16-1-0 when tallying two or fewer goals. Dating to last season, the Hogs have won 46 of 52 games when scoring more than two goals (46-3-1-2).
DUO OF DUOS
Forward John Quenneville was reassigned to the IceHogs on Saturday after spending nine games with the Blackhawks and his brother, Peter, signed a PTO with the IceHogs on Monday, giving Rockford its second set of brothers this season after Dylan and Tyler Sikura suited up for the IceHogs earlier this year.
---
UPCOMING GAMES:
Tuesday, Jan. 14 | Rockford vs. Milwaukee (7 p.m.) Join the IceHogs as they host the Milwaukee Admirals for the conclusion of their three-game set. Also, with the purchase of a Taco Tuesday ticket package, fans will receive an upper level ticket, one 12 oz. margarita and two tacos. The package can be purchased HERE for just $15. Additionally, fans attending the game on Tuesday can enjoy discounted tacos and craft beer, with tacos going for only $2 and select craft beer options available for just $5.
Wednesday, Jan. 15 | Rockford at Grand Rapids (6 p.m.) The IceHogs travel to Grand Rapids for the front end of a two-game set against the Griffins. Rockford is 3-2-0-0 against Grand Rapids thus far in 2019-20.
Friday, Jan. 17 | Rockford at Grand Rapids (6 p.m.) The Hogs complete their brief road trip to Grand Rapids with a Friday evening contest against the Griffins. The IceHogs last won at Van Andel Arena on December 6 in a 2-1 shootout victory.