WEEK 15 RECAP: ROCKFORD WINS TWO OF THREE IN WEEK 15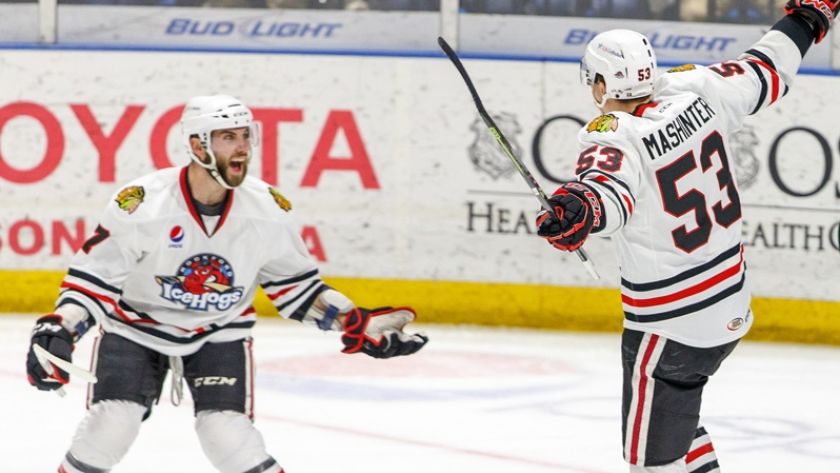 Surging IceHogs pick up points from all three games

Week 15 Results:
Tuesday, Jan. 13, Charlotte 3 vs. Rockford 2 (SO)
Friday, Jan. 16, Iowa 0 vs. Rockford 4
Saturday, Jan. 17, Rockford 3 at Chicago 2 (SO)

Week 16 Schedule:
Monday, Jan. 19, Chicago 4 vs. Rockford 1
Thursday, Jan. 22, at Iowa, 7 p.m.
Saturday, Jan. 24, vs. Utica, 7 p.m.

Week 15 Recap:
The IceHogs, after struggling to collect points around the turn of the calendar, continued to pick up steam in Week 15. Following up a shootout loss to Charlotte on Tuesday, Rockford carded wins at home against Iowa on Friday and at Chicago on Saturday to give them points in six of their last seven games.

Bacon Bits:
-After struggling to finish 2014 with a record of 2-5-1-0 from Dec. 12 to Dec. 30, the IceHogs have responded with a 4-1-1-1 mark from Dec. 31 to Jan. 17

-Saturday's shootout win in Chicago was the third game out of Rockford's previous four, and the fourth of their last seven, to extend past regulation time

-Overall this season the IceHogs have played in 11 games that have ended in overtime or a shootout

-Rockford holds a 3-4 record in games decided in overtime, and is 2-2 in shootout decisions

-In Tuesday's loss to Charlotte, the IceHogs surpassed their franchise-longest scoreless streak, which ended at 145:52 when Phillip Danault scored a second-period goal

-The streak started in the first period of a Jan. 8 loss in Milwaukee, and unseated a mark of 137:38 that was set at the end of the 2003-04 season, when Rockford was a member of the UHL

-Goaltender Michael Leighton stopped 87 of 91 shots faced in his two starts in Week 15, both ending in a shootout

-In his last six appearances, Leighton shows a 3-0-2 record, a .965 save percentage and a 1.21 goals against average

-Scott Darling picked up his first shutout in an IceHogs uniform on Friday against Iowa, becoming the third different Rockford netminder to log a shutout this season

-Darling's shutout was the first by an IceHogs goalie at the BMO Harris Bank Center since Feb. 16, 2012, when Carter Hutton blanked the Wolves in a 1-0 overtime win

-In the 11 games spanning from Dec. 21 to Jan. 17, Leighton and Darling have combined to post a 5-4-1-1 record, two shutouts, a .947 save percentage and a 1.74 goals against average

-Saturday's win in Chicago brought the IceHogs their third of the season at Allstate Arena, and their fifth of the year against their in-state rivals

-The IceHogs are now just three standings points away from clinching the 2014-15 Illinois Lottery Cup

-Rockford last won the Lottery Cup in 2012-13

Hot Hog: Week 14
Left Wing Garret Ross (3 GP, 1g-2a, +2)

Second-year forward Garret Ross factored in all three games in Week 15 for the IceHogs, grabbing assists against Charlotte and Chicago, while adding his team-leading 13th goal of the year in Friday's shutout win over the Wild. The Dearborn Heights, Mich. native found the scoresheet in four of his first six games since missing six games with an injury. On the season Ross sits second on the IceHogs in scoring, with 24 points (13g-11a) through 35 games played

Upcoming Games:
Thursday, Jan. 22, at Iowa Wild: Puck drops at 7 p.m. After hosting the Wild less than a week ago the IceHogs head to Des Moines for a battle with their neighbors to the West. The IceHogs show a record of 3-2-0-0 against Iowa this season, including a 1-1-0-0 split at the Wells Fargo Arena.

Saturday, Jan. 24, vs. Utica Comets: Face-off is set for 7 p.m. Two of the West's best collide when the IceHogs host the Comets for the sixth-annual Pink In The Rink night presented by Swedish American Hospital. The IceHogs will skate on pink ice wearing special pink jerseys which will be auctioned off throughout the night with proceeds benefitting the Mary Kay and Swedish American Foundations. Additionally the first 2,500 fans will receive a pink foam LED glow stick.


Bud Light Hog Talk Monday Night At Mulligan's and Grill:
Bud Light Hog Talk returns on Monday, Feb. 2 at Mulligan's Pub and Grill from 6-7 p.m. Mulligan's is located on North Main St. Fans can join Mike Peck or TJ Hogan from 6-7 p.m. on most Mondays throughout the season, as they chat with IceHogs players, coaches and front office members. The next show will feature center Mark McNeill and Head Coach Ted Dent. Take advantage of food and Bud Light specials at Mulligan's. The show will be re-aired on Tuesdays from 7-8 p.m. on WIFR's 23.2 "Antenna TV."

The IceHogs Broadcasting Network:
Catch every IceHogs game, home and road, in 2014-15 on WIFR's 23.2, "Antenna TV." The games can also be viewed on Comcast Cable channel 436, Charter Cable channel 193 or Mediacom 101 in the Rockford market and online through AHLLive.com. Fans can also listen to the action for free on AHLLive.com. For a complete listing of TV stations carrying IceHogs games, visit IceHogs.com. Every broadcast will start with the IceHogs Warm Up 30 minutes prior to puck drop.

Tickets On Sale for 2014-2015!
IceHogs individual game tickets are now on sale! Call (815) 968-5222 to reserve your seats for any IceHogs regular season game during the 2014-15 season. Tickets can also be purchased online at IceHogs.com, in person at the BMO Harris Bank Center Box Office in downtown Rockford, or any Ticketmaster outlet, including Walmart.