WEEK 15 RECAP: HOGS KICK OFF HOMESTAND BY WINNING TWO OF THREE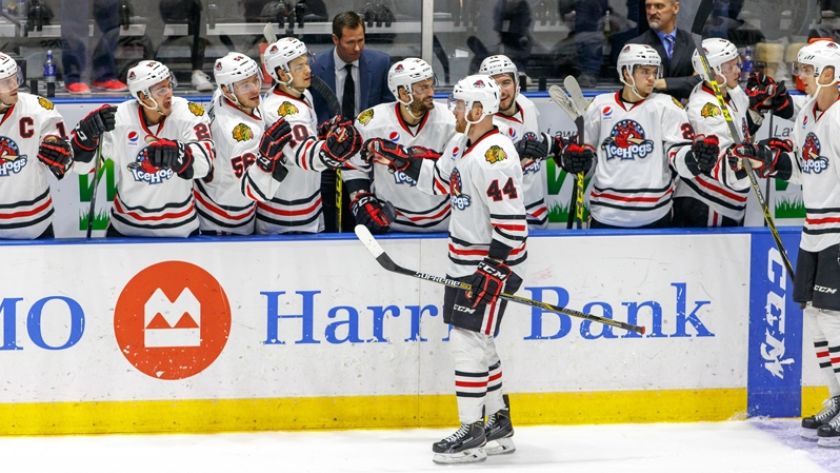 Week 15 Results:
Tuesday, January 12: Chicago 2 vs. Rockford 5
Friday, January 15: San Jose 5 vs. Rockford 2
Saturday, January 16: Stockton 0 vs. Rockford 3

Week 16 Schedule:
Monday, January 18: Lake Erie 1 vs. Rockford 3
Friday, January 22: Iowa vs. Rockford, 7 p.m.
Saturday, January 23: Iowa vs. Rockford, 7 p.m.

Week 15 Recap:
The Rockford IceHogs remained at the top of the Central Division in Week 15, winning two of their three games to kick off an eight-game homestand. Goaltender Michael Leighton moved within two shutouts of breaking the all-time AHL record with his 43rd scoreless performance in the Hogs 3-0 victory over Stockton on Saturday.

Bacon Bits:
-Rockford picked up their sixth win in their last seven games versus Pacific Division opponents with their 3-0 shutout of Stockton on Saturday
-Overall, the IceHogs show a 7-4-0-0 mark versus the Pacific this season
-The 3-0 victory over Stockton marked goaltender Michael Leighton's 43rd career AHL shutout win
-The 43 AHL shutouts by Leighton trail only Johnny Bower (45) for the all-time lead
-Saturday's victory gave Leighton his 212th victory, moving him into 10th place on the all-time AHL leaderboard
-The win was also Leighton's 19th of the season, tied with Jared Coreau (Grand Rapids) and Peter Budaj (Ontario) for the league lead through Sunday's games
-The goaltender has not been scored on in five-on-five play since Jan. 3 versus Milwaukee, when Adam Payerl scored at even strength 17:43 of the first period
-The win over Stockton gave Rockford a 11-5-1-2 record at home through the first half of the season
-Blueliner Ville Pokka scored his sixth goal of the season on Saturday, good for the team lead among defensemen
-The goal marked his 23rd point (6g-17a), which tied him with five other defensemen for eighth place in the AHL through Sunday
-Pierre-Cedric Labrie scored his fourth goal in as many games in the 3-0 shutout of Lake Erie
-Labrie took the outright team lead in goals (11) with the tally
-Vince Hinostroza scored the game-winning goal on Saturday, marking the first time he has done so in his professional career
-With the primary assist on the game-winner on Saturday, Garret Ross extended his point streak to three games (1g-3a)
-Jake Dowell sat at fourth place in the league with a +22 rating upon completion of the weekend games
-The veteran center assisted on the game-winning tally in the 5-2 victory over Chicago, extending his team-leading point total to 24 (7g-17a)
-His 24 points at the halfway mark break his previous AHL season-high of 23 points, which was accomplished with Rockford in 2009-10
-The IceHogs led entering each of their two victories in Week 15
-Rockford improved to 19-0-0-0 on the season when entering the third period with the lead with the win on Sunday
-Viktor Svedberg picked up three points (1g-2a) in Week 15 after going scoreless in the 10 games prior to the Jan. 12 contest vs. Chicago
-The 5-2 victory over Chicago marked only the second time the IceHogs have scored five goals at home
-The only other five-goal game for Rockford at the BMO came against Chicago on Dec. 30
-All but two contests versus the Wolves this season have included at least one set of fighting majors

Hot Hog: Week 15
Goaltender Michael Leighton (2GP, 2W, 129:58 MIN, 49SH, 47 SVS, 2GA)

Veteran goaltender Michael Leighton gave the Hogs both of their wins in Week 15. Following Chicago's second goal of the game on Jan. 12, Leighton played 77:02 of scoreless hockey and picked up a shutout versus the Stockton Heat. The perfect performance on Jan. 16 versus Stockton marked the 43rd time he has done so in his AHL career, and he only needs three more shutouts to break the AHL all-time record. Overall, Leighton is tied with two other goaltenders for the league lead in wins (19) through Sunday.

Upcoming Games:
Friday, Jan. 22 vs. Iowa Wild: Game starts at 7 p.m. Iowa visits the BMO Harris Bank Center for the first of consecutive weekend games. The first 2,500 fans will receive fleece blankets thanks to OSF. Doors will open at 5:15 p.m. for a Blues Flame Lounge Friday. Fans 21-and-older are invited to enjoy live blues music, a happy hour special, and free appetizers at the Blue Flame Lounge on the main concourse.


Saturday, Jan. 23 vs. Iowa Wild: Contest begins at 7 p.m. Rockford will look to improve upon their stellar record versus the Wild in the back end of a weekend set.


The IceHogs Broadcasting Network:
Catch every IceHogs game, home and road, in 2015-16 on WIFR's "Justice Network" on 23.3. The games can also be viewed on Comcast Cable channel 434, Charter Cable channel 194 or Mediacom 102 in the Rockford market and online through AHLLive.com. Every broadcast on WIFR will start with "IceHogs Warm Up" 30 minutes prior to puck drop. Fans can also listen to the action for free at WXRX.com. For a complete listing of TV stations carrying IceHogs games, visit IceHogs.com.

Tickets On Sale for 2015-2016!
IceHogs individual game tickets are now on sale! Call (815) 968-5222 to reserve your seats for any IceHogs regular season game during the 2015-16 season. Tickets can also be purchased online at IceHogs.com, in person at the BMO Harris Bank Center Box Office in downtown Rockford, or any Ticketmaster outlet, including Walmart.