WEEK 14 RECAP: ICEHOGS DROP PAIR TO MILWAUKEE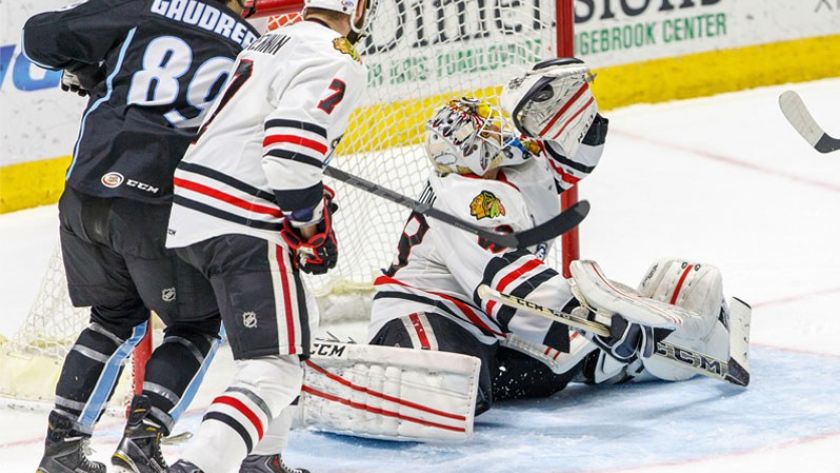 Rockford only grabs one point out of home-and-home series with Admirals


Week 14 Recap:
The heated season series between the IceHogs and their rivals to the North shifted back in the Admirals' momentum, as Milwaukee took both legs of a home-and-home series in Week 14. After falling 4-2 at the BMO Harris Bradley Center on Thursday, Rockford returned home for the rematch on Friday, but could only manage one point by virtue of a 1-0 overtime loss. The narrow defeat at the BMO Harris Bank Center came despite a record-breaking performance for IceHogs goaltender Michael Leighton, who broke Rockford's franchise longest shutout streak.

Week 14 Results:
Thursday, Jan. 8, Rockford 2 at Milwaukee 4
Friday, Jan. 9, Milwaukee 1 vs. Rockford 0 (OT)

Week 15 Schedule:
Tuesday, Jan. 13, vs. Charlotte, 7 p.m.
Friday, Jan. 16, vs. Iowa, 7 p.m.
Saturday, Jan. 17 at Chicago, 7 p.m.


Bacon Bits:

-Michael Leighton set an IceHogs franchise record with a shutout streak of 187:29 spanning from the second period on 12/31/14 in Grand Rapids to 1/9/15 in overtime against Milwaukee

-Leighton's streak snapped the previous record set in 2004 when Michel Robinson played 133:21 without giving up a goal from Dec. 17 to Dec. 19

-Over his last five appearances, Leighton is 2-1-1-0 with a 1.11 goals against average and .964 save percentage

-Friday night's 1-0 overtime loss marked the second time this season in which Leighton was on the wrong end of a 1-0 contest that extended past regulation (10/19 at Toronto, 0-1 SOL)

-While Friday was the third time the IceHogs have been shut out this season, they were an overtime goal away from earning their fifth shutout victory of the season

-With a first-period goal on Thursday in Milwaukee, defenseman T.J. Brennan has netted goals in each of his last three games played at the BMO Harris Bradley Center

-Brennan was named to represent the Western Conference in the 2015 AHL All-Star Classic on Jan. 25-26, along with IceHogs captain Joakim Nordstrom

-The IceHogs started the season 3-0 in games decided in overtime (before the shootout), but have since been on the wrong side of the last four games ending in overtime.

-After rattling off 33 or more shots on goal in nine of ten games, the IceHogs were held to 21 and 27 shots on goal in their two games in Week 14

-The IceHogs have played three home-and-home series this season and have a combined record of 0-4-2-0 in the six games

-At the halfway mark of the 2014-15 regular season, Rockford is 21-12-4-1 (47 points) compared to 16-17-3-2 (37 points) a season ago

-The IceHogs have played to their best record at the midway point of the season since their first season in the AHL, when they showed a 23-9-3-5 record halfway through the 2007-08 season (40 games)

-Rockford began the season 14-4-0-1 through their first 19 games, but are just 7-8-4-0 over their past 19 outings

-Statically, the third period is still Rockford's best, outscoring their opponents 38-23 (+15), but the IceHogs have scored just once in the third frame over their last eight games

-The lone third period goal was an empty net tally by Garret Ross on 1/3/15 at Chicago

-On the flip side, the IceHogs have allowed just three goals in the third period over those eight games

-Last season, Rockford ranked last on the penalty kill at 72.3%, allowing 91 power play goals in 76 contests

-Through 38 games this season, the IceHogs rank second in the league on the PK at 87.3%, allowing just 19 goals on the man advantage, an increase of 15% from a season ago

Hot Hog: Week 14
Goaltender Michael Leighton (0-0-1, .980 SV%, 0.71 GAA)

Despite allowing just one goal in two appearances in Week 14, goalie Michael Leighton was not rewarded with a win. On Thursday night, the IceHogs backstop came in relief in the second period and stopped all 14 Admirals shots faced in a 4-2 loss in Milwaukee. Saturday's back end of a home-and-home set featured a goalie duel with Marek Mazanec, but Leighton was saddled with a 1-0 overtime loss after making 34 saves against Milwaukee in Rockford. The overtime goal marked the end of Leighton's franchise record shutout streak of 187:29 dating back to 12/31/14.

Upcoming Games:
Tuesday, Jan. 13, vs. Charlotte Checkers: Puck drops at 7 p.m. The IceHogs welcome the Checkers to the BMO Harris Bank Center in the first of four meetings this season against the Carolina Hurricanes affiliate. Fans can take advantage of another WXRX Dollar Day, as beers, sodas, hot dogs and companion tickets are all just $1. Last year the IceHogs and Checkers split their season series, each taking home nine points over the eight games played against each other.

Friday, Jan. 16, vs. Iowa Wild: Game begins at 7 p.m. Iowa makes its final visit of the season to Rockford as the IceHogs and Wild square off once again at the BMO. Fans can gear up for the rest of winter by taking advantage of the IceHogs winter hat giveaway. The first 1,000 guests 21-and-over will pick up an IceHogs winter hat, compliments of Bud Light. Those over 21 can also enjoy live music, free appetizers and drink specials at the Blues Flame Lounge Pre-Game Party. Doors open at 5:15 p.m.

Saturday, Jan. 17, at Chicago Wolves: Face-off is set for 7 p.m. Rockford wraps up the week by visiting the Allstate Arena for the first of four meetings with Chicago in a 15-day span. The IceHogs have started the 2014-15 season 2-1-0-0 in Rosemont, including a 3-0 shutout win in their previous visit on Jan. 3.

Bud Light Hog Talk Monday Night At Mulligan's and Grill:
Bud Light Hog Talk returns on Monday, Jan. 12 at Mulligan's Pub and Grill from 6-7 p.m. Mulligan's is located on North Main St. Fans can join Mike Peck or TJ Hogan from 6-7 p.m. on most Mondays throughout the season, as they chat with IceHogs players, coaches and front office members. This week will feature goaltender Michael Leighton and goaltending coach Andrew Allen. Take advantage of food and Bud Light specials at Mulligan's. The show will be re-aired on Tuesdays from 7-8 p.m. on WIFR's 23.2 "Antenna TV."

The IceHogs Broadcasting Network:
Catch every IceHogs game, home and road, in 2014-15 on WIFR's 23.2, "Antenna TV." The games can also be viewed on Comcast Cable channel 436, Charter Cable channel 193 or Mediacom 101 in the Rockford market and online through AHLLive.com. Fans can also listen to the action for free on AHLLive.com. For a complete listing of TV stations carrying IceHogs games, visit IceHogs.com. Every broadcast will start with the IceHogs Warm Up 30 minutes prior to puck drop.

Tickets On Sale for 2014-2015!
IceHogs individual game tickets are now on sale! Call (815) 968-5222 to reserve your seats for any IceHogs regular season game during the 2014-15 season. Tickets can also be purchased online at IceHogs.com, in person at the BMO Harris Bank Center Box Office in downtown Rockford, or any Ticketmaster outlet, including Walmart.