Week 12 Report: Rockford Rolls to Wins in 2 of 3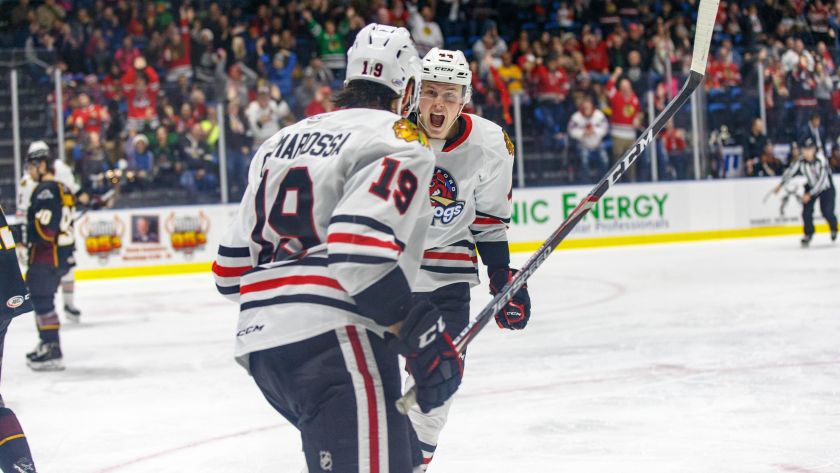 BACON BITS
The Rockford IceHogs won two of three games last week and are now 8-3-0-0 over their last 11 contests since Nov. 29. In addition, the Hogs have now gone 22 consecutive contests without suffering back-to-back losses, posting a 15-6-0-1 record over that stretch.
Forward John Quenneville was recalled by Chicago on Sunday and can potentially skate against his former NHL team when the Blackhawks take on the New Jersey Devils tonight at the United Center. Quenneville is ninth IceHogs skater to earn a recall to the Blackhawks through the first three months of the season. Those nine players include five forwards, three defensemen and one goaltender.
Joseph Cramarossa scored on the power play in the third period on Saturday vs. Cleveland. Rockford has now scored three power-play goals over its last four games and four power-play goals over the last six contests.
Cramarossa finished with a pair of goals Sunday, lighting the lamp in the first and third period. The effort marked his first multi-goal game through 308 career AHL regular-season contests. Cramarossa also potted a pair of goals during the 2016 Calder Cup playoffs with San Diego.
Rockford has limited opponents to two or fewer goals in eight of the last 11 games dating to Nov. 29. The IceHogs ranked 25th in the league with an average of 3.28 goals against per game prior to that stretch, but have since allowed just 2.36 goals per game over the last 11 games.
Philipp Kurashev tallied five points (2g, 3a) over his first 16 games but has since doubled that production over just the last 11 contests with 10 points (3g, 7a) since Nov. 29. Kurashev is tied for the team lead in scoring over those 11 games.
Lucas Carlsson has skated to an even-or-better plus/minus rating in 13 of the last 14 games since the beginning of November. He is a combined +13 over that span and is tied for third in the AHL in plus/minus since the beginning of last month. Only Jeremy Gregoire (+16) and Dysin Mayo (+19) of Tucson own a better plus/minus since November.
---
UPCOMING GAMES
Friday, Dec. 27 | Rockford vs Iowa (7 p.m.) The IceHogs' homestand rolls along with a youth jersey giveaway for the first 1,000 kids ages 14 and under, courtesy of OrthoIllinois. Fans ages 21 and older can also enjoy $2 Bud Lights throughout the contest.
Sunday, Dec. 29 | Rockford at Manitoba (2 p.m.) Rockford hits the road for a two-game set against the Moose. The IceHogs are 1-1-0-0 thus far in the series.