WEEK 12 RECAP - ROCKFORD'S WINLESS STREAK EXTENDS TO FOUR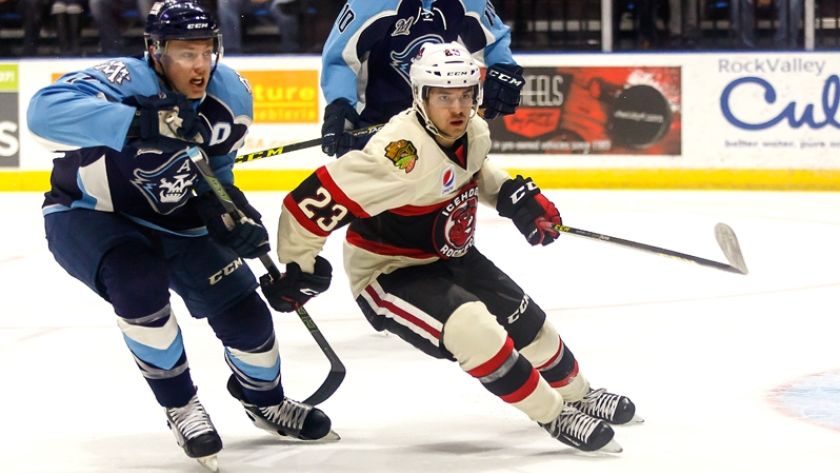 Week 12 Results:
Monday, December 21: Milwaukee 6 vs. Rockford 2
Saturday, December 26: Milwaukee 2 vs. Rockford 1 (SO)
Sunday, December 27: Rockford 1 at Iowa 3

Week 13 Schedule:
Wednesday, December 30 vs. Chicago, 7 p.m.
Saturday, January 2 at Chicago, 7 p.m.
Sunday, January 3 vs. Milwaukee, 4 p.m.
Week 12 Recap:
After holding a first-place position in the Central Division for nine-straight games, the Rockford IceHogs dropped back into second following a string of defeats in Week 12. The IceHogs only mustered four goals over three contests while extending their winless streak to a season-long four games. The team also saw its nine-game winning streak versus Iowa and six-game road point streak overall snapped in the loss to the Wild.

Bacon Bits:
-The IceHogs lost their third-straight shootout on Saturday to Milwaukee
-Rockford has lost five games that went beyond regulation and three of those have come against the Admirals
-Twice during Week 12 the IceHogs held their opponent to a season-low three shots in one period
-The Hogs limited Milwaukee to only three chances in the third period on Saturday and Iowa again in the second period on Sunday
-Forward Jeremy Morin had his four-game goal scoring streak and five-game point streak snapped on Saturday vs. Milwaukee
-Morin's goal scoring stretch matched a season-long for Rockford
-Ryan Hartman also potted goals in four-straight contests from Oct. 23 to Nov. 6
-Forward Vince Hinostroza tallied a shorthanded goal for the team's fourth game in a row on Monday
-The IceHogs are tied for second in the AHL with seven shorthanded goals this season
-Sunday's loss to Iowa ended a streak in which the IceHogs had won nine straight matchups with the Wild
-The nine-game winning streak vs. Iowa tied a franchise record for longest winning streak against an opponent
-The IceHogs had previously beaten the Milwaukee Admirals nine times in a row from Jan. 22, 2011 to Apr. 13, 2012
-Rockford also saw their six-game point streak (5-0-1-0) on the road end in Sunday's 3-1 loss to Iowa
-Following Sunday's loss, the IceHogs have encountered a four-game winless streak (0-2-1-1) for the first time this season
-With the absence of team captain Brandon Mashinter (with Chicago), forward Jake Dowell filled the void by donning the captain's "C" on Saturday and Sunday
-Forward Daniel Paille was selected to play for Team Canada in the Spengler Cup from Dec. 26 to Dec. 31
-Ryan Hartman received a three-game suspension following a hit during Monday's game with Milwaukee
-Hartman is the third IceHogs skater to be suspended this season, resulting in in five man-games lost


Hot Hog: Week 12
Vince Hinostroza Center (3GP, 1G, 1A, 2PTS, +1)

Rookie Vince Hinostroza kicked off Week 12 with his third multi-point game of the season. Hinostroza assisted on Rockford's first goal of the game on Monday against Milwaukee before getting one of his own in the third period. The 21 year-old was gunning for more on Sunday with a team-high five shots but he was held off the board. Overall this season, Hinostroza has notched 12 points (2g-10a), including three multi-point outings in December.

Upcoming Games:
Wednesday, Dec. 30 vs. Chicago Wolves: Game starts at at 7 p.m. The first 1,000 kids (14 & under) to the game with receive a free youth jersey courtesy of OrthoIllinois. The Illinois Lottery Cup contest is also another "Winning Weekday." If the IceHogs win, every fan in attendance will receive a free ticket to the next weekday game. Fans can also enjoy $2 beers, sodas, hot dogs, and companion tickets.

Saturday, Jan. 2 at Chicago Wolves: Puck drop is scheduled for 7 p.m. Rockford heads back to Rosemont after dropping their first game of the season there on Dec. 19. The IceHogs lead the Illinois Lottery Cup series with five points and a 2-0-1-0 record.

Sunday, Jan. 3 vs. Milwaukee Admirals: Game starts at 4 p.m. Rockford looks to avenge a pair of losses to their Central Division rival. The first 2,500 in the gates will receive a pack of Rockford IceHogs trading cards compliments of the Rockford Register Star. After the game, the team will host a postgame skate where fans can skate with their favorite IceHogs on the BMO Harris Bank Center ice.

Bud Light Monthly Monday Hog Talk At Vintage 501:
Bud Light Hog Talk returns on Monday, December 28 at Vintage 501 from 6-7 p.m. Vintage 501 is located in downtown Rockford at 501 E. State St. Fans can join Bob Mills or Kyle Stuetzel from 6-7 p.m. on the last Monday of every month throughout the season. The guests for the show are Tanner Kero, Dennis Robertson, and Ted Dent. Take advantage of food and Bud Light specials at Vintage 501. The show will be re-aired on Tuesdays on WIFR's "Justice Network" on 23.3 from 6-7 p.m.

The IceHogs Broadcasting Network:
Catch every IceHogs game, home and road, in 2015-16 on WIFR's "Justice Network" on 23.3. The games can also be viewed on Comcast Cable channel 434, Charter Cable channel 194 or Mediacom 102 in the Rockford market and online through AHLLive.com. Every broadcast on WIFR will start with "IceHogs Warm Up" 30 minutes prior to puck drop. Fans can also listen to the action for free at WXRX.com. For a complete listing of TV stations carrying IceHogs games, visit IceHogs.com.

Tickets On Sale for 2015-2016!
IceHogs individual game tickets are now on sale! Call (815) 968-5222 to reserve your seats for any IceHogs regular season game during the 2015-16 season. Tickets can also be purchased online at IceHogs.com, in person at the BMO Harris Bank Center Box Office in downtown Rockford, or any Ticketmaster outlet, including Walmart.