WEEK 12 RECAP: ICEHOGS SNAP SKID WITH WIN AGAINST WOLVES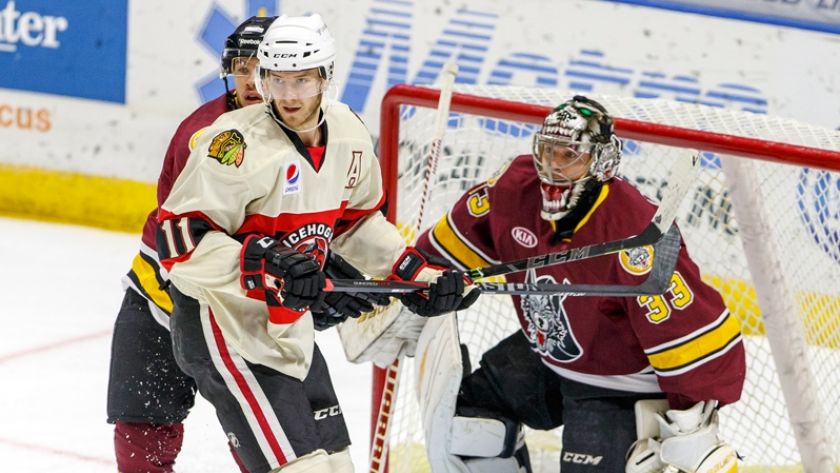 Rockford ends four-game winless streak by defeating rival Chicago at home


Week 12 Recap:
The IceHogs split two games on home ice in an abbreviated week coming after the AHL's brief holiday break. After dropping their fourth-straight contest Friday 2-1 to the Iowa Wild, Rockford responded with a spirited 4-2 victory over their crosstown rival Chicago Wolves on Sunday afternoon.

Week 12 Results:
Friday, Dec. 26, Iowa 2 vs. Rockford 1
Sunday, Dec. 28, Chicago 2 vs. Rockford 4

Week 13 Schedule:
Tuesday, Dec. 30, vs. Hamilton, 7 p.m.
Wednesday, Dec. 31, at Grand Rapids, 5 p.m.
Saturday, Jan. 3, at Chicago, 7 p.m.

Bacon Bits:

-Rockford snapped out of a four-game winless streak (0-3-1-0) on Sunday with a 4-2 win over Chicago

-The IceHogs had scored only five goals during their four-game slump and on Sunday scored three goals in a span 2:12 in the second period

-Teuvo Teravainen notched his first-career three-point game on Sunday, figuring in on all three of Rockford's second period goals with a goal and two primary assists

-Teravainen now ranks fourth among all AHL rookies with 23 points and third with 17 assists

-Scott Darling is unbeaten in regulation in each of his last five home starts, going 4-0-1-0 with a .925 save percentage and a 2.32 goals against average

-Rockford has five regulation losses in December after totaling five regulation losses in October and November combined

-The IceHogs drew a season-high crowd of 6,411 on Sunday, the second sellout of 2014-15 and the seventh-largest crowd during the team's AHL era

-Defenseman Adam Clendening marked his first multi-point game of the season on Sunday with two assists against the Wolves

-Last season, Clendening led the IceHogs with 15 multi-point games

-Forward Peter Regin also tallied two assists against Chicago, his fifth multi-point game this season

-Regin finds himself fifth on the Rockford lineup with 17 points (5g-12a) in 28 games played

-Rockford went 1-2 on the power play on Sunday, notching their first home power play goal since Nov. 22, breaking an 0-18 slump

-The IceHogs have been in first place in the AHL's Midwest Division since Nov. 16, a stretch of 43 days and 18 games, the longest stretch in the club's AHL era

-Overall, Rockford has been in first place in the division following 24 of their 33 games

-IceHogs Associate Coach Mark Osiecki has won his first two games as the head coach of Team USA in the IIHF World Junior Championships in Toronto and Montreal

-After victories against Finland on Friday (2-1 (SO)) and Germany on Sunday (6-0), Team USA will take on Slovakia on Monday night

Hot Hog: Week 12
Center Teuvo Teravainen

Teuvo Teravainen played the role of an offensive catalyst in the shortened week of play, finding the net in both games and adding a pair of assists in Sunday's victory over the rival Wolves. After the four-point weekend, the touted rookie now owns six goals and 17 assists, giving him sole possession of second place in team point scoring with 23 points in 31 games. The Helsinki, Finland native has been on a point-a-game pace over his last nine contests, collecting three goals and six assists over the stretch.

Upcoming Games:
Tuesday, Dec. 30, vs. Hamilton Bulldogs: Puck drops at 7 p.m. The IceHogs meet the Bulldogs for the final time this season during Youth Jersey Night at the BMO. The first 1,000 kids 14-and-under will receive a jersey courtesy of Rockford Orthopedic. It's also a WXRX Dollar Day, with beer, soda, hot dogs and companion tickets all available for $1.

Wednesday, Dec. 31, at Grand Rapids Griffins: Game begins at 5 p.m. Rockford hits the road for a New Years Eve Midwestern Division matchup with Grand Rapids from Van Andel Arena. It is the second of four trips the IceHogs will take to Michigan this season, after winning the first 2-1 over the Griffins back on Oct. 29.

Saturday, Jan. 3, at Chicago Wolves: Face-off is set for 4 p.m. The IceHogs begin their 2015 schedule with an Illinois Lottery Cup game against the Wolves at Allstate Arena. Rockford is 1-1 in Rosemont this season after dropping a 2-1 decision in their most recent visit on Nov. 29.

Bud Light Hog Talk Monday Night At Mulligan's and Grill:
Bud Light Hog Talk returns on Monday, Jan. 5 at Mulligan's Pub and Grill from 6-7 p.m. Mulligan's is located on North Main St. Fans can join Mike Peck or TJ Hogan from 6-7 p.m. on most Mondays throughout the season, as they chat with IceHogs players, coaches and front office members. Take advantage of food and Bud Light specials at Mulligan's. The show will be re-aired on Tuesdays from 7-8 p.m. on WIFR's 23.2 "Antenna TV."

The IceHogs Broadcasting Network:
Catch every IceHogs game, home and road, in 2014-15 on WIFR's 23.2, "Antenna TV." The games can also be viewed on Comcast Cable channel 436, Charter Cable channel 193 or Mediacom 101 in the Rockford market and online through AHLLive.com. Fans can also listen to the action for free on AHLLive.com. For a complete listing of TV stations carrying IceHogs games, visit IceHogs.com. Every broadcast will start with the IceHogs Warm Up 30 minutes prior to puck drop.

Tickets On Sale for 2014-2015!
IceHogs individual game tickets are now on sale! Call (815) 968-5222 to reserve your seats for any IceHogs regular season game during the 2014-15 season. Tickets can also be purchased online at IceHogs.com, in person at the BMO Harris Bank Center Box Office in downtown Rockford, or any Ticketmaster outlet, including Walmart.