WEEK 11 RECAP: ROCKFORD SLIDES INTO THE HOLIDAY BREAK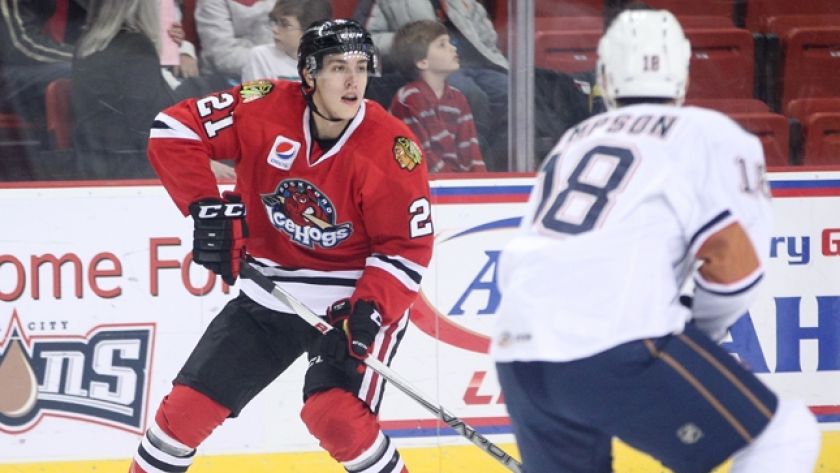 IceHogs drop three straight games for the first time in 2014-15.

Week 11 Recap:
The IceHogs completed their season long road trip in Week 11, picking up just one point out of a possible six heading into a brief holiday break. Despite throwing everything they had at the Iowa goaltending duo of John Curry and Johan Gustafsson, the Hogs dropped a 5-1 decision on Tuesday. Then, Rockford lost with one second left in overtime, 3-2, to the Oklahoma City Barons on Saturday before losing their third straight game to the same Barons squad on Sunday.

Week 11 Results:
Tuesday, Dec. 16, Rockford 1 at Iowa 5
Saturday, Dec. 20, Rockford 2 at Oklahoma City 3
Sunday, Dec. 21, Rockford 1 at Oklahoma City 3

Week 12 Schedule:
Friday, Dec. 26, vs. Iowa, 7 p.m.
Sunday, Dec. 28, vs. Chicago, 4 p.m.

Bacon Bits:
-Rockford completed a season-long six-game road swing on Sunday and went 2-3-1-0
-The IceHogs will return home after a brief Christmas break to play three straight home games
-With Sunday's 3-1 loss in Oklahoma City, the IceHogs have now lost three straight games for the first time this season
-Week 11 marked the first losing week of the 2014-15 regular season for Rockford (0-2-1-0)
-Rockford is 3-4-3-0 over their last 10 games while scoring 21 goals, an average of 2.10 goals per contest
-The IceHogs are 11th in the AHL in scoring averaging 2.90 goals per game this season but recorded just four during their three Week 10 games
-In his return from injury, forward Mark McNeill notched a pair of assists in his first two games back in Rockford's lineup
-After winning their first six games against West Division opponents, the IceHogs have dropped three straight (0-2-1-0), all in Week 11
-The IceHogs have also dropped three straight overtime decisions, including two in the final 15 seconds, after claiming victory in their first three OT contests
-Rockford set a franchise record on Tuesday by firing 59 shots on goal in Iowa
-The previous mark was 58 which came in a 7-3 victory against Chicago on April 12, 2013
-Every skater in the lineup for Tuesday's game recorded a shot, including 30 from defensemen
-Forward Teuvo Teravainen scored his fourth goal of the season on Saturday with a power play tally in Oklahoma City
-The rookie forward now leads Rockford with seven points (2g-5a) on the man advantage and ranks eighth among all AHL first year skaters with 19 points (4g-15a) overall

Hot Hog: Week 11
Center Mark McNeill (2a)

After being sidelined for the past 13 games with an injury, forward Mark McNeill picked up right where he left off. Prior to the injury McNeill led Rockford in goals and points. The second year pro dished out an assist on Rockford's lone goal on Tuesday in his first game back in the lineup. He followed it up with another helper in Saturday's 3-2 loss in overtime to Oklahoma City. On the season, the Edmonton, Alberta native shows nine goals and nine assists in 18 games.

Upcoming Games:
Friday, Dec. 26, vs. Iowa Wild: Game starts at 7 p.m. The IceHogs return from a brief holiday break to take on the Wild for the fifth meeting of the season. It's another Blues Flame Pre-game Party as fans can enjoy some live music, free appetizers and drink specials beginning when doors open at 5:15 p.m.

Sunday, Dec. 28, vs. Chicago Wolves: Face-off is set for 4 p.m. for another Illinois Lottery Cup showdown between Rockford and Chicago. The first 2,500 fans to the game will receive a set of 2014-15 IceHogs trading cards courtesy of the Rockford Register Star. A select number of the card sets will be autographed and contain prizes, including Blackhawks tickets. Fans are encouraged to bring their skates to the game as they will be allowed to join the IceHogs on the ice following the contest for another "Skate with the Hogs" event.