WEEK 10 RECAP: ICEHOGS WIN TWO OF THREE TO START ROAD TRIP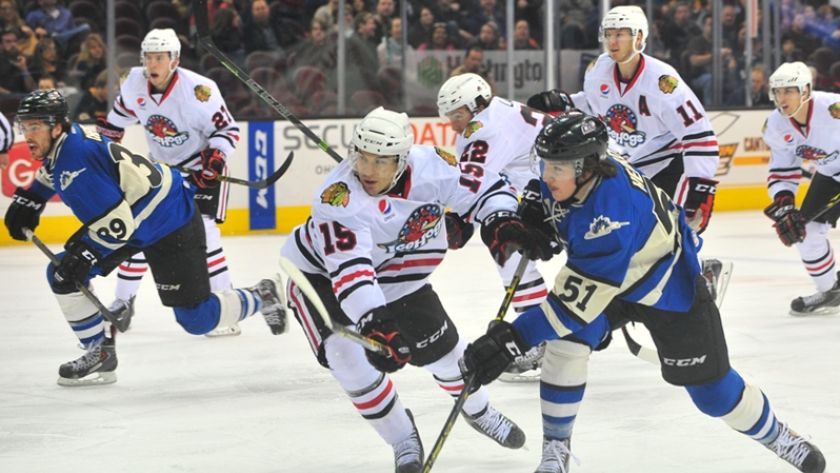 Rockford earns series split with Lake Erie to round out Week 10


Week 10 Recap:
The IceHogs started strong on their season-long six-game road swing, picking up four of six possible points in Week 10. Rockford started out with their second-consecutive mid-week victory in Milwaukee, before battling to a two-game split over the weekend in Cleveland with the streaking Lake Erie Monsters.
Week 10 Results:
Wednesday, Dec. 10, Rockford 2 at Milwaukee 1
Friday, Dec. 12, Rockford 2 at Lake Erie 4
Saturday, Dec. 13, Rockford 5 at Lake Erie 2
Week 11 Schedule:
Tuesday, Dec. 16, at Iowa, 7 p.m.
Saturday, Dec. 20, at Oklahoma City, 7 p.m.
Sunday, Dec. 21, at Oklahoma City, 2 p.m.

Bacon Bits:

-Captain Joakim Nordstrom tallied four points (3g-1a) to lead the IceHogs to a 5-2 win on Saturday against Lake Erie

-The four-point performance was the first from an IceHog since Alex Broadhurst put up 2g-2a in a 5-4 win against Utica on Feb. 9, 2014

-No Rockford player has scored more than four in a game since Brandon Pirri scored 1g-5a against the Chicago Wolves on April 12, 2013

-Nordstrom is the third different player to record a hat trick this season, joining Garret Ross (two times) and Mark McNeill.

-IceHogs players scored a total of six hat tricks in the four-year period from Feb. 2010 to Feb. 2014. Through 28 games this season Rockford already has four of them, the most by any AHL team

-With Jeremy Morin's first-period power play goal on Saturday, the IceHogs snapped a six-game scoreless streak on the man advantage, dating back to Nov. 29 at Chicago

-Prior to Saturday's 2-for-5 performance with the extra man, Rockford was stopped on 18-straight power plays and 32 of their last 33

-On the other hand, the IceHogs penalty kill unit has been hot, turning in a 1/15 performance in Week 10, and giving up only two goals on their last 28 opportunities faced (92.9%)

-Rockford is tied for the second-best penalty kill unit in the AHL (14/110, 87.3%), and owns the league's best shorthanded mark on the road (6/64, 90.6%)

-Rockford's 10 road victories are tied for the most in the league with Springfield

-Overall last season the IceHogs only managed 11 wins away from home

-Defenseman T.J. Brennan continues to put points on the board, factoring in all three games last week, putting up four points (2g-2a)

-Brennan, who leads the IceHogs with 24 points, has found the score sheet in four-straight games (2g-3a) and 17 of his last 20 (6g-17a)

-Brennan, along with forward Garret Ross, are tied for the AHL's best plus/minus rating with a plus-17

-Picking up two assists this last week, rookie forward Teuvo Teravainen owns points in five of his last seven games (6a)

-Teravainen is tied for second on the IceHogs, and fourth among league first-years, with 15 assists in 26 games played

-Associate Coach Mark Osiecki will now take a leave of absence from the IceHogs to coach the United States in the IIHF World Junior Championships beginning on December 26 in Montreal and Toronto

Hot Hog: Week 10
Center Joakim Nordstrom (3g, 2a, +3)

The captain of the IceHogs made a big splash in Week 10 after returning to Rockford from his first stint in the NHL. Nordstrom picked up an assist in Friday's loss to Lake Erie and then erupted with four points (3g-1a) the next day to help his team forge a split with the red-hot Monsters. In 17 games with the IceHogs this season, the Tyreso, Sweden native owns 15 points (8g-7a), and leads his team with four power play markers.

Upcoming Games:
Tuesday, Dec. 16, at Iowa Wild: Game starts at 7 p.m. The IceHogs continue their road trip as they travel to Des Moines for a tilt at the Wells Fargo Arena against the Iowa Wild. The Hogs are 8-1-0-1 in their last ten contests with the Wild.

Saturday, Dec. 20, at Oklahoma City Barons: Face-off is set for 7 p.m. The IceHogs make their annual trip to Oklahoma City for a two-game doubleheader at the Cox Convention Center against the Barons. Last season the IceHogs went 0-1-1-0 in their two games in OKC.

Sunday, Dec. 21, at Oklahoma City Barons: Game starts at 2 p.m. The IceHogs and Barons wrap up their series in Rockford's last game of their road trip and their last game before a brief holiday break.


Bud Light Hog Talk Monday Night At Mulligan's and Grill:
Bud Light Hog Talk returns on Monday, Jan. 5 at Mulligan's Pub and Grill from 6-7 p.m. Mulligan's is located on North Main St. Fans can join Mike Peck or TJ Hogan from 6-7 p.m. on most Mondays throughout the season, as they chat with IceHogs players, coaches and front office members. Take advantage of food and Bud Light specials at Mulligan's. The show will be re-aired on Tuesdays from 7-8 p.m. on WIFR's 23.2 "Antenna TV."

The IceHogs Broadcasting Network:
Catch every IceHogs game, home and road, in 2014-15 on WIFR's 23.2, "Antenna TV." The games can also be viewed on Comcast Cable channel 436, Charter Cable channel 193 or Mediacom 101 in the Rockford market and online through AHLLive.com. Fans can also listen to the action for free on AHLLive.com. For a complete listing of TV stations carrying IceHogs games, visit IceHogs.com. Every broadcast will start with the IceHogs Warm Up 30 minutes prior to puck drop.

Tickets On Sale for 2014-2015!
IceHogs individual game tickets are now on sale! Call (815) 968-5222 to reserve your seats for any IceHogs regular season game during the 2014-15 season. Tickets can also be purchased online at IceHogs.com, in person at the BMO Harris Bank Center Box Office in downtown Rockford, or any Ticketmaster outlet, including Walmart.