WEEK 1 RECAP - ROCKFORD SPLITS ON THE ROAD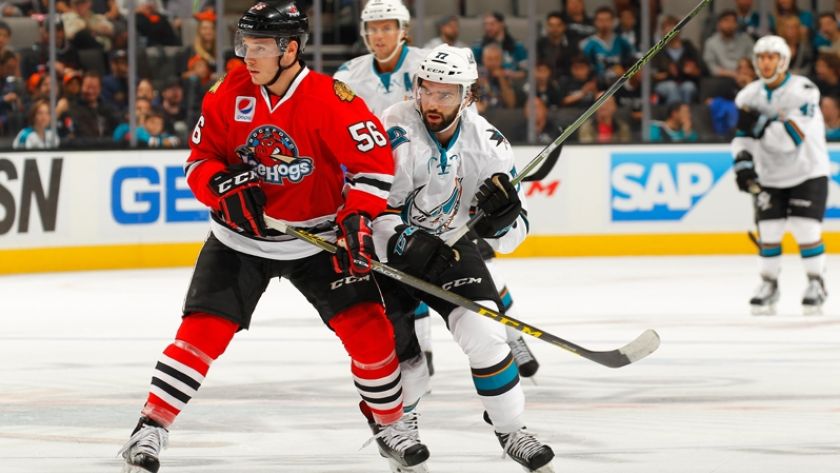 Week 1 Recap:
Rockford opened the season with a two-game Pacific Division tour, taking a 4-2 victory over the San Jose Barracuda on Friday before dropping a 7-0 decision to the Stockton Heat the next night. Each of the IceHogs first two games was the season opener, home opener, and inaugural AHL game for the opponent. The IceHogs play their own home opener this weekend when they take on the Texas Stars on Saturday, October 17.
Week 1 Results:
Friday, October 9, Rockford 4 at San Jose 2
Saturday, October 10, Rockford 0 at Stockton 7
Week 2 Schedule:
Saturday, October 17 vs. Texas, 7 p.m.
Sunday, October 18 vs. Texas, 4 p.m.
Bacon Bits:
-With their 4-2 victory on Friday night over San Jose, the IceHogs earned their first-ever road win in the season opener
-Rockford improved their record on Opening Night to 7-8-1-1 overall
-Rookie forward Tanner Kero started the season right where he left off, recording three points (2g-1a) and a +4 plus/minus rating against San Jose
-Since joining the IceHogs following his collegiate career at Michigan Tech, Kero has notched goals in six of his eight regular season games
-In his first game back with the IceHogs since Dec. 13, 2014, Jeremy Morin potted a goal and two assists in Friday's win over the Barracuda
-Morin is the IceHogs all-time leading goal scorer and now shows 82 goals in 210 career games with Rockford
-The IceHogs claimed their first short-handed tally of the season on their first penalty of 2015-16
-Forward Dennis Rasmussen registered the short-handed goal, his first of his AHL career
-Last season, Rockford was tied for sixth-most goals while down a man with six total, but only two came on the road
-Forward Brandon Mashinter played in his 400th career AHL game on Saturday
-The IceHogs special teams got off to a slow start to begin the 2015-16 season after allowing two goals on four short-handed chances on Friday and three in seven short-handed situations on Saturday
-The IceHogs power play unit failed to convert on their five opportunities on Friday and again in two chances on Saturday
-Last season, Rockford's penalty kill was 8th best in the AHL at 86% and the power play was ranked 15th, converting at a 17% clip
-After starting the season with two games on the road, Rockford will play six of their next seven games on home ice at the BMO Harris Bank Center
Hot Hog: Week 1
Tanner Kero Center (2GP, 2G, 1A, 3P, +3)

Center Tanner Kero continued his hot start to his professional career. The rookie pivot got the scoring started for Rockford with the team's first goal of the season just 1:01 into their first contest at San Jose on Friday night. After San Jose tied the game at 2-2 in the second period, it was Kero that broke the tie with the eventual game-winning tally early in the third. Kero led the IceHogs with three points (2g-1a) and a +4 plus/minus rating.
Upcoming Games:
Saturday, October 17 vs. Texas Stars: Game starts at 7 p.m. The IceHogs home opener against the Stars will feature a calendar giveaway courtesy of Mulligan's Pub and Grill. The first 5,000 fans in the door will receive their very own calendar featuring former IceHogs players who have won the Stanley Cup. The matchup is the first of a four game homestand for the IceHogs.

Sunday, October 18 vs. Texas Stars: Face-off is at 7 p.m. The IceHogs and Stars duel again during Eddie Olczyk Night presented by Pepsi at the BMO Harris Bank Center. Eddie Olczyk will be honored pregame and sign autographs before the game and during the first intermission. Fans are also encouraged to bring their skates to the game as there will be a Skate with the Hogs following the game.
The IceHogs Broadcasting Network:
Catch every IceHogs game, home and road, in 2015-16 on WIFR's "Justice Network" on 23.3. The games can also be viewed on Comcast Cable channel 434, Charter Cable channel 194 or Mediacom 102 in the Rockford market and online through AHLLive.com. Every broadcast will start with the "IceHogs Warm Up" 30 minutes prior to puck drop. Fans can also listen to the action for free at WXRX.com. For a complete listing of TV stations carrying IceHogs games, visit IceHogs.com.
Tickets on Sale for 2015-16!
IceHogs individual game tickets are now on sale! Call (815) 968-5222 to reserve your seats for any IceHogs regular season game during the 2015-16 season. Tickets can also be purchased online at IceHogs.com, in person at the BMO Harris Bank Center Box Office in downtown Rockford, or any Ticketmaster outlet, including Walmart.