WEEK 1 RECAP: ROCKFORD DROPS FIRST TWO GAMES ON THE ROAD; OPENS AT HOME THIS WEEKEND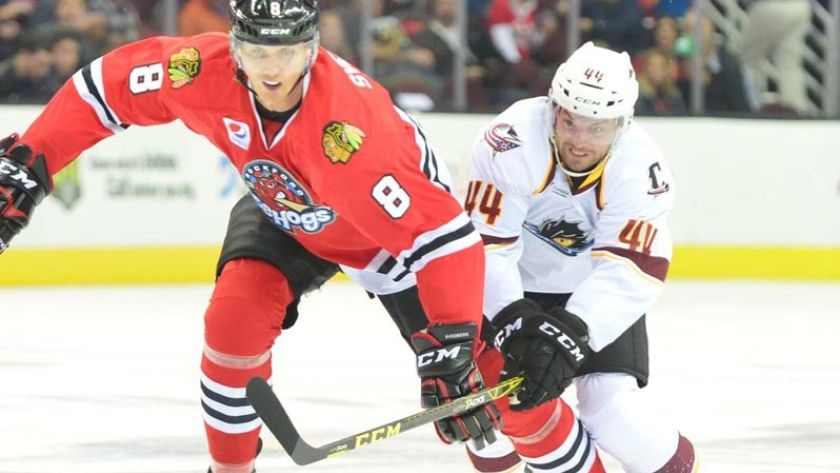 Week 1 Results:
Friday, October 14, Rockford 1 at Cleveland 2
Saturday, October 15, Rockford 1 at Cleveland 3
Week 2 Schedule:
Friday, October 21 at Grand Rapids, 6 p.m.
Saturday, October 22 vs. Milwaukee, 7 p.m.
Sunday, October 23 vs. Cleveland, 4 p.m.
Week 1 Recap:
Rockford opened the season with a two-game set against the defending Calder Cup Champions, the Cleveland Monsters. The IceHogs lost to Cleveland 2-1 on Friday in the season opener and dropped the weekend finale on Saturday 3-1. Rockford travels to Grand Rapids Friday, Oct. 21 before their home opener Saturday, Oct. 22 against Milwaukee.
Bacon Bits:
-After Friday's loss to Cleveland, Rockford's record on Opening Night is now 7-9-1-1 overall
-For the second straight season, forward Tanner Kero scored the first IceHogs goal of the season
-Goaltender Lars Johansson made his AHL debut on Friday in Saturday's 2-1 defeat
-In his first game with the IceHogs, Johansson posted 26 saves on 28 shots
-Johansson also picked up his first career AHL assist on Kero's goal on Friday
-The IceHogs claimed their first short-handed tally of the season on their third penalty of 2016-17
-Forward Jeremy Langlois registered the short-handed goal, his first career goal with the IceHogs
-Last season, Rockford was sixth for most goals while down a man with 12 total, including five on the road
-Martin Lundberg, Evan Mosey, Luke Johnson and Bryn Chyzyk made their IceHogs debuts over the weekend in Cleveland
-For Lundberg and Mosey, Friday's game marked their first professional game in North America
-Johnson played his first-ever professional game on Friday, while Chyzyk recorded his first appearance on Saturday
-The IceHogs special teams got off to a slow start to begin the 2016-17 season and were unable to convert on 10 power play opportunities
-The IceHogs penalty kill allowed only one power play goal to Cleveland on five chances in the two weekend games against the Monsters
-Last season, Rockford's penalty kill was 8th best in the AHL with 57 power play goals allowed and 18th best with an 82.5% penalty kill
-After starting the season with two games on the road, Rockford will travel to Grand Rapids on Friday before three straight games at home
Week 1 Hot Hog:
Tanner Kero Center (2GP, 1G, 0A, 1P, -1)
Center Tanner Kero continued where he left off last season in his rookie campaign (20g,19a-39pts). Kero got the scoring started for Rockford with the team's first goal of the season at 17:36 in the third period of their first contest at Cleveland on Friday night. He also tallied four shots in the two games over the weekend against the Monsters.

Upcoming Games:
Friday, October 21 at Grand Rapids Griffins: Game starts at 6 p.m. The IceHogs look for their first 2016-17 season victory on the road in Michigan. Rockford posted a 3-3-2-0 record against the Griffins last season.

Saturday, October 22 vs. Milwaukee Admirals: Face-off is at 7 p.m. The IceHogs host their first home game of the 2016-17 season at the BMO Harris Bank Center. The contest marks the start of the home slate of action for the IceHogs 18th season of professional hockey and 10th as the top affiliate of the Chicago Blackhawks. Rockford welcomes their border rival the Milwaukee Admirals. The first 5,000 fans to enter the arena will receive a 2016-17 Rockford IceHogs calendar compliments of BMO Harris Bank.
Sunday, October 23 vs. Cleveland Monsters: Puck drop is scheduled for 4 p.m. The Rockford IceHogs host the reigning Calder Cup Champion Cleveland Monsters for their third season-meeting. IceHogs clear tote bags will be given away courtesy of Dr. Sexson Orthodontics to the first 1,500 fans in conjunction with Halloween Night and a postgame Trick-or-Treat throughout the BMO Harris Bank Center.
Bud Light Monthly Monday Hog Talk At Vintage 501:
Bud Light Hog Talk returns tonight at Vintage 501 from 6-7 p.m. with Rockford Head Coach Ted Dent, and forwards Kyle Baun and Tanner Kero. Vintage 501 is located in downtown Rockford at 501 E. State St. Fans can join Bob Mills and Kevin Peters from 6-7 p.m. on the first Monday of every month throughout the season as they chat with IceHogs players, coaches, and front office members. Take advantage of food and Bud Light specials at Vintage 501. For those unable to attend the show in person, Monday's show will be available streaming live on WXRX.com. "Bud Light Hog Talk" will also be available on www.icehogs.com following the live show. Fans can access the podcast through the "Audio Highlights" link in the "Multimedia" menu.

The IceHogs Broadcasting Network:
Catch every IceHogs game, home and road, in 2016-17 on WIFR's "Justice Network" on 23.3. The games can also be viewed on Comcast Cable channel 434, Charter Cable channel 194 or Mediacom 102 in the Rockford market and online through ahl.neulion.com/ahl/. Every TV broadcast will start with "IceHogs Warm Up" 30 minutes prior to puck drop. Fans can also listen to the action for free at WXRX.com. A select number of games will be aired on Sports Fan 1330 AM throughout the season. For a complete listing of TV stations carrying IceHogs games, visit IceHogs.com.

Tickets On Sale for 2016-2017!
IceHogs individual game tickets are now on sale! Call (815) 968-5222 to reserve your seats for any IceHogs regular season game during the 2016-17 season. Tickets can also be purchased online at IceHogs.com, in person at the BMO Harris Bank Center Box Office in downtown Rockford, or any Ticketmaster outlet, including Walmart.