WEEK 1 RECAP: HARTMAN NETS A PAIR ON OPENING NIGHT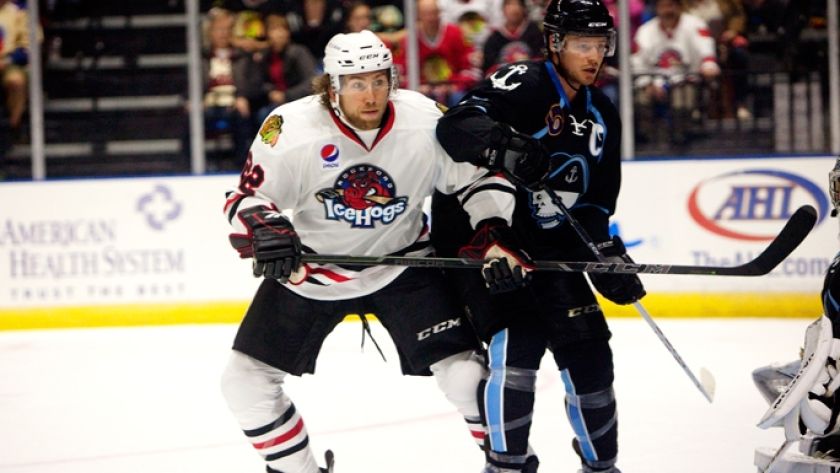 Rockford hits the road for three games in Week 2

Week 1 Recap:
The 16th season of professional hockey is underway in Rockford as the IceHogs kicked off the 2014-15 campaign at the BMO Harris Bank Center on Saturday. Rookie winger Ryan Hartman bagged two goals, but Rockford couldn't overcome Milwaukee, dropping a 3-2 decision. The IceHogs now hit the road for a season-long eight-day, four-game road trip the starts on Thursday in Adirondack against the Flames.
Week 1 Results
Saturday, Oct. 11 Milwaukee 3 vs. Rockford 2
Week 2 Schedule
Thursday, Oct. 16 at Adirondack, 6 p.m.
Saturday, Oct. 18: at Hamilton, 6 p.m.
Sunday, Oct. 19: at Toronto 2 p.m.

Bacon Bits:
Rookie forward Ryan Hartman marked a two-goal game on Opening Night, the second straight two-goal performance for the winger dating back to last season's final contest

His Opening Night two-goal performance is the first by an IceHogs skater since Petri Kontiola did it on 2008-09 against the Quad City Flames

Hartman has now played 10 pro games, all with Rockford, and has accumulated 5g-4a-9pts in those contests

Center Joakim Nordstrom was tagged for 17 minutes of penalty time on Saturday

Last season, in 58 games with Rockford, Nordstrom was assessed 21 PIMs

Rockford has dropped six straight games against Milwaukee after Saturday's 3-2 loss dating back to 3/7/14

The IceHogs have lost three-straight season openers and are now 2-4-1-1 on opening night in the AHL era

After opening the season at home, Rockford will embark on a season-long, eight day, four-game road trip

The first stop on the road trip is Glens Falls, NY for Rockford's first ever AHL meeting with the Adirondack Flames

Rockford's last stop in Adirondack was on 3/10/06 when both teams were members of the now defunct United Hockey League, a 4-2 win

Eight of the next 11 games for Rockford will come on the road

Hot Hog: Week 1
Right Wing Ryan Hartman
Beginning his first full professional season, rookie winger Ryan Hartman accounted for both of Rockford's goals in a season opening 3-2 loss to the Milwaukee Admirals. Hartman gave Rockford a 1-0 first period lead before tying the contest late in the second frame with his second marker of the game. The two-goal output is the second of his young pro career as Hartman tallied twice in the season finale last April.

Upcoming Games:
Thursday, Oct. 16 at Adirondack Flames: Game time is 6 p.m. Rockford heads east for their longest road trip of the season,a eight-day, four-game set that begins with a date with the Adirondack Flames, the new affiliates of Calgary (NHL). Thursday is the first of four meetings between the IceHogs and Flames, with the other three all coming in March/

Saturday, Oct. 17 at Hamilton Bulldogs: Face off is set for 6 p.m. The IceHogs make their annual visit to Hamilton to take on the Bulldogs at the FirstOntario Centre. Rockford is 1-4-1-0 all-time in Hamilton and Saturday's matchup is the first of two on the campaign between the clubs.

Sunday, Oct. 18 at Toronto Marlies: Puck drop is 2 p.m. The back-end of Rockford's Ontario swing concludes at the Ricoh Coliseum against the Marlies. The contest is the first of two in 2014-15 between Rockford and Toronto, including the lone meeting in Toronto.

Bud Light Hog Talk Season Premiere Monday At Mulligan's and Grill:
Bud Light Hog Talk premieres on Monday, Oct. 13 at Mulligan's Pub and Grill from 6-7 p.m. Mulligan's is located on North Main St. Fans can join Mike Peck or TJ Hogan from 6-7 p.m. most Mondays as they chats with IceHogs players, coaches and front office members. This week's guests include IceHogs goalie Scott Darling and head coach Ted Dent. Take advantage of food and Bud Light specials at Mulligan's. The show will be re-aired on Tuesdays from 7-8 p.m. on WIFR's 23.2 "Antenna TV."

The IceHogs Broadcasting Network:
Catch every IceHogs game, home and road, in 2014-15 on WIFR's 23.2, "Antenna TV." The games can also be viewed on Comcast Cable channel 436, Charter Cable channel 193 or Mediacom 101 in the Rockford market and online through AHLlive.com. Fans can listen to the action for free on AHLlive.com. For a complete listing of TV stations carrying IceHogs games, visit IceHogs.com. Every broadcast will start with the IceHogs Warmup 30 minutes prior to puck drop.

Tickets On Sale for 2014-2015!
IceHogs individual game tickets are now on sale! Call (815) 968-5222 to reserve your seats for any IceHogs regular season game during the 2014-15 season. Tickets can also be purchased online at IceHogs.com, in person at the BMO Harris Bank Center Box Office in downtown Rockford, or any Ticketmaster outlet, includating Wal-Mart.