Wedin Vying for Bigger Role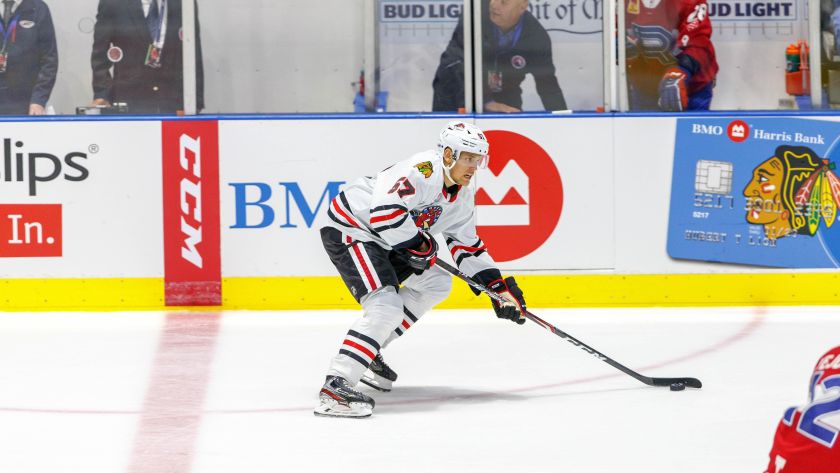 ---
Rockford, Il. – Anton Wedin has dreamed of playing on a bigger stage since he was young. The Sundsvall, Sweden native made the jump to North America this season to join the Rockford IceHogs and has his sights set on capitalizing on the opportunity.
"As a kid I wanted to play in the NHL and be like Peter Forsberg," said Wedin. "Last year, I took a step in my game and that gave me the chance to come here this year. I'm excited to be here and hoping I can grow my game so that I can make the NHL."
Securing an NHL contract with the Chicago Blackhawks over the summer was no easy task for the undrafted 26 year old, and Wedin thanked his brothers, Jonas and Niclas, for pushing him to be his best.
"When I was little I looked up to them and wanted to be as good as them," said Wedin. "They never made it easy for me and I always had to work for it when we were playing together. For me, it's been a little bit of a longer journey, but I've had great support from them all my life and I talk to them often."
Jonas, the oldest brother, and Niclas, the middle of the three, both play professionally in Sweden. Anton began his pro career in Sweden with Timrå IK and tallied 32 points (18g, 14a) across 83 Swedish Hockey Leauge (SHL) games since his debut in 2011-12. However, a standout 2018-19 campaign in which he scored 27 points (14g, 13a) in 32 contests caught the attention of multiple NHL clubs, including the Blackhawks.
When asked about why he chose Chicago, Wedin voiced that recommendations from current and former members of the team made the decision an easy one.
"I chose the Blackhawks because I heard so many good things about the organization from all the Swedish players," said Wedin. "Whoever I talked to always had good things to say about the Hawks. I talked to Marcus Kruger and Erik Gustafsson while with the national team and got an overall good feeling."
After inking a one-year deal, Wedin made the trip to Rockford to begin his tenure in the Hawks' organization with the IceHogs. The forward knew only one player in defenseman Philip Holm, but was quickly welcomed aboard by other members of the team.
"All the guys have been great to me," said Wedin. "I talked to Gilbert the first day of camp and Delia is always a great guy too that has helped me with all the new things. They've provided me with lots of support."
Adapting to the new environment wasn't the only change Wedin had to endure, though. The Swede noted some of the more difficult adjustments of switching to the North American style of play, but first offered a glimpse at his mentality toward the road ahead.
"There's a lot of new stuff to get used to with the game being different, so I just told myself to give 100% of my best every day and whatever that leads to, I'll be happy with it," said Wedin. "The only thing you can do is your best, right? So, obviously I want to play in the NHL, but coming here and taking an NHL spot right away is tough, so I'm just trying to grow my game every day during the season and hopefully I get the chance."
With three weeks already in the rear-view mirror, Wedin's game appears to be translating well to the AHL. After being out of the lineup for the season opener, Wedin has since posted two goals and an assist for three points in four games. Furthermore, he is being tasked with critical minutes both on special teams as well as late in games.
Wedin's early season success can likely be attributed to his understanding of the North American game.
"You don't have the time with puck the same way like back home," said Wedin. "Here, you need to play forward much faster while in Europe you can play a little more vertical and hold on to the puck a little bit more. But here, you have to go forward and get the puck to the net. Also, the forecheck is much more effective here. It's stuff like that you have to learn."
Expected to be on the second line again tonight in Cleveland when the IceHogs take on the Monsters, Wedin explained that he's placing additional responsibility on himself now that the team is relying on him.
"Obviously you have the pressure because I feel like I can help the team in every zone," said Wedin. "On the powerplay and penalty kill, I just want to be a good player there and provide more of the same."
The IceHogs are looking for their third straight win tonight after a tough three-game losing streak to start the season. Wedin detailed what cost them in those first three tilts, what the message was from the coaching staff to get things back on track and, finally, what he believes this Rockford team is capable of once they put all the pieces together.
"The first games weren't that good, we didn't play the way we wanted," said Wedin. "The coaching staff really mentioned that things needed to change and that we needed to play in the system. Turnovers really messed up those games. But, I think we can go really far; we have a great team here from goalies to defenders and forwards, so I think we can go all the way. We have that good of a team here."