WATCH ANDREW CAMPBELL IN THE AHL ALL-STAR CLASSIC TONIGHT AT 6 P.M.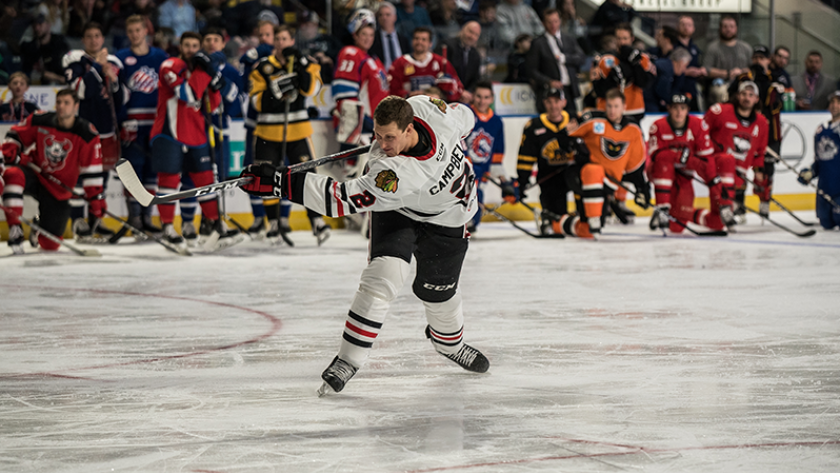 Springfield, Ill. - The 2019 Lexus AHL All-Star Classic presented by MGM Springfield is tonight at 6 p.m. and defenseman Andrew Campbell will represent the IceHogs in the contest as the captain of the Central Division. The event will be televised to national audiences on NHL Network in the United States and Sportsnet ONE and Sportsnet NOW across Canada.
AHLTV will also be offering a free video stream of the 2019 AHL All-Star Classic to AHL fans worldwide. Fans can visit theahl.com/AHLTV and log in with an existing AHLTV account or create a new account to access the broadcasts; no subscription is required. AHLTV is available on desktop, laptop, tablet and mobile devices, as well as over-the-top (OTT) platforms such as Roku, Apple TV, Amazon Fire TV and Android TV.
Campbell, 30, has served as an alternate captain for the IceHogs during his first season in Rockford while logging three goals, an assist and 22 penalty minutes in 40 games this year.
The veteran blueliner is just five games away from becoming the 74th player in the AHL's 82-year history to skate in 700 career AHL games. He enters tonight having skated in 695 AHL games during his 11-year professional career with Manchester, Portland, Toronto, Tucson and Rockford. Campbell has served as captain or alternate captain for each of his five teams during his AHL tenure, including wearing the "C" with Manchester (2013-14), Toronto (2015-17) and Tucson (2017-18).
The AHL All-Star Classic features a 3-on-3 tournament with each of the league's four divisions — Atlantic, North, Central and Pacific — represented. Rosters for the four All-Star teams will be comprised of 10 skaters and two goaltenders, and each of the 31 AHL teams will be represented by at least one All-Star player.
The teams will participate in a round-robin tournament featuring six games of 10 minutes, played entirely at 3-on-3. The two teams with the best records at the end of the round-robin will face off for the championship, a six-minute game also played at 3-on-3.
The All-Star festivities kicked off with the Skills Competition last night at the MassMutual Center. Campbell finished second in the CCM Hardest Shot event, clocking in at 99.5 miles per hour on his fastest slapshot.
Next home game Fri. Feb. 1, 7 p.m. vs. Chicago Wolves
The IceHogs host the Chicago Wolves for Rocky Wirtz Signing/Fireworks Night. Chicago Blackhawks chairman, Rocky Wirtz, and Hall of Fame goaltender, Tony Esposito, will be in attendance for a book signing of Wirtz's new release, "The Breakaway: The Inside Story of the Wirtz Family and the Chicago Blackhawks." Fans are invited to stick around postgame for a fireworks show (presented by LawnCare by Walter) inside the BMO Harris Bank Center. In addition, the first 2,500 fans in attendance Friday will receive a free American Flag, courtesy of BMO Harris Bank.