WATCH A GAME ICE-LEVEL, NEXT TO THE TEAM BENCH IN THE ICE BOX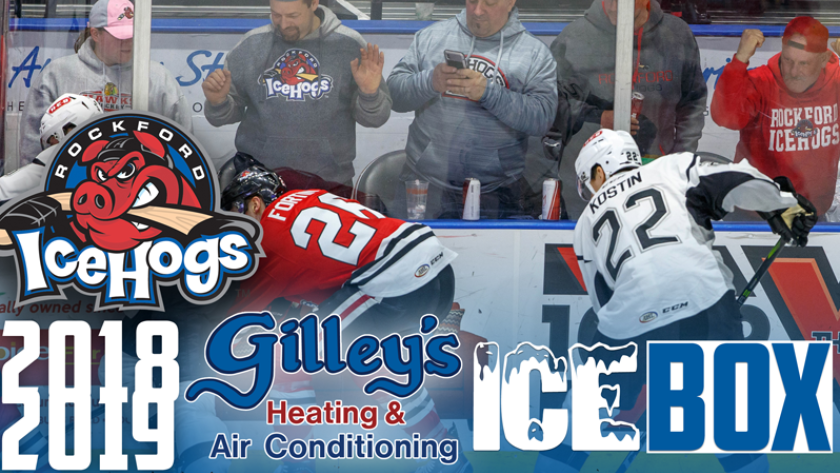 ---
ROCKFORD, Ill. – Upgrade your seating experience with the Rockford IceHogs this season with eight seats directly next to the Hogs team bench in the Gilley's Heating and Air Conditioning "Ice Box." Seats for the premium Ice Box section will be available for purchase on a first-come, first-served basis by calling the IceHogs at (815) 986-6465 beginning this Wednesday, Aug. 29 at 10 a.m.
The popular seating section provides an all-inclusive opportunity to get up close and personal with IceHogs action. Along with eight seats next to the IceHogs bench, ticket packages also include 16 hot dogs, eight Pepsi-provided beverages and eight bags of chips. This premium seating option is available for $450 for Saturday games, and just $400 for any other scheduled home contest.
Fans can purchase the Ice Box seats on a single-game basis by calling the IceHogs Ticket Department at (815) 986-6465. The Gilley's Heating and Air Conditioning Ice Box is available for each of the team's 38 home games on a first-come, first-served basis and must be paid for in full at the time of ordering. Once purchased, tickets can be received via email, picked up in-person at the BMO Harris Bank Center or mailed for an additional fee.
Rockford begins the home portion of its 2018-19 campaign on Saturday, Oct. 13 against the Texas Stars at 6 p.m. For the full regular season schedule, click here.
Single-game tickets will go on sale Friday, Sept. 7 at 10 a.m.
Season Tickets for 2018-19 on Sale Now:
Don't miss a moment of the action by reserving your seats for the IceHogs' 20th season of professional hockey in Rockford and 12th as the top AHL affiliate of the Chicago Blackhawks. The IceHogs' home opener is set for Oct. 13 and ticket packages begin as low as $105 for a seven-game mini pack. Please contact us at (815) 847-6399 or visit icehogs.com to claim your spots for this upcoming season.