VISENTIN, ICEHOGS BLANK WILD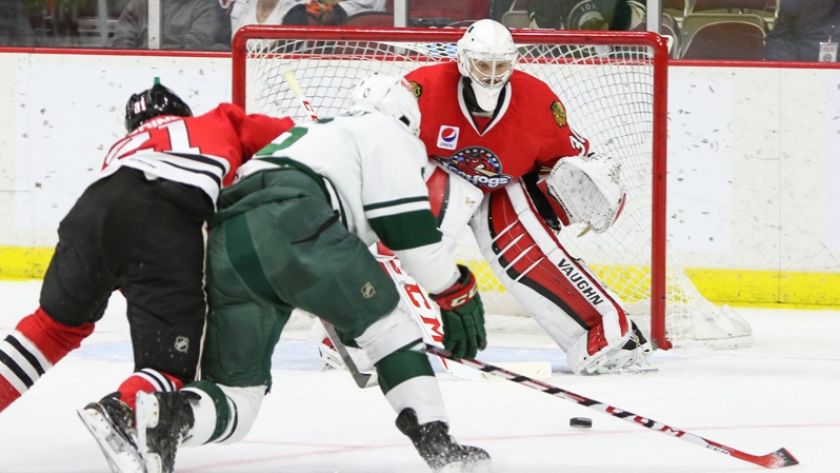 Des Moines, Iowa – In just his second start since missing the entire 2014-15 season due to injury, Mark Visentin stopped 38 shots to earn his first shutout of the 2015-16 season and made Garret Ross' first period tally stand up as the game winner in a 2-0 victory for Rockford.

Rockford shutout Iowa for the second time in three days as Michael Leighton earned his first of the season on Friday in Rockford. The IceHogs have now won six straight games over the Wild, dating back to Jan. 15, 2015.

The IceHogs struck for the game's first goal at 8:55 of the opening period. While on the power play, Dennis Rasmussen fed a pass to Ross just off the right side of the net. Ross spun in front of Leland Irving and slipped the puck between his pads to give Rockford a 1-0 lead. Visentin halted all 17 shots from Iowa in the period to hold the advantage.

The second period saw both goaltenders continue to sparkle, as neither side was able to strike despite combining for 25 shots. Jake Dowell nearly scored when he deflected a shot from Cameron Schilling through the legs of Irving, but the puck banked off the goalpost and stayed out of the net.

It wasn't until late in the third period that another puck found the back the net. With Iowa pressing late and the goaltender pulled, Mark McNeill blocked a shot in his own zone and flipped the puck to Chris DeSousa as he left the penalty box. DeSousa deposited the puck into the vacant net to secure his first AHL tally at 18:45.

Visentin stood strong during the third frame once again, turning aside all nine shots he faced to preserve the win for Rockford.

Next Home Game: Saturday, Nov. 7 vs. Milwaukee Admirals at 7 p.m.: The IceHogs will pay tribute to all armed service personnel with Military Appreciation Night at 7 p.m. when the Milwaukee Admirals come to town. The first 1,500 fans will receive bomber hats compliments of Pepsi.