VINTAGE @ 501 TO HOST BUD LIGHT HOG TALK FOR 2015-16 SEASON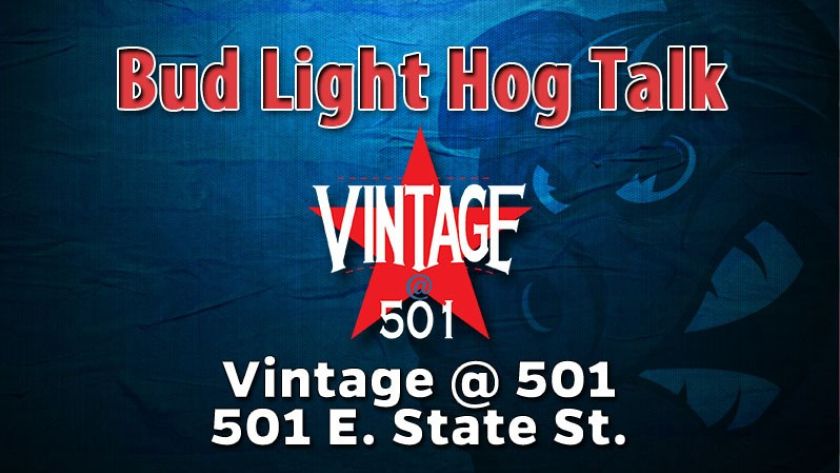 Rockford, Ill. – "Bud Light Hog Talk" returns for the 2015-16 season at a brand new location – Vintage @ 501 in downtown Rockford. The show is moving to a once per month format beginning on Monday, Oct. 26.

Hog Talk will be held on the last Monday of each month from October through March. The dates are:

October 26

November 30

December 28

January 25

February 29

March 28
The one-hour show can be seen live from 6-7 p.m. at Vintage @ 501 on 501 E. State Street in downtown Rockford and will feature two IceHogs players and IceHogs Head Coach Ted Dent live on the set. All fans in attendance can sign up to win prizes courtesy of the IceHogs.

For those unable to attend, "Bud Light Hog Talk" will be aired on WIFR's Justice Network on 23.3 from 6-7 p.m. each Tuesday following the live show. The Justice Network is also available to Mediacom subscribers on channel 102 and to Comcast subscribers on channel 434 (Rockford) and 356 (Rochelle). WIFR is currently working with Charter for a permanent channel for the network. Fans can also listen to the podcast of Hog Talk through icehogs.com.

All show times and dates are subject to change.

Season Tickets for 2015-16 Now on Sale: Reserve your seats today for the IceHogs 17th season of professional hockey and ninth as the top AHL affiliate of the Chicago Blackhawks. Call (815) 847-6399 or visit icehogs.com to find a ticket package that fits your needs.