Two Helpings of Cramberry Not Enough in Loss to Monsters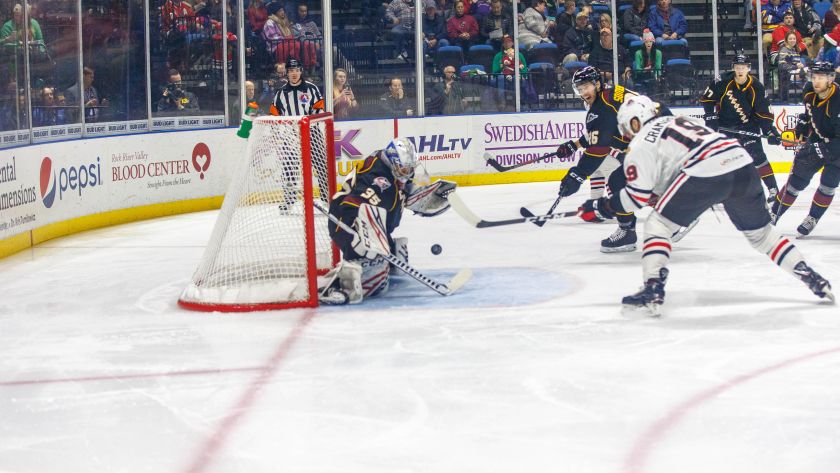 1st
2nd
3rd
Final

—
—
—

—
—
—

Tuesday, July 27
ROCKFORD, Ill. – Joseph Cramarossa posted his first career multi-goal game, finding twine early in the first period and pulling Rockford within one goal in the final frame, but the Cleveland Monsters used a three-goal uprising in second period to clip the IceHogs 3-2 Saturday night at the BMO Harris Bank Center.
Cramarossa bagged the IceHogs' fastest goal to start the 2019-20 season when he brought the puck in from the right side and tucked a shot under the blocker of Veini Vehvilainen just 30 seconds into the contest. Philipp Kurashev helped set the play up with a drop pass and has now tallied 10 points (3g, 7a) over his last 11 contests.
Cleveland erupted in the second period, however, beginning with former IceHogs defenseman Adam Clendening unleashing a blast from the point that was redirected into the cage by Brett Gallant. Nathan Gerbe then cashed in on a second assist from Clendening at 13:15 in the period before Stefan Matteau picked off a pass at the blue line and wristed home what proved to be the game-winning goal from the top of the right dot.
Cramarossa attempted to will the Hogs back into the contest with his second goal of the night, shoveling the puck at Vehvilainen on the power play. In the ensuing scrum, Cramarossa finally forced the puck past the netminder to pull the IceHogs within just one goal with just over 12 minutes to play.
Vehvilainen preserved the lead from there to finish with 22 saves on 24 shots. Kevin Lankinen turned aside 27 of 30 pucks while snapping a personal two-game winning streak.
---
GAME NOTES
Joeseph Cramarossa scored on the power play in the third period…Rockford has now scored three power-play goals over its last three games and four power-play goals over the last six contests.
Tonight's loss marked just the sixth regulation loss over the IceHogs' last 22 home games against Cleveland…Rockford is now 15-6-1-0 at the BMO against the Monsters since 2012-13.
Cramarossa finished with his first multi-goal game through 308 regular-season AHL contests…The forward also posted a two-goal effort during the 2016 Calder Cup playoffs with San Diego.