TURNOVERS, PENALTY KILL HAUNTS HOGS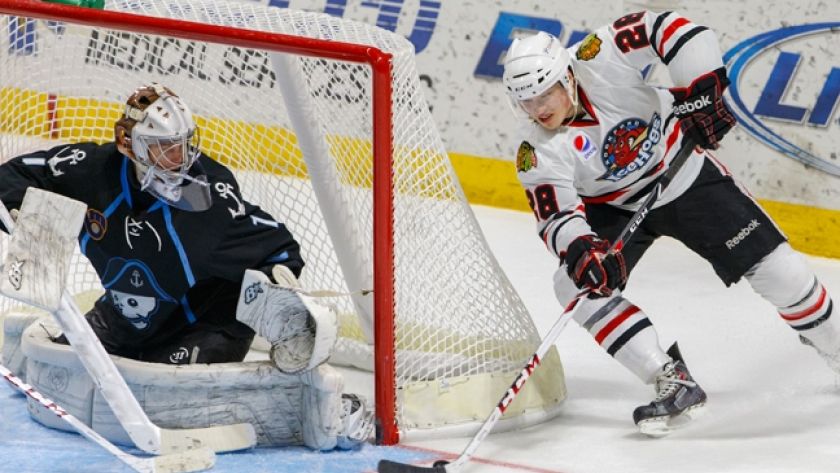 Rockford drops 8-3 contest to Milwaukee

Milwaukee Wis.- If Friday's game between the Rockford IceHogs and Milwaukee Admirals set the tone for the first of three-straight meetings between the Midwest Division foes, the next two contests could be interesting.

Milwaukee thumped the IceHogs 8-3 on a night where the two teams combined for seven power play goals and 108 minutes of penalty time. Milwaukee would finish the night 4-7 on the advantage while Rockford converted 3-7.

Milwaukee scored the first goal on Friday with a first period power play strike. Colton Sissons picked up a Taylor Beck pass in the Rockford slot and beat Kent Simpson at 11:04 for his 21st goal of the season.

Another power play opportunity in the second period stretched Milwaukee's lead to 2-0. Theo Peckham's clear out pass was picked off by Vinny Sapornari in front of the Rockford goal and the winger deeked out Simpson for his 12th goal of the season at 2:27.

Later in the second frame, another Rockford giveaway in front of Simpson made it 3-0. Adam Clendening's clear out attempt was intercepted in between the IceHogs face-off circles by Mathieu Tousignant and his rebound was batted in by Mikka Salomaki.

Rockford's penalty kill continued to falter as Milwaukee made quick work of their third power play chance of the game. Off a face off win. Bryan Rodney's shot was blocked away by Simpson, but Sissons hammered in the rebound at 10:43 to make it 4-0.

The IceHogs got one back with a power play goal of their own. Garret Ross finished off a Mark McNeill pass at 12:06 for his 14th tally of the season, making it 4-1, also helped by Adam Clendening.

In the third period, Rockford began with a power play, but it was Milwaukee who scored. Jeremy Morin couldn't connect on a one-timer and the Admirals Calle Jarnkrok picked the puck up and beat Simpson with a short-handed breakaway tally 59-seconds into the period.

With another crack on the man advantage, Rockford would make it a 6-2 contest. Brandon Mashinter buried his 11th of the season when Ross found open in front of Marek Mazanec at 13:29.

Jarnkrok's second goal of the night pushed Milwaukee to 4-for-6 on the power play at 15:12 before Brian Connelly added a power play strike for the IceHogs at 17:15. The scoring would conclude at 19:39 with Tousignant's second of the evening.

The majority of the penalties occurred over the 6:24 of the third period on Friday as that final stretch of the game featured 12 fighting majors.

Morin had his team season-high 13-game point streak come to an end as Milwaukee held him off the score sheet for the first time since Jan. 31.

Next Home Game: Saturday, Mar. 8 vs. Milwaukee Admirals: Game time is at 7 p.m. The game is Autism Awareness night at the BMO and Autism Awareness Ribbon Magnets will be handed out. Local singer/songwriter Anthony Billups will be performing live pre-game and during intermissions. Billups is from Rockton, Ill. and is featured on A&E's new reality tv series, Crazy Hearts: Nashville.