Tomkins Stands Tall but the IceHogs Fall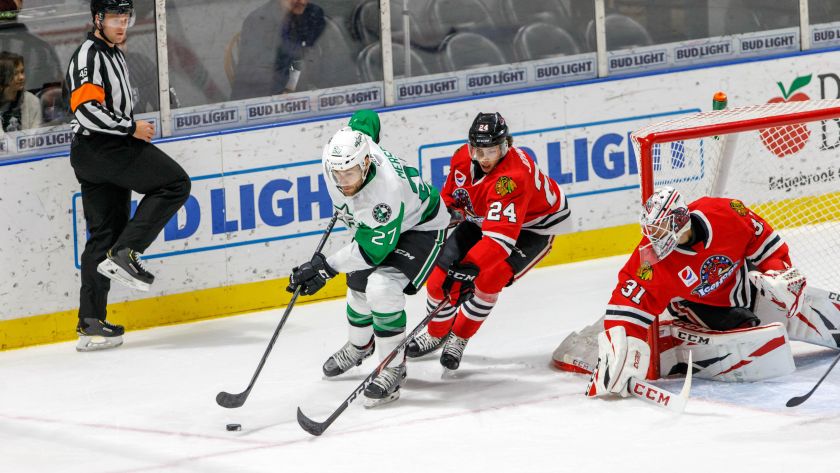 1st
2nd
3rd
Final

—
—
—

—
—
—

Friday, May 20
ROCKFORD, Ill. - Matt Tomkins stopped 30 of 31 shots, but Riley Tufte's first AHL goal lifted the Texas Stars over the Rockford IceHogs 1-0 at the BMO Harris Bank Center on Wednesday night.
Tomkins and Stars netminder, Landon Bow, withstood a barrage of shots to keep the score knotted at zeros after the first period, with the former denying 11 and the latter rejecting nine.
The two continued their goaltending duel into the second frame, but Tufte forced a turnover to the right of Tomkins and drove to the front of the Rockford net. Tufte made a move to his backhand and snuck a puck through Tomkins to net his first professional goal and give Texas the 1-0 advantage.
The IceHogs made it interesting in the third, outshooting the Stars 11-6, but Bow had an answer for every attempt as his club narrowly escaped with the shutout victory.
Tomkins turned away 30 of 31 shots in the loss while Bow stopped all 29 that came his way.
---
GAME NOTES
Tonight was the IceHogs' first loss of the 2019-20 season when allowing just one goal...They now move to 7-1 when holding teams to a single tally.
Rockford's shutout losses Monday against Belleville and tonight against Texas marks the first time since the 2016-17 season that the IceHogs have been held scoreless in back-to-back contests...The previous instance occurred from March 25-28 of 2017 when Rockford fell 0-4 to Grand Rapids and 0-4 to Iowa.
Matt Tomkins kicked away 30 of 31 shots tonight and now boasts a GAA of 2.45 and a SV% of .916 on the season.