TOMKINS CAPITALIZES ON SEASON SPENT WITH FUEL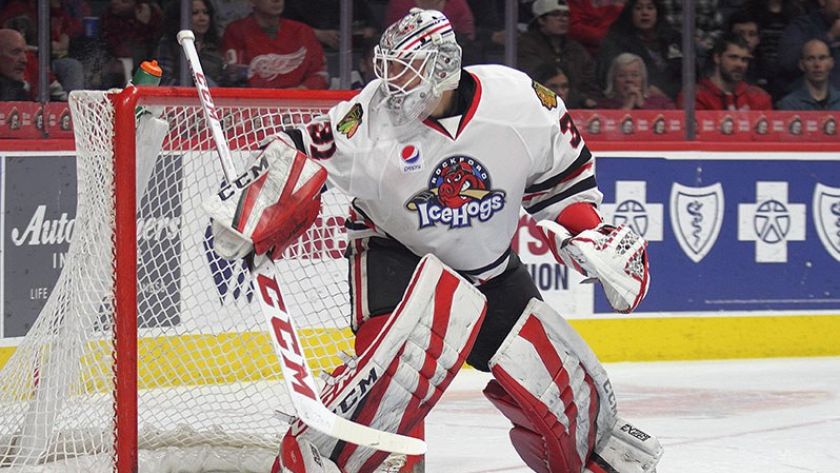 ROCKFORD, Ill. – Matt Tomkins found himself on the outside looking in with the IceHogs last season as Collin Delia, Anton Forsberg and Kevin Lankinen quickly entrenched themselves as mainstays in Rockford's loaded goaltending corps.
Which suited Tomkins just fine in the end, as the second-year netminder played in 75 percent of the Indy Fuel's games last year while leading the entire ECHL in minutes for the 2018-19 campaign.
"Obviously, I want to be here (in Rockford) and get an opportunity here," said Tomkins during his exit interview with the IceHogs. "But considering the case, it was a really good year for me and I learned a lot."
The 24 year old played 247 more minutes than any other goaltender in the ECHL last year. He suited up in 54 of the Fuels' 72 contests and won more games in 2018-19 than his four full collegiate seasons at Ohio State University combined. He emerged with a 29-19-2 record, 3.04 GAA and .905 save percentage for Indy, as well as nearly two full seasons worth of game experience to add to his resume.
"It was pretty crazy to think about…I developed a ton playing a lot of minutes," said Tomkins. "Learning all the little things it takes to be successful throughout the course of the year. So, everything that comes along with just staying healthy and being prepared every night…It was really good for my development."
Tomkins development featured winning the ECHL's Goaltender of the Week Award three times last year and being named Indy's Most Valuable Player for 2018-19. He also set the Fuel's franchise records for wins, games and minutes played.
The records and accolades were certainly nice, said Tomkins, but in his exit interview he reflected more on the learning curve that came with the grind of a long professional season. He said it's both a physical and mental battle to stay even-keeled day-to-day, and his biggest challenge was learning to adjust his daily approach to show up fresh for each game.
"Physically, you play a three-in-three (three games in three days) and down the stretch was a playoff hunt, I haven't really done that in the past," said Tomkins. "It was tough. I learned a lot as far as recovery and all that. And aside from the (physical wear), the biggest thing was mentally – all the ups and downs of the year and the highs and lows. So, to be able to come to the rink every day and leave whatever happened before in the past and just kind of focus on moving forward and playing the next game."
Tomkins' next game will be within the Chicago Blackhawks' organization, as he inked a one-year contract extension with the IceHogs on March 21. And with Delia eying a roster spot in Chicago and Forsberg currently a restricted free agent, Tomkins is in prime position to capitalize on his standout year from 2018-19.
"You know I'm really looking forward to the opportunity here (in Rockford) next year," said Tomkins. "I'm going to do everything I can this summer to make sure I'm ready for (training) camp and earn a spot here."
Season Tickets for 2019-20 on Sale Now:
Don't miss a moment of the action next season. Reserve your seats for the IceHogs' 21st season of professional hockey in Rockford and 13th as the top AHL affiliate of the Chicago Blackhawks. The IceHogs' home opener is set for Oct. 12 and ticket packages begin as low as $132 for an eight-game mini pack. Contact us at (815) 847-6399 or visit icehogs.com to claim your spots for this upcoming season.