TICKET FLASH SALE FOR OPENING NIGHT THIS WEDNESDAY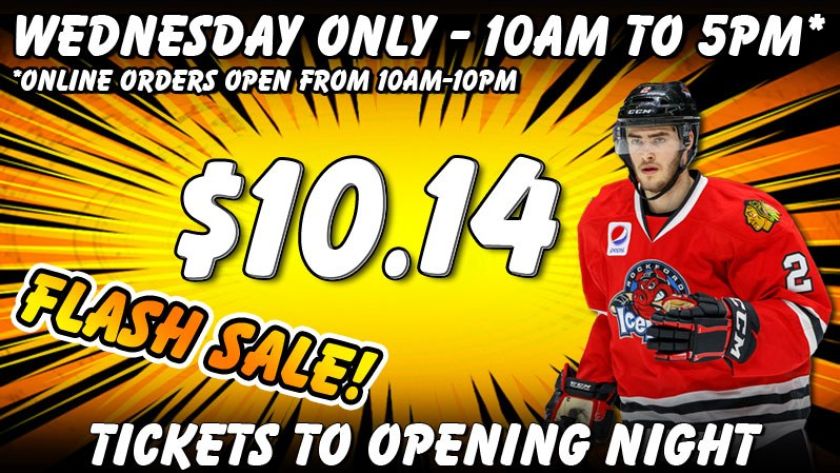 Rockford, Ill. – The Rockford IceHogs announced today they are having a ticket flash sale this Wednesday (June 14) from 10 a.m. – 5 p.m. (10 a.m. – 10 p.m. for online purchases). During that time only, fans can purchase tickets to Opening Night on Oct. 14 for the 2017-18 season for the special price of just $10.14.
The flash-sale discount coincides with the date of the IceHogs' first home game of the 2017-18 season – Oct. 14 – and applies to a limited number of upper-level seats. Tickets may be purchased by phone at (815) 986-6465 or (815) 968-5222, or online at www.ticketmaster.com (online purchases include a processing fee) with offer code "gohogs," and are redeemable during the Hogs' first home game at the BMO Harris Bank Center.
The IceHogs home opener is exactly four months from Wednesday's flash sale. Time of puck drop and opponent for that contest remain TBD, and will be released at a later date during the offseason.
For additional information or to purchase tickets, call (815) 968-5222.
Season Tickets for 2017-18 on Sale Now: Don't miss a moment of the action by reserving your seats for the IceHogs 19th season of professional hockey and 11th as the top AHL affiliate of the Chicago Blackhawks. Opening night is Oct. 14 and ticket packages begin as low as $105 for a seven-game mini pack. Please contact us at (815) 847-6399 or visit icehogs.com to claim your spots for this upcoming season.