THREE-TIME CAPTAIN DOWELL LEAVES A LASTING IMPACT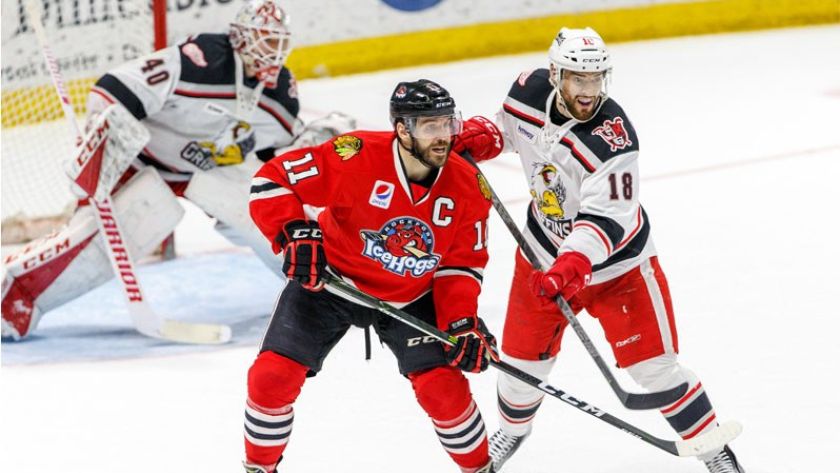 Rockford, Ill. – Three-time captain Jake Dowell may not be on the Rockford IceHogs roster when the 2017-18 season embarks, but his mark on the franchise will be impossible to miss.
After winning a National Championship with the University of Wisconsin in 2006, Dowell began his professional career with the Norfolk Admirals at the end of the 2006-07 season remaining with the organization when Norfolk moved operations to Rockford and as part of the team's inaugural season in the AHL in 2007. For Dowell, it was just the beginning of what became a long and successful tenure with the Hogs.
The Eau Claire, Wisconsin native split his first three full professional seasons between Rockford and the NHL's Chicago Blackhawks, before playing exclusively with Chicago in 2010-11. The organization mainstay departed for four seasons following that year, but he returned to the club in 2015-16, this time needing to earn a roster spot. Dowell capitalized on the opportunity, converting a preseason try-out contract into team captaincy, becoming the first player to serve as Rockford's captain for more than one season and earning a selection to an All-Star game for the first time in his career.
His strong campaign earned him a spot on the IceHogs once more in 2016-17, where he became the first player in Hogs history to be designated as the captain for back-to-back seasons. Midway through the year, he played in his 300th game in an IceHogs uniform, setting a franchise mark for games played.
"I really didn't know that was even the case (of his time in Rockford) that I have played that many games or that that was the leading games played marker," Dowell said. "I have great memories from being here and I've spent a lot of time here. So to know that I've played that many games is a cool accomplishment."
The three-time IceHogs captain's leadership was present on and off the ice and he took it upon himself to shoulder the load during the IceHogs' tough 2016-17 season.
"When things are tough, people can easily get on the blame game," said Dowell. "I think everybody collectively knew what was going on and we did our best to give what we had every night."
As the season progressed, Dowell, who had now lived in Rockford for five years of his career, had established roots in the Forest City and was able to get away from struggles on the ice by turning to his family. During the 2015-16 season, he and his wife, Carly, welcomed a daughter, and just last year, they had a son midway through the 2016-17 season.
"It was tough at the end of the year here but the excitement of a new baby and the family and everything gets you through everything," said Dowell. "I spent a lot more time going back and forth since we had our little boy in February... but it's fun being able to come here and be able to go back and be with my family afterwards."
Dowell is the current record holder of most games played with the IceHogs at 327, easily breaking the previous record of 299 previously held by Evan Brophey. Over his five seasons with the team, he has accumulated 110 points (35G-75A) and 469 penalty minutes. He ranks 10th in the club's AHL history for points and eighth in assists.
Dowell spent nine seasons and 506 games in the AHL, accumulating 154 points (51G-103A) between Norfolk (2006-07), Rockford (2007-10, 2015-17), the Houston Aeros (2012-13), Iowa Wild (2013-14) and Hamilton Bulldogs (2014-15). His NHL career consisted of 157 games where he amassed 33 points (11G-22A) with teams including Chicago (2007-11), the Dallas Stars (2011-12) and Minnesota Wild (2012-14),
He is set to join the LiWest Black Wings in Austria's premier hockey league, EBEL, marking his first taste of professional hockey overseas.
Season Tickets for 2017-18 on Sale Now: Don't miss a moment of the action by reserving your seats for the IceHogs 19th season of professional hockey and 11th as the top AHL affiliate of the Chicago Blackhawks. Opening night is Oct. 14 and ticket packages begin as low as $105 for a seven-game mini pack. Please contact us at (815) 847-6399 or by visiting icehogs.com to claim your spots for this upcoming season.