The Ocho: Blackhawks Hope History Repeats with Crazy Eights in NHL Draft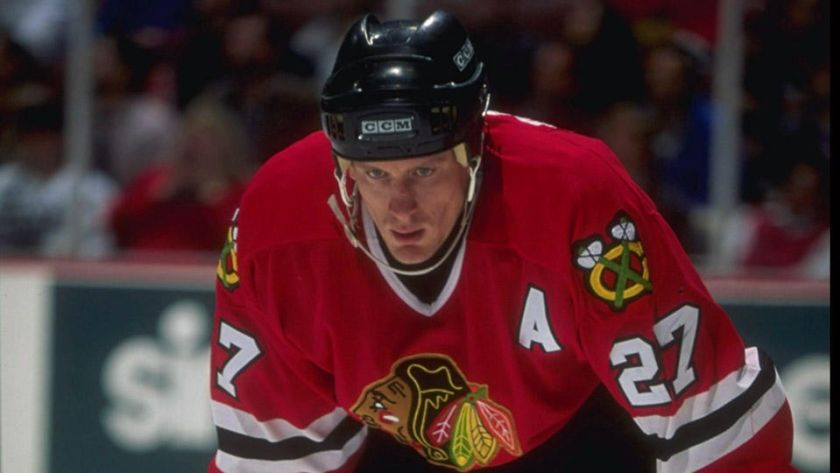 Since the installment of the NHL Amateur Draft in 1963, the IceHogs' NHL affiliate, the Chicago Blackhawks, held the eighth overall selection on four occasions including this season's upcoming event June 23-23 in Dallas, Texas.
For the Blackhawks, this year's draft is the first time the organization has held a top-10 pick since selecting Patrick Kane first overall in 2007 and just the seventh top-10 selection since the turn of the millennium.
Prior to the 1987-88 campaign, the Blackhawks received their first-ever No. 8 selection, young 6-foot-1, 180-pound netminder Jimmy Waite out of the QMJHL's Chicoutimi Sagueneens. The Sherbrooke, Quebec, native appeared in 58 games with Chicago over parts of eight seasons (1988-97) and enjoyed a 22-year player career before returning to the Blackhawks organization as the Goaltending Coach (2014-present).
The following summer, Chicago nabbed their most successful no. 8 choice with forward Jeremy Roenick in the 1988 NHL Entry Draft. The Boston product picked up 66 points his first full rookie campaign and tacked on three 100-point seasons with the Blackhawks and picked up 1,216 career points in 1,363 career games over 20 NHL seasons with Chicago, Phoenix, Philadelphia, Los Angeles and San Jose.
Forward Mark Bell pushed into the NHL scene during the 2000-01 season after a successful four-year career with the Ottawa 67's in the OHL including a 60-point season in 1997-98 that allowed the Blackhawks to find him at no. 8 in that summer's lottery. After spending most of the rookie season in Norfolk (AHL), Bell contributed 151 points over five seasons in Chicago before departing to San Jose, Toronto, Anaheim and overseas.
No. 8 Selections – Chicago Blackhawks
1987 Jimmy Waite
1988 Jeremy Roenick
1998 Mark Bell
Most Successful No. 8 Selections – NHL History
1987 Jeremy Roenick (1216 points in 1363 games)
1979 Ray Bourque (Boston, 1579 points in 1612 games)
1981 Grant Fuhr (Edmonton, 867 games played, 3.38 goals-against average)
No. 8 Selections – Last 30 Years
2018 Chicago Blackhawks
2017 Casey Mittelstadt Buffalo Sabres
2016 Alexander Nylander Buffalo Sabres
2015 Zach Werenski Columbus Blue Jackets
2014 William Nylander Toronto Maple Leafs
2013 Rasmus Ristolainen Buffalo Sabres
2012 Derrick Pouliot Pittsburgh Penguins
2011 Sean Couturier Philadelphia Flyers
2010 Alexander Burmistrov Atlanta Thrashers
2009 Scott Glennie Dallas Stars
2008 Mikkel Boedker Phoenix Coyotes
2007 Zach Hamill Boston Bruins
2006 Peter Mueller Phoenix Coyotes
2005 Devin Setoguchi San Jose Sharks
2004 Alexandre Picard Columbus Blue Jackets
2003 Braydon Coburn Atlanta Thrashers
2002 Pierre-Marc Bouchard Minnesota Wild
2001 Pascal Leclaire Columbus Blue Jackets
2000 Nikita Alexeev Tampa Bay Lightning
1999 Taylor Pyatt New York Islanders
1998 Mark Bell Chicago Blackhawks
1997 Sergei Samsonov Boston Bruins
1996 Johnathan Aitken Boston Bruins
1995 Terry Ryan Montreal Canadiens
1994 Jason Wiemer Tampa Bay Lightning
1993 Niklas Sundstrom New York Rangers
1992 Brandon Convery Toronto Maple Leafs
1991 Richard Matvichuk Minnesota North Stars
1990 Derian Hatcher Minnesota North Stars
1989 Jason Herter Vancouver Canucks
1988 Jeremy Roenick Chicago Blackhawks
Season Tickets for 2018-19 on Sale Now:
Don't miss a moment of the action by reserving your seats for the IceHogs' 20th season of professional hockey in Rockford and 12th as the top AHL affiliate of the Chicago Blackhawks. The IceHogs' home opener is set for Oct. 13 and ticket packages begin as low as $105 for a seven-game mini pack. Please contact us at (815) 847-6399 or visit icehogs.com to claim your spots for this upcoming season.