SUMMER BACON BITS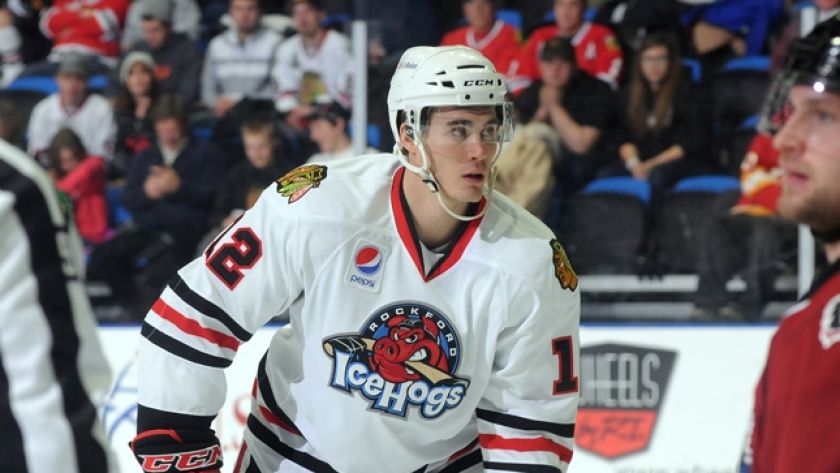 We're hitting mid-July and if the Blackhawks/IceHogs don't sign another player, Rockford's potential roster stands at 27 players for the 2014-15 season.

The first thing to remember, rosters aren't made in July or August, but in training camp and sometimes in the AHL, after training camp.

Of the 27 potential skaters, three or four could/should make the Blackhawks out of training camp. Here is a breakdown of possible newcomers and returnees:

Possible Newcomers-Forward (5):
Cody Bass, Matt Carey, Pierre-Cedric Labrie, Dennis Rasmussen, Ryan Schnell

Possible Returnees-Forward (10):
Alex Broadhurst, Phillip Danault, Ryan Hartman, Drew LeBlanc, Brandon Mashinter, Mark McNeill, Jeremy Morin, Joakim Nordstrom, Garret Ross, Teuvo Teravainen

Forward Thoughts:
With the trade of Brandon Bollig, there is a need for some toughness on Chicago's roster. So of the 15 listed skaters, at least one will probably get the opportunity to fill that void. Candidates include Bass, Labrie and Mashinter. Schnell is a tough guy, but he is under an AHL contract and isn't eligible to make the Hawks roster.

Chicago currently has 12 "sure thing" forwards on their roster meaning there is an opening for probably two spots in 2014-15 barring injury in camp. Morin and Nordstrom are considered front runners with Teravainen close behind. One that I'm intrigued by is Rasmussen, who signed as a free agent in May by the Blackhawks. If he doesn't make Chicago's roster out of camp, he could be an impact player in Rockford.

Possible Newcomers-Defensemen (4)
Kyle Cumiskey, Dillon Fournier, Zach Miskovic, Trevor van Riemsdyk

Possible Returnees-Defensemen (5)
Mathieu Brisebois, Adam Clendening, Klas Dahlbeck, Stephen Johns, Viktor Svedberg

Defensive Thoughts:
It looks like there will be a spot open in Chicago on the blueline come training camp, meaning the above listed d-men will be battling for the spot. Cumiskey has some NHL experience and played for Joel Quinneville in Colorado, so he is a for sure candidate. Dahlbeck continued his progression last season and has become a solid two-way defenseman at the AHL level and looks to have an NHL future ahead of him.

With the signing of Cumiskey, it might bump Clendening down a notch since they are similar defenseman, minus the NHL experience for Clendening. But he should be on the list as a possibility. One to keep an eye on, similar to Rasmussen up front, is Johns. I loved the way his game translated to the pro level last season in his eight games with Rockford. He has size, he's physical and has some offense. He could be a future star in the NHL but he is a little green right now.

Local Angle
A story line to get used to this season is the amount of local players that will be on Rockford's roster. It looks like there could be up to five Illinois natives (all within 90 miles of Rockford) on the Hogs including Broadhurst (Orland Park), Hartman (West Dundee), Schnell (Cary), Miskovic (River Forest) and goalie Scott Darling (Lemont). Overall, there could be 11 Americans on the IceHogs roster come Opening Night.

Final Draft Thoughts
One thing that I won't do is grade a draft, not for at least four, five or six years anyways! I think the Blackhawks picked some really intriguing players though. Odds are, a team will hit on more first, second and third round picks, but it's always fun to watch the late round picks emerge.

Chicago has had great success in recent history in the later rounds with the likes of Andrew Shaw (5th), Marcus Kruger (5th), Ben Smith (6th), Troy Brouwer (7th) and Dustin Byfuglien (8th).

The Hawks had two fifth round picks in this year's draft and they chose defenseman Luc Snuggerud with their first pick. Snuggerud is an offensive defenseman and was a finalist for the Mr. Hockey award as senior at Eden Prairie High School in Minnesota. That is the same school, by the way, that Blackhawks d-man Nick Leddy attended.

Another interesting pick was the Blackhawks sixth round selection where they picked 6-5 Russian goalie Ivan Nalimov. I never heard of him before the draft and he could end up being just a random on Chicago's draft board. But he has good size and he had some impressive streaks as a 19-year-old last season playing in and for his home country in some International tournaments.

You can never have enough goaltenders and if Nalimov and the Blackhawks are a fit, he could become the first player from the 2014 NHL Entry Draft to end up in Rockford.

And what U.S.A. hockey fan doesn't like the 1980 Olympic hockey team? Well Chicago picked Jack Ramsey with their final selection in the seventh round, the son of Mike Ramsey, who played on the Miracle on Ice team in 1980. Jack will begin his collegiate career at the University of Minnesota in the fall of 2015.