STREAK COMES TO AN END AS HOGS TAKE THREE POINTS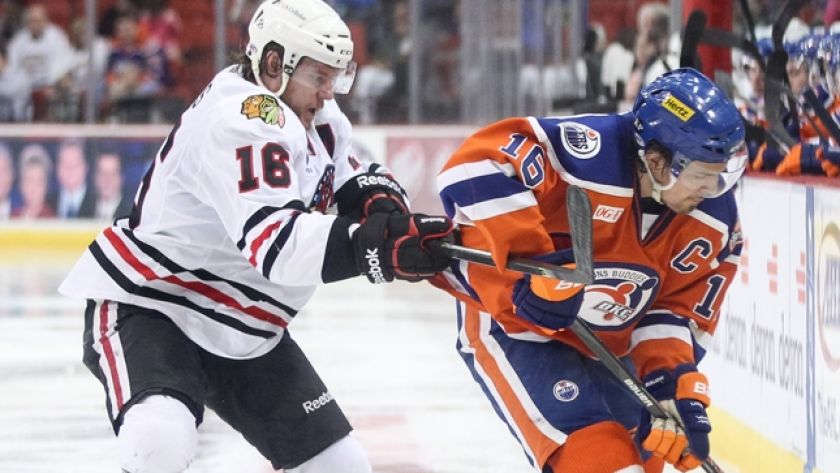 Rockford's season-high point streak of 11 games came to an end

Week 22 Recap:
Heading into Week 22 on a nine-game point streak, the Rockford IceHogs extended that to 11 with a win over the Iowa Wild on Tuesday and an overtime loss to the Oklahoma City Barons on Friday. The streak would come to an end on Saturday against the Barons with the IceHogs first regulation defeat since 1/31/14.

Week 22 Results
Tuesday, Feb. 25: Rockford 4 at Iowa 1
Friday, Feb. 28: Rockford 4 at Oklahoma City 5 OT
Saturday, Mar. 1: Rockford 4 at Oklahoma City 5

Week 23 Schedule
Tuesday, Mar. 4, vs. Rochester, 7 p.m.
Friday, Mar. 7, at Milwaukee, 7 p.m.
Saturday, Mar. 8, vs. Milwaukee, 7 p.m.

Bacon Bits:
-Rockford had their season long five game-winning streak come to an end on Friday in overtime and 11-game point streak snapped with a regulation loss on Saturday, both 5-4 in Oklahoma City
-The IceHogs went 9-0-1-1 in February and the nine wins tied an IceHogs AHL record for most wins in a month, previously accomplished six times, the last March 2011
-Center Brandon Pirri became the first player in IceHogs franchise history to record 200 career points with Rockford when he notched a goal and an assist on Saturday in Oklahoma City
-Pirri, who was riding a nine game point streak dating back to 2/9/14, had 68g-132a-200pts in 238 career games with Rockford before getting traded to the Florida Panthers on Sunday
-Pirri is the third IceHogs skater to get traded to the Panthers this season, joining Jimmy Hayes and Dylan Olsen in Florida
-Winger Jeremy Morin is currently riding an IceHogs season best 12-game point streak dating back to 2/1/14, totaling 10g-9a-19pts
-Recently recalled defenseman Bobby Shea played in his first two AHL games with Rockford since 1/8/14 and tallied 2g-1a-3pts with a plus minus rating of +5 over the weekend in Oklahoma City
-Rookie center Alex Broadhurst tied an IceHogs single season record with his third penalty shot attempt on Saturday in Oklahoma City
-Broadhurst, who has been denied on all three attempts this season, matches Rob Klinkhammer (2010-11) and Mike Figliomeni (1999-00) for most penalty shots in one campaign
-Rockford has scored four or more goals in 10 of their last 11 games, averaging 4.55 goals per contest
-Defenseman Klas Dahlbeck notched his tenth goal of the season on Tuesday in Iowa and is one shy of tying Brian Connelly's single-season record of 11 goals by a blueliner set in 2010-11

Hot Hog: Week 22
Left Wing, Jeremy Morin
Winger Jeremy Morin continued his mid-season tear as he ran his team best point streak to 12-straight games. Morin notched two goals in Tuesday's 4-1 win at Iowa, including the game-winning tally. On Friday night, the winger marked an assist in Rockford's 5-4 overtime loss in Oklahoma City. The Auburn, NY native then ran his career-best point streak to 12-straight contests with a goal on Saturday night against the Barons, finishing the week with 3g-1a-4pts and a +2 plus/minus rating in three games. In 43 games this season, Morin has an IceHogs best 21 goals and ranks second with 43 points.

Upcoming Games: Week 23
Tuesday, Mar. 4 vs. Rochester Americans: Puck drop will be at 7:00 p.m. The IceHogs host the Rochester Americans for the first and only time this season. The contest is a WXRX Dollar Day game and fans can take advantage of $1 hot dogs, soda, beer and companion tickets.

Friday, Mar. 7 at Milwaukee Admirals: Game time is set for 7 p.m. Rockford heads to Milwaukee to take on their Midwest Division rival, Milwaukee Admirals, in the first of eight straight games against division opponents.

Saturday, Mar. 8 vs. Milwaukee Admirals: Opening face-off will be at 7 p.m. In game two of a home-and-home against the Admirals, Rockford hosts Milwaukee at the BMO Harris Bank Center. The game is Autism Awareness night and autism ribbon magnets will be handed out at the game.

Illinois Lottery Cup Series Standings
Teams Record Points
Chicago 3-2-0-1 8
Rockford 3-2-0-2 8

Upcoming Illinois Lottery Cup Games:
Mar. 21: Rockford at Chicago, 7:30 p.m.
Mar. 22: Chicago at Rockford, 7 p.m.
Mar. 30: Chicago at Rockford, 7 p.m.
Apr. 13: Rockford at Chicago, 3 p.m.
Apr. 18: Chicago vs. Rockford, 7 p.m.