SPECIAL TEAMS SINK ROCKFORD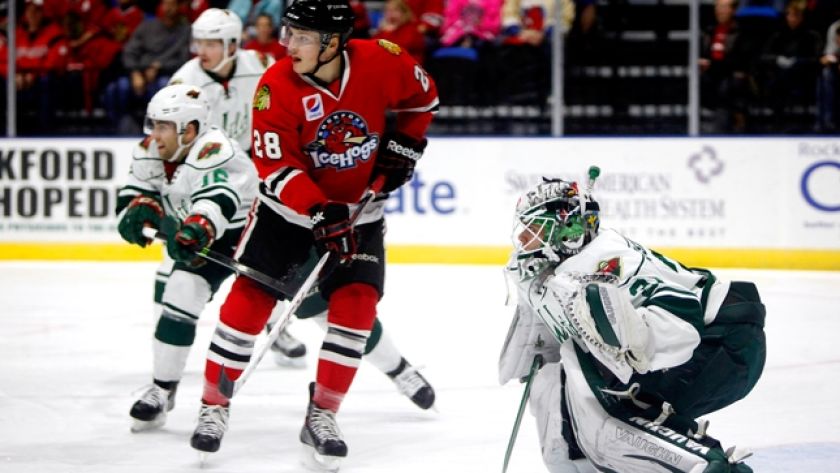 Hogs drop 5-2 contest to Wild
Rockford, Ill.- The power play was the key on Saturday as the Iowa Wild were able to succeed on the man advantage while the Rockford IceHogs could not. Iowa went four of seven on the power play while the IceHogs were one of seven, including getting blanked on three five-on-three power plays and during a five minute major in Iowa's 5-2 victory.
The Wild got the action started early as it took them just 3:01 to tally the first goal of the game on a power play. Former IceHog Brian Connelly spotted an open Warren Peters across the net and the centerman found an open net to make the game 1-0.
Defenseman Jonathon Blum put the IceHogs into familiar territory down 2-0 with the Wild's second power-play goal of the game at 11:55 in the first period. Connelly was given his second helper in as many goals on the night. Through 16 games this season, Rockford has trailed by two or more goals in 11 of them.
Garret Ross netted his third goal of the season when he brought the puck into the zone and found room at the right face-off circle to flip a wrister at Johan Gustafsson that went over the netminder's shoulder to make it 2-1 with 4:29 left in the first stanza.
After a flurry of penalties throughout the second period, the IceHogs couldn't find the net until there was just 3:54 left in the period. On a power play, Klas Dahlbeck and Adam Clendening worked the puck to Phillip Danault who launched a blast toward Gustafsson that found the twine to tie the game at 2-2.
It wasn't tied for long as Iowa took the lead back with 1:10 left in the second period. Brett Bulmer netted the third power play goal of the game for Iowa to make it 3-2, which is where it stayed heading into the third period.
The Wild killed another IceHogs power play and Taylor Matson came out of the box and took advantage of a turnover to score a break-away goal with 11:56 left in the final frame to take a two-goal lead at 4-2.
The penalty kill continued to be a problem for the IceHogs when Iowa's Stephane Veilleux flipped a shot in over a diving Kent Simpson for the Wild's fourth power play goal of the night, making it 5-2.