SNUGGERUD, BERUBE MAKING PROGRESS, NEARING RETURN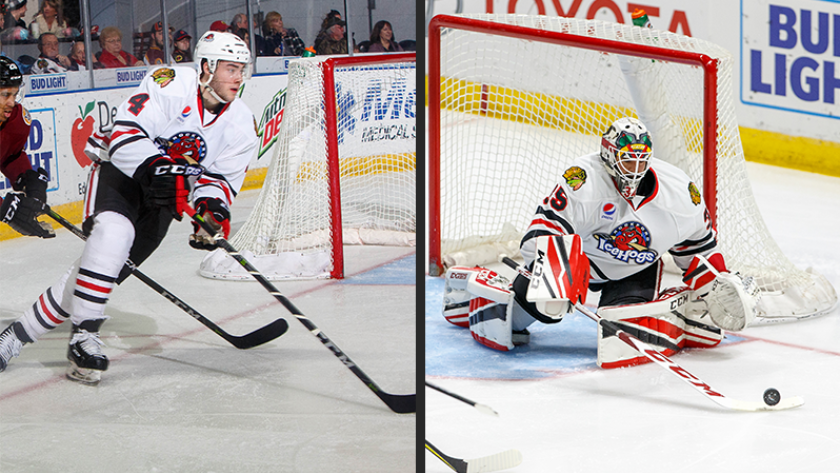 ROCKFORD, Ill. -- After Rockford IceHogs defenseman Luc Snuggerud and netminder J.F. Berube helped their team to a strong start through October and November, injuries forced them out of the lineup. Instead of viewing the missed time as a setback, the duo, who have not played since Dec. 8 and Dec. 9, respectively, said a shift in their routines has actually helped them on the road to recovery.
"I've been able to focus on more individual skill work and skating. I think it's been a beneficial time for me. Although I obviously want to be out there playing (with the team), I'm still getting better every day. I've been able to focus more on strength work off the ice too because I'm not playing in the games – it's been beneficial for sure," said Snuggerud.
And while Snuggerud continues to recover physically, Berube has been working to keep his mental focus in shape too.
"When you're out for an extended period of time, you try to find ways to stay sharp mentally. So I've been doing some visualization and that kind of stuff to mentally feel like I'm still playing," he said, "That way when I come back, I can feel mentally sharp."
Despite being away from the team during Rockford's recent road trip, Snuggerud and Berube continue to keep a close eye on their teammates as they jockey for position in the Central Division.
"We're always keeping tabs, seeing how they're doing. It was a huge last road trip for them in California, getting five of six points, so we're excited about that. It was a bit of a lull after Christmas, but it seems like they're getting back on track so I think exciting times are ahead," said Snuggerud.
Berube pointed to the recent influx of players from both the Chicago Blackhawks and the Indy Fuel as cause for excitement.
"I think we're playing really well as of late. Obviously there are a couple of (player) additions to the team that are helping us a lot. You can never have enough experience in the locker room, so having those guys is helping us and the younger guys a lot," he said.
And while they may have been absent for the kind of team bonding experiences that extended road trips often afford, Snuggerud and Berube know they always have the support of their fellow IceHogs.
"They've been great. It's never easy being the guy that's not playing and being out for long periods of time, where you can't travel with the team or be around the guys as much, but they've been awesome," said Snuggerud.
Now, as they continue to recover, both players remain hungry to return to the lineup.
"(I'm excited for) just being part of the team again. I miss being out there with them and playing games, feeling good on the ice and helping the team get some wins," said Berube.
"I think the biggest thing is being competitive and playing games," echoed Snuggerud, "It's been a while since I've been out there so the biggest thing for me is finding a way to stay busy and keep getting better during this time so when I get back, I can play my best."
Snuggerud skated with the team on Monday, while Berube continues to work individually with Goaltending Coach Peter Aubry. Head Coach Jeremy Colliton says both players "are progressing, and will hopefully return in the next few weeks."
Next Home Game: Tuesday, Jan. 23 | Rockford vs Bakersfield Condors (7 p.m.)
The IceHogs take on the Bakersfield Condors on Tuesday, Jan. 23 at 7 p.m. at the BMO Harris Bank Center. The contest marks another Fas Fuel Winning Weekday in 2017-18. If the Hogs win, tickets from Tuesday's game can be redeemed for a ticket of equal or lesser value to the following Fas Fuel Winning Weekdays game on Wednesday, Feb. 7. Fans can also enjoy $2 tacos, select beer, and companion tickets as part of Taco Tuesday. Tickets can be purchased at IceHogs.com, by calling (815) 968-5222 or in-person at the BMO Harris Bank Center Box Office.