SIX FORMER ICEHOGS TO SKATE IN 2017 WORLD CHAMPIONSHIPS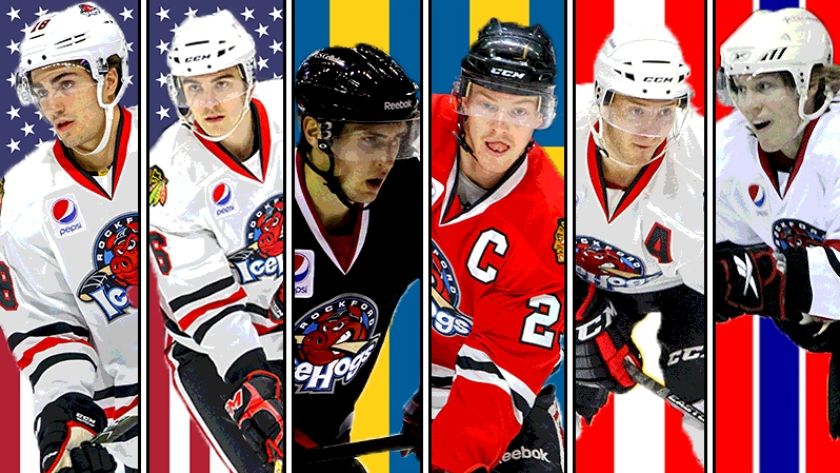 Rockford, Ill. – The stage is set for the 2017 International Ice Hockey Federation World Championships as the tournament kicks off this Friday, May 5. The games will be played in Cologne, Germany and Paris, France, and feature six players with IceHogs ties representing four different countries.

Nick Schmaltz (2016-17) and Trevor van Riemsdyk (2014-15) join up with Team USA and face co-host nation Germany to begin the round-robin stage on May 5. Schmaltz marks the only player in this year's tourney who suited up for the IceHogs during the 2016-17 season.

A pair of former IceHog forwards, Marcus Kruger and Joakim Nordstrom, team up to represent Sweden. Kruger (2012-13) collected 8g-14a-22pts in 34 games for Rockford and Nordstrom (2012-15), a former IceHogs captain, played 92 games for the IceHogs and posted 26g-26a-52pts along with a +10 rating.

Representing Denmark is Peter Regin (2014-15). In his one season with Rockford, he notched 10g-31a-41pts in 69 games. He also compiled 2g-3a-5pts in 21 games with the Chicago Blackhawks over parts of two seasons.

Rounding out the list is Mathis Olimb (2010-11), who led Norway with 2g-4a-6pts in seven games in the World Championships last year. He played in 60 games with Rockford and finished the 2010-11 campaign with 10g-22a-32pts.

The teams are divided into two groups of eight teams each, and the top four teams in each group advance to the quarter-finals starting on May 18. The semi-final round is scheduled for Saturday, May 20, with the Gold Medal game taking place on Sunday, May 20.

For more information on the World Championship or a complete schedule of games, visit http://www.iihfworlds2017.com/en/.
| | |
| --- | --- |
| Team | Player |
| USA | Nick Schmaltz |
| USA | Trevor van Riemsdyk |
| Denmark | Peter Regin |
| Norway | Mathis Olimb |
| Sweden | Marcus Kruger |
| Sweden | Joakim Nordstrom |
Season Tickets for 2017-18 on Sale Now: Don't miss a moment of the action by reserving your seats for the IceHogs 19th season of professional hockey and 11th as the top AHL affiliate of the Chicago Blackhawks. Please contact us at (815) 847-6399 or by visiting icehogs.com to claim your spots for this upcoming season.