SIX FORMER HOGS NAMED TO OLYMPIC ROSTERS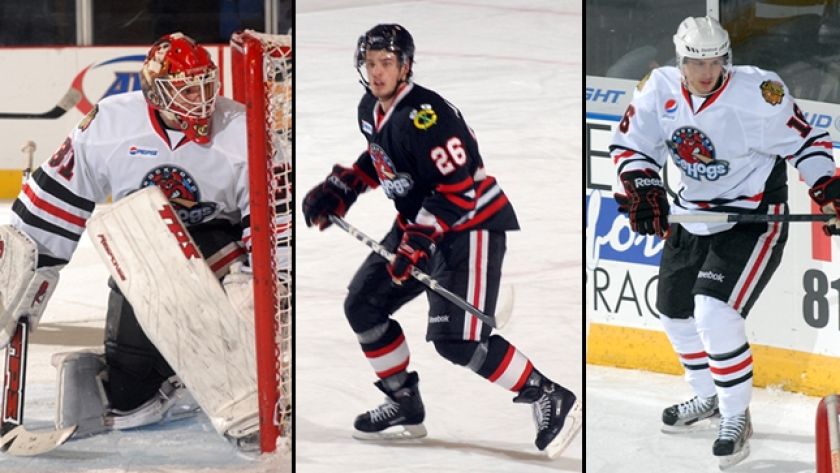 Rockford, Ill. – It was revealed on Tuesday that six former Rockford IceHogs skaters have been selected to represent their country in the 2014 Winter Olympics in Sochi, Russia next month.

Sweden announced its roster on Tuesday which featured forward Marcus Kruger and defenseman Niklas Hjalmarsson, while goaltender Antti Niemi and forward Petri Kontiola were named to Finland's 25-man roster. Goaltender Alexander Salak will play for the Czech Republic and former Hogs center Mathis Olimb will represent Norway.

Five of the six skaters will be competing in the Olympic Games for the first time in their career. Olimb is the only returnee as he re-joins team Norway after recording two assists in four games during the 2010 Olympics in Vancouver.

Niemi joins a team that features three of the National Hockey League's premier goaltenders in himself, Boston's Tuukka Rask, and Kari Lehtonen of the Dallas Stars. Both Niemi and Kontiola join a Finland team that is coming off a bronze medal in 2010 and is the only country to medal in three of the four tournaments since the NHL began taking an Olympic break to allow players to participate in 1998.

Hjalmarsson and Kruger join fellow Chicago Blackhawk and countryman Johnny Oduya on Sweden's team. Sweden lost to Slovakia in 2010 in the quarterfinal stage.

Salak will share the net for the Czech Republic with Ondrej Pavelec and Jakub Kovar.

The Winter Olympics are set to begin from Sochi on Feb. 6, with men's ice hockey beginning on Feb. 12. The participating teams are based on the nations ranked 1-9 according to the 2012 IIHF Men's World Ranking plus three qualifiers. The four teams with the best records (the group winners and the second-place team with the best record) advance to the quarterfinals on Feb. 19. The Gold Medal Game is scheduled for Sunday, Feb. 23 at 6 a.m. (CT).

Group A: Russia (1), Slovakia (6), USA (7), Slovenia (18)
Group B: Finland (2), Canada (5), Norway (8), Austria (15)
Group C: Czech Republic (3), Sweden (4), Switzerland (9), Latvia (11)

Next Home Game: Friday, Jan. 10 vs. Lake Erie. Face off is set for 7 p.m. The game is the first of a back-to-back set against the Monsters and game two of a three game week for the IceHogs.