Sikura Brothers Credit Success to Family Support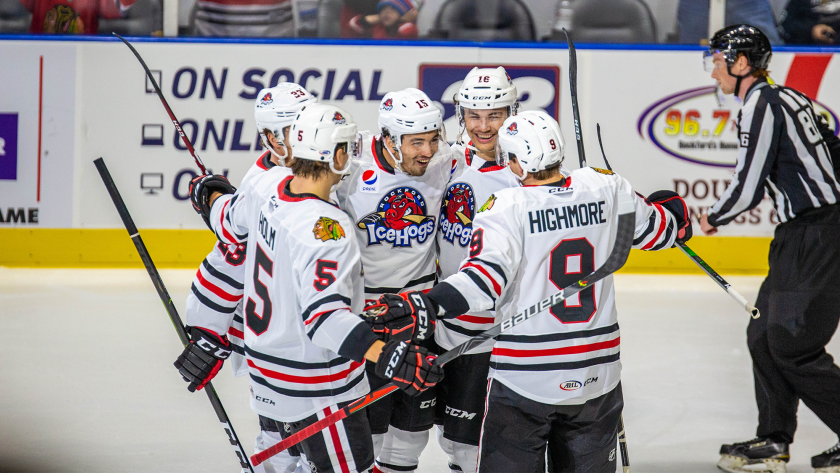 ---
Rockford, Il. – Fans will see Tyler Sikura wearing a different number when he takes the ice this season, and the meaning behind the new number illustrates a portrait of family support.
Tyler will now be donning the number 16 sweater while his younger brother, Dylan, will remain wearing 15. The pair gave unique perspectives on why the number means so much to the Sikura family.
"It's been a family number for as long as I can remember," said Tyler. "I'm not exactly sure what the origin is, necessarily, but my dad wore it, my uncle wore it, my sister wore it and we wore it growing up. When I first came to the IceHogs it was taken by [Will Pelletier] and I was assigned 28, but seeing the opportunity to switch, it feels like that's my number."
"Our sister revived the trend when she wore it playing soccer," said Dylan. "Me and Tyler tried to use it as much as we could, but I was kind of the odd man because I didn't like it quite as much (laughs). It's been in the family for a while and even my little cousins try to use it."
Those fortunate enough to have met the Sikura brothers know how close they are, so it's no surprise the encouragement from their family started at a young age and continues today.
"Their support has been incredible; they're the reason why we're here," said Tyler. "I remember playing on a travel team in Buffalo when I was living in Aurora, so we would go every weekend. I was afforded every opportunity to work on my craft and so was Dylan. They really instilled a work ethic in us and a mindset of hard work that can make us successful in whatever we choose to do after hockey too."
"Our family was awesome, they gave us everything we needed from day one," said Dylan. "To this day, they're very involved and they don't miss a game. Even if they're out doing something, they'll record it and stay up to two or three in the morning watching it."
With Tyler entering his third season as a member of the IceHogs and second straight year as an alternate captain, and Dylan coming off a rookie campaign in which he won the IceHogs Rookie of the Year Award, the two have quickly become fan favorites in Rockford. As special as it is for fans to see the duo suit up together, however, it means just as much to the brothers themselves.
"We never really played together except for high school, but even that was just for one year," said Tyler. "So, to be able to actually compete alongside him and be out here trying to make the NHL is pretty incredible. You definitely try to take in the moments; I remember last year one of my first goals on the power play that he set me up for. Things like that we'll remember forever, and I think it's special for everybody around us as well."
In discussing their roots, both brothers laughed about the idea of a sibling rivalry and how the lack of one helped them reach the AHL together.
"(Laughs) Everybody wonders if I bullied him or if we got in fights, but we were never really competitive," said Tyler. "We would obviously play against each other in the basement, but we were always supportive of each other. It's pretty amazing to look back and see the game has given us a lot, so to have it come full circle and play together is incredible."
"We kind of have a different answer from the norm," said Dylan. "I'd say we're not competitive at all, it's the opposite, it's more support. He's a guy I lean on and he can lean on me too. It's just an honesty where he'll tell me how I played and what I can work on to keep me in tact. He's a model citizen and model pro for not just me but all the young guys, so it's nice to have him as a brother and someone to try to look up to."
As joyful as it was for the two to reminisce about the past, though, they both understand the importance of the new season and have specific goals for themselves.
"I always have high expectations for myself," said Tyler. "I think I've learned a lot from being a leader and wearing letters throughout my career. In college, I learned you don't have to do too much, you don't have to change everything. It's not my job to overlook every single thing that goes on in the room—I'll definitely have a pulse on that and it's important to step in when needed, but my job is to focus on my game, help other guys when they need and be a good teammate that sets an example for everybody."
"At the start of the year you set a lot of goals, but I just want to be the best version of myself down here and be the best player I can be," said Dylan. "I think once you put all the components of your game together here and get to a point where your game is at a good spot and you're ready to go up and stick up there, I think that's the plan. Everything takes time, you never know when you're going to go up and down, but you always have to be ready for your chance. So, for me, I just have to be ready to go this year and make another jump forward from last year."
---
NEXT HOME GAME: Friday, Oct. 18 vs. Chicago Wolves | 7 p.m.
The Rockford IceHogs will play the Chicago Wolves for the first time in the 2019-20 season on Friday, Oct. 18 at 7 p.m. at the BMO Harris Bank Center. Bud Light beer will be available for just $2 and the IceHogs will be giving away magnet schedules courtesy of American Solutions for Business.